Peer

Auto-Admission

Program

You have been admitted through our Peer Auto-Admissions program and we welcome you to JAXNATION! We recognize your perseverance and determination and are here to help you reach your goals. Your dedication and passion haven't gone unnoticed, and we look forward to what you'll contribute to our vibrant community. UHV is another great college choice where you can thrive.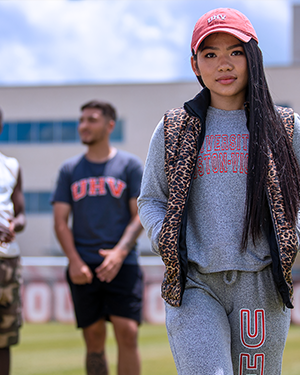 What can you expect from UHV?
Affordable Tuition and Scholarships: At UHV, we understand the importance of accessible education. Explore our various scholarship options, including the JAG Promise (covering tuition and mandatory fees), JAG Healthcare scholarship, Commitment scholarship, Gap scholarship, and more.

Personalized Assistance: Our dedicated team of Admissions Counselors and Enrollment Specialists are here to guide you at every step. From getting started to building your class schedule, Success Coaches and Advisors will support you throughout your academic journey.

Small Class Sizes and Community: Experience the benefits of small class sizes and a close-knit campus community. Forge lifetime friendships and connect with professors who are committed to your success.
Have Questions? We're Here to Help:
Whether you need assistance with class queries, financial concerns, or adjusting to campus life, our team is here for you. Contact us at TheCenter@uhv.edu.