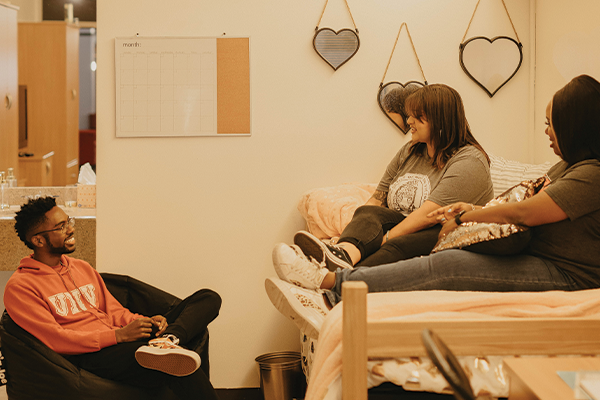 Moving In
Residential Move-In Guide for 2023-2024
Move-in will take place on the following dates and times. Students will check in at their assigned residence hall - Jaguar Hall, Jaguar Suites or Smith Hall.
Thursday, August 24 (9 A.M.-4:30 P.M.) - New Students (Freshmen, Transfer Students)
Friday, August 25 (9 A.M.-4:30 P.M.) - Returning Students
Move-In Day General Information
Your assigned check-in day and time is important information to know. With a large number of residents moving in each fall, we stagger the check-in times and dates in order to provide everyone the best move-in experience possible. For access to your move-in date and time, please visit the Housing Portal to check your room assignment and specific move-in date and time.
Texas weather can be unpredictable. August is prone to extreme heat and torrential rain. Tents for shelter are available at each building for your convenience.
Check housing assignment information in July. You will receive an email from Residence Life with information.
Contact your roommate, if possible (this may be difficult if he or she lives overseas). It is important to introduce yourself and discuss what you want to pack so you don't end up with duplicate items (e.g. two TVs).

Roommate information will be located in the housing portal once room assignments have been finalized.
Review Residence Life Handbook and the Residence Hall Service Agreement. Both are located under 'Forms' on the Housing website.
Obtain Renter's Insurance.

(highly recommended)
Review Student Code of Conduct.
Pack your belongings - you're on your way!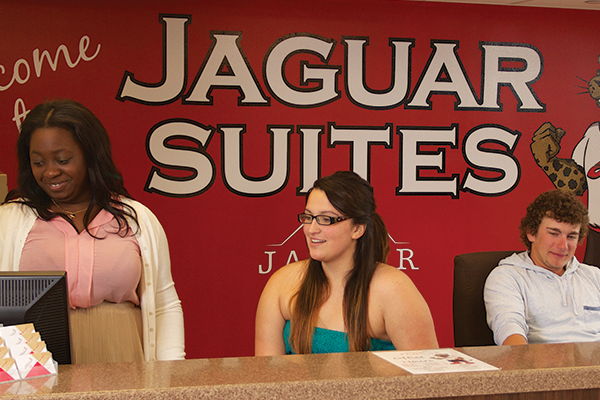 MicroChill (Microwave/Mini-Fridge Combo) Rental
Order a MicroChill combo.
Check-In, Early Check-In, Late Check-In
All students are required to provide a signature for each semester they live on campus. On Move-In Day, you will need to present your student ID card to a Residence Life staff member at the check-in table. It will be helpful to pack your ID in a place that is easily accessible.
Late Check-In
If you cannot move in on this date, please call (361) 485-4404 or contact us via email at housing@uhv.edu. If you do not notify Residence Life about a late arrival, you may lose your room assignment.
Roommates
Living in the residence halls is an easy way to get to know your fellow Jaguars.
Having a roommate is a wonderful opportunity to learn from someone with a different background than your own and helps you develop negotiation and communication skills. Our roommate matching system will place you with someone who has similar living habits, so try spending time together before requesting a room change.
A successful roommate relationship depends on mutual respect, open and honest communication, and the ability to discuss problems as soon as they arise. Residence Life will provide any interested roommate pair with a Roommate Agreement. The agreement will help you develop lines of communication, identify potential conflicts, and learn about each other's perspectives so that you can respect each other's living habits and make compromises.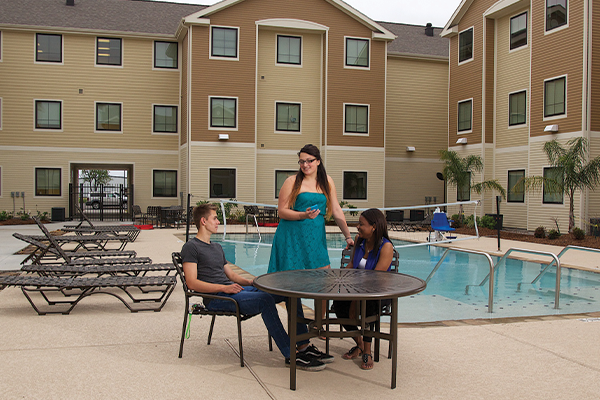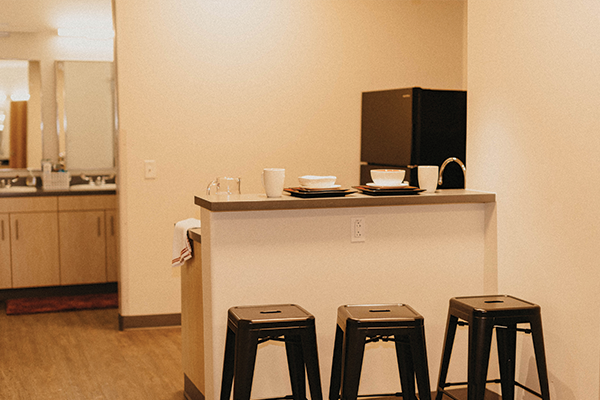 Roommate Conflicts
If you are having difficulties with your roommate, we encourage you discuss the problem early, openly and honestly. We provide tips to establish a good relationship with your roommate in our Residence Life Handbook.
If you find that you and your roommate cannot reach a mutual agreement, contact your Resident Assistant (RA) or Residence Hall Coordinator. Our staff is trained to mediate conflicts, and may be able to help you and your roommate resolve the problem. Working through problems with your roommate is a learning experience. Although changing roommates is not always the best solution, you may request a room change if you cannot come to an agreement after working with your roommate, RA, and RHC.
Room Changes
One of the best things about living in our residence halls is that you are not bound to your assigned room as you would be if you signed a lease. If you would like to move to a different area in the residence halls, you may request a room change by contacting your Residence Hall Coordinator.
Move-In Day - What to Bring to Campus
UHV Paw Pass – You will use it for check-in, dining and getting into your residence hall
Cleaning supplies/d

isinfectant wipes

Closet organizers, clothes hamper, iron/ironing board, hangers
Computer/laptop
Desk lamp/desk organizers
Food/eating utensils
Housekeeping supplies – high-efficiency laundry detergent, sponges, trash liners, small vacuum, air freshener
Linens – pillow, sheets, blanket, quilt or comforter, pillow top or mattress pad, towels, washcloths
Personal toiletries including toilet paper
Personal decor items – posters, photos, etc. (No nails, screws or staples), only use blue painters tape or 3M Command Strips
Surge protector - Fire Marshal requires these to be UL approved
Bicycle lock (if you bring a bicycle to campus, UHPD recommends U-shaped bike locks)
TV - UHV provides one flat screen tv for each residential room at Jaguar Hall and for each shared suite space in Jaguar Suites & Smith Hall
For move-in day: moving supplies (boxes, moving dolly, etc.), in case of rain on move-in day: bungee cords, plastic or tarp
Prohibited Items
Alcohol (Alcohol is not allowed on campus or in Jaguar Village)
Candles (with or without wick) or incense; not even for decoration
Candle warmers and wax melts
Dangerous/combustible substances and chemicals
Extension cords; use power strips with surge protectors instead. Extension cords may not be placed wrapped around metal fixtures or furniture, run under carpet, or taped to the carpet.
Excessive amounts of paper or flammable material
Halogen lamps
Heaters and electric blankets
Hoverboards/Segways/Skooters
Illegal Drugs or Paraphernalia (rolling paper, rollers, grinders, vaporizers, bongs, etc.)
Microwaves (only allowed if using MicroChill - Order a MicroChill combo)
Refrigerators exceeding 4.0 cubic feet
Toasters/Toaster Ovens/Crock Pots/Electric Skillets/Electric Grills/Hotplates or Cooktops/Barbeque Grills/Coals/Lighting Fluid
Important Tips for Packing and Insurance:
Pack your belongings in boxes or totes: To prevent any items from getting lost or misplaced, it's essential to pack everything in sturdy boxes or totes. Avoid leaving loose items.
Label boxes and totes: Clearly label each box or tote with your name, residence hall, and room number. This will make it easier to identify and organize your belongings during move-in and throughout your stay.
Consider insuring your personal property: We strongly recommend obtaining insurance coverage for your personal belongings. Whether it's through a special renters insurance policy or as part of your parents' or guardians' homeowners' policy, having insurance can provide peace of mind in case of unforeseen events.
Taking these precautions will help ensure a smooth transition and protect your belongings during your time at UHV.