Student ID
The Paw Pass is a multifunctional identification card issued by the University of Houston-Victoria (UHV). It serves as the official identification for students, faculty, and staff members at UHV. The Paw Pass card offers a range of convenient features and benefits, enhancing the overall campus experience.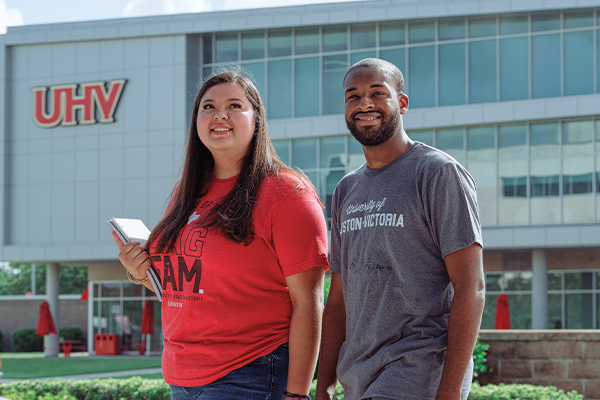 PawPass
The Paw Pass card serves as the official UHV Student ID and provides access to various services on campus, including:
Entrance to all residence halls
24-hour residential access for residents
Business hour access for non-resident students
Dining privileges for students with a meal plan
Jag Bucks and Dining Dollars
Library access and services
Campus-wide printing services
Daily Deals for local Victoria-area discounts
Entrance and discounts (if applicable) to select university events, including athletic events.
New or Replacement Paw Pass
Obtaining a New or Replacement Paw Pass is convenient with two options available:
Pickup Option: Visit Jaguar Hall Rm. 1007 during office hours (Monday - Friday, 8:30 am to 4:30 pm). Please remember to bring a government-issued ID (Driver's License, Passport, Military ID, Student ID, etc.) when requesting a Paw Pass card.

Online Request: Submit a request for a new or replacement card online. After submitting the request, you will receive a proof of submission via your student email address. Once your request is approved, you will receive an email confirmation. Your card will be mailed within 1-2 business days or made available for pickup.
Please note that there is a $10 fee for all replacement Paw Passes, including lost, damaged, altered, or hole-punched cards.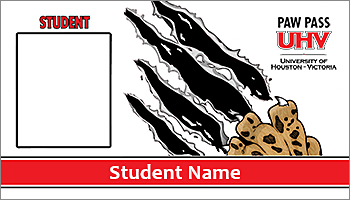 Authorization
Only the cardholder is authorized to use the ID card under any circumstances. The Paw Pass belongs to the University of Houston-Victoria and can be withdrawn by the University at any given moment.
Should you have any inquiries concerning the Paw Pass Card, feel free to reach out to our office at (361) 485-4404.