Student ID - The PawPass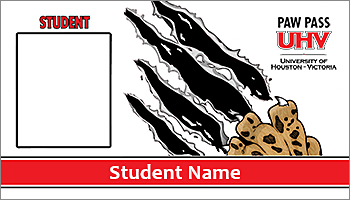 The Paw Pass card is the official UHV Student ID and is used, if applicable to the student, for the following services at UHV:
Entrance into all residence halls.

Residents receive 24-hr residential access
Non-Resident students receive business hour access

Dining Privileges (students who have purchased a meal plan)
Access to the library and other library services
Printing services campus-wide
Daily Deals (local Victoria-area discounts)
Entrance and discounts (if applicable) to certain university events such as athletic events
There are two options to get a New or Replacement Paw Pass:
Pickup Option - Visit Jaguar Hall Rm. 1007. This office is open Monday - Friday from 8:30 am to 4:30 pm. You must bring a government issued ID (i.e. a Driver's License, Passport, Military ID, Student ID, etc.) when requesting a Paw Pass card.
Online Request - Request a new or replacement card online. After completing the online request, proof of submission will be sent to your student email address. Upon approval, you will be sent an email confirmation of your approval. Once the approval is sent to you, the card will be mailed out within 1-2 business days or ready for pick up.
There is a $10 fee for all replacement Paw Passes. This includes cards that are lost, damaged, altered or hole punched.
No one other than to whom the card is issued may use the ID card for any reason. The Paw Pass is the property of the University of Houston-Victoria and may be revoked at any time by the University.
If you have any questions regarding the Paw Pass Card you can contact our office by calling (361)485-4404.