The University of Houston-Victoria at Katy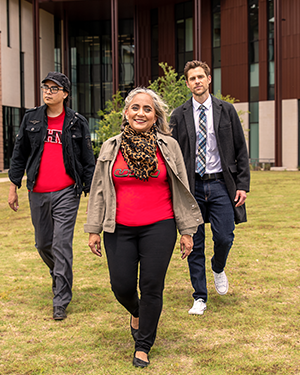 Start in Katy,

Finish in Katy!

UHV Katy has been serving Greater West Houston since 2001, offering degrees in biology, business, criminal justice, counseling, education, psychology, and technology. With a focus on collaboration, UHV works with community college partners to create smooth transfer pathways, while specializing in upper-division coursework.
Top Reasons to Attend UHV Katy
Convenient location.

One of the most affordable in Texas.
$41 million is awarded annually in financial aid.
Many opportunities for scholarships.
Undergraduate Degrees offered at UHV Katy
Graduate Degrees offered at UHV Katy
Whether you're interested in Business, Psychology, Education, Nursing, Computer Science, or any other discipline, we have the programs and resources to help you achieve your academic and career goals. Explore our comprehensive list of majors and degrees and take the next step toward your future at UHV!
Student Services
Office Hours for Faculty & Staff
Monday-Friday: 8 a.m. - 5 p.m.
Saturday & Sunday: Closed
UHV Katy Building Hours
Monday – Thursday: 7:30 a.m. - 9 p.m. (no entry without security after 9)
Friday: 7:30 a.m. - 5 p.m.
Saturday: 7:30 a.m. - 4 p.m.
Sunday: Closed
Library
The electronic library at UHV Katy provides computers for research and space for students to study. Our Victoria campus offers a full-service library. However, several services are available in Katy. Find the full list of UHV Katy Library services.
Career Development
The Career Development Center visits our Katy location throughout the semester for events and also for appointments. Call us at (361) 570-4385 or email us at CareerServices@uhv.edu.
Schedule an Appointment
Our friendly recruiters and advisors are happy to help you transfer or begin a master's degree program.
Current Jaguars & Advising schedule a planning session with us now.