Career Development Center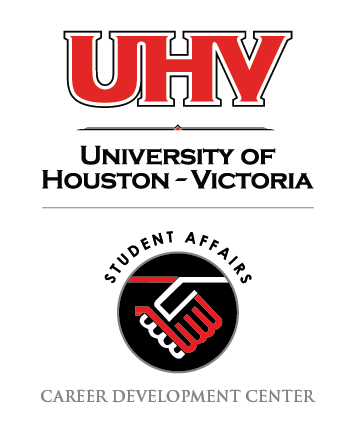 The mission of the University of Houston-Victoria Career Development Center is to guide students and alumni in career planning, to provide workshops and training to help link students with employers and to serve as a resource for professional development in students' desired fields. We work to connect students and alumni with employers. We encourage all students and alumni to register with Jobs for Jags, our online job board, to help you get started on your job search. Our staff also provides a full range of services to help you. Call our office today to find out how we can assist you!
Schedule an Appointment
During the Career Development Center's hours of operation, students and alumni can schedule an appointment with an available department member.
Appointment Scheduling Details Should Include
Reason for Meeting
Student ID
Classification
Phone Number
Schedule an Appointment
Over the Phone by calling (361) 570-4385.
Through Jobs for Jags.
In-Person. Our office is located in University North Suite 214.
Via Email
Visit us During Office Hours
Hours of operation:
M 8:00 a.m. - 5:00 p.m.
T-Th 8:00 a.m. - 5:30 p.m.
F 8:00 a.m. - 5:00 p.m.
Career Events
Fall 2023 Part-time Job Fair in Victoria
August 30, 2023
2:00-5:00 p.m.
Employer Registration starts May 1
Events are updated frequently.
Be sure to check back for other opportunities to recruit Jaguars!
Program Supporters
Our program supporters help make
quality programming possible!
Memberships
Houston Area Consortium of Career Centers' mission is "to educate, promote and enhance Career Center Services and employment opportunities for students and alumni of member institutions. We shall provide professional development opportunities in career services which include career counseling, placement assistance and employment, and graduate and professional school information. We shall promote professionalism and a spirit of cooperation among career services offices and with employing organizations. As members of this local organization, we shall provide support services to regional and national Career Services Organizations."
National Association of Colleges and Employers (NACE) is the leading source of information on the employment of the college-educated. NACE facilitates the exchange of knowledge and insight among individuals and organizations focused on career development and employment of the college-educated. NACE forecasts trends in the job market; tracks legal issues in employment, job search, and hiring practices; and provides college and employer professionals with benchmarks for their work.