We encourage all students to visit the UHV Counseling Center for support services. Counseling services are free & confidential.
Pregnancy and Parenting Resources
The programs, tools and resources below may prove helpful in supporting pregnant and parenting students and employees. They have been developed by outside agencies or organizations and represent other agencies or organizations and not the University of Houston-Victoria.
Campus Resources
Students and employees may request accommodations for pregnancy-related conditions through the Equal Opportunity Office. The office is located in Suite 116 or University West Building and available by phone at 361-570-4835.
You can learn more information in the UH System Policy for Pregnant and Parenting Student and Employee Accommodations.
Some pregnancies may lead to medical complications, and persons who experience a temporary or permanent disability (such as anemia, gestational diabetes, preeclampsia, postpartum depression, etc.), can contact the UHV Disability Services Office for additional accommodations.
Lactation Spaces
The UH System Policy sets out specific requirements for lactation breaks and spaces that include:
Reasonable time and space to express breast milk in a location that is private, clean, and reasonably accessible.
Bathroom stalls do not satisfy this requirement.
Within reasonable distance of the person's location and be available for up to a year following childbirth.
Break time should be adjusted to account for the distance to the nearest lactation facility.
As a community built on care and compassion, UHV recently updated the lactation room in the West Building to provide a private and relaxing space with new furnishings and individual card access for privacy. Students and employees can request card access to the space by contacting the Equal Opportunity Office.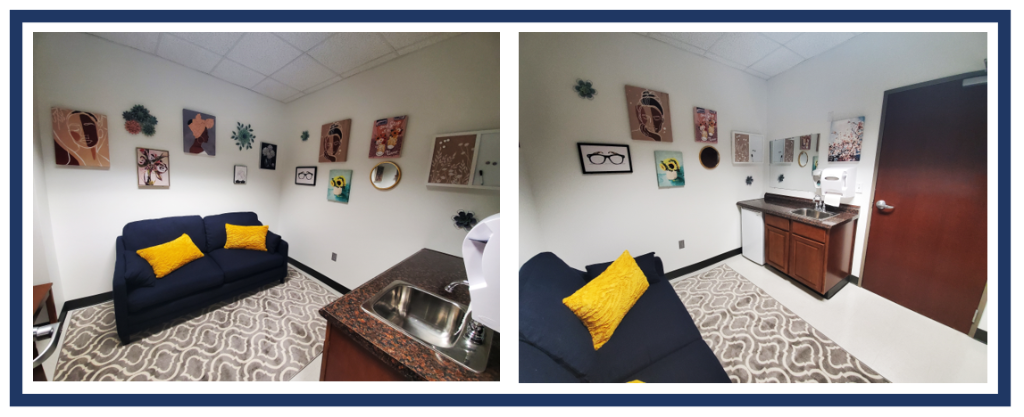 Off-Campus Resources (interactive programs)
Family Connects Victoria County is an evidence-based nurse home visiting program for families with newborns 3 to 12 weeks old. All families have the opportunity to have a registered nurse provide a home visit within the first three weeks. Research shows that when families use Family Connects mothers feel less anxious, they learn about quality child care options, and their babies need less emergency care at hospitals. The program can be contacted at 361-575-0681
Mid-Coast Family Services in Victoria, Texas, provides FAYS family services (formerly known as STAR) to help families navigate the waters of parenthood and childhood. Per information from their website, Mid-Coast Family Services caseworkers join a family and through evidence-based practices and curriculum, provide skills classes, individual sessions for support, and family sessions to better equip each client to face struggles like anger, truancy, behavior problems at school, and much more. Caseworkers provide services in school and at the home as needed by each individual situation.
FAYS hosts online parent groups on Thursdays at noon which can be joined by texting "JOIN" to "FAYSZOOM" or 361-489-0970.
For more information about FAYS, contact Allen Tippit or call their main office at 361-575-7842.
Navigate Life Texas is a project supported by the Texas Health and Human Services to inform and empower parents of children with disabilities or special health care needs. The model includes four components: one-on-one home visits, monthly group meetings, developmental screenings, and a resource network for families.
Parents as Teachers is a free program in Victoria, Texas, designed to provide parents with information and to help build their children's intellectual, language, social, and physical development from birth to age five. The program can be contacted at 361-788-9653.
Right at School after-school programs are available in Victoria ISD and provide discounts for families on Free & Reduced Lunch.
The Texas Home Visiting Program educates parents and caregivers, at no cost, on how to properly use their children's car seats. Technicians provide free personalized instruction about how to properly install a car seat in a vehicle, as well as how to properly secure a child in the car seat. Appointments can be scheduled online or by calling 361-578-6281 ext. 3008.
Houston-Area Resources and Programs
Para los Niños from the Children's Museum Houston is a multi-lingual workshop program that provides parents with resources, strategies and activities to improve family literacy, learning practices and parents' abilities to serve as their child's first teacher. All materials and resources are available at no cost.
DePelchin Children's Center offers Parenting 101 at no cost (six-week course with helpful tips and strategies on dealing with common parenting challenges), ParentingHelp (free one-on-one services related to child behavioral challenges) and 24/7 Dad (workshop to support fathers).
Texas Children's Hospital operates mobile clinics to provide trusted, high-quality medical services to children newborn to 18 years of age.
University of Houston has a free Healthy Start program which provides coordinated care case management, home visits and outreach and education to reduce infant and maternal mortality rates, increase access to prenatal care and remove barriers to service.
Online Resources (available long-distance)
The Office on Women's Health is a national resource with health-related online information including topics such as pregnancy, labor and childbirth, medical recovery from birth, breastfeeding and newborn care.
Parents Helping Parents is a non-profit organization that provides a 24/7 Parent Stress Line at 800-632-8188 as well as virtual parent support groups.