Program Information
Are you interested in art and technology? Are you a conceptual and objective thinker? Then a Communication Design Degree might be the perfect major for you. Communication Design is one of the most practical and powerful art forms of our time, as well as a rapidly expanding industry. Communication Design is the visual articulation of information that surrounds us every day in forms ranging from new and social media, to books and periodicals, to film and animation, as well as countless others. Communication Design is an inspiring way to see and interpret the world.
Program Information

| | |
| --- | --- |
| Degree Plan Options | Degree Plan - M.S. in Biomedical Sciences |
| Credit Hours | 36 Credit Hours |
| Delivery Methods | face to face Victoria (thesis option) or face to face/ITV in Katy (internship option |
| Tuition & Fees | Rates Per Semester |
Biomedical Sciences
Biomedical Science is the application of biological sciences to medical use, be it research, diagnostics, health monitoring or treatment. As medicine and healthcare becomes increasingly sophisticated, the demand grows for highly skilled biomedical scientists capable of innovating, performing and analyzing a battery of scientific procedures to diagnose, screen, maintain and improve human health. This degree concentration further prepares the pre-health professional (pre-med, pre-vet, pre-pharm) student to obtain entry into health professional schools and biomedical science careers.
UHV College of Natural Arts & Sciences ensures educational opportunities are available and accessible through on-campus...
Darinae Dixon
2022, B.S.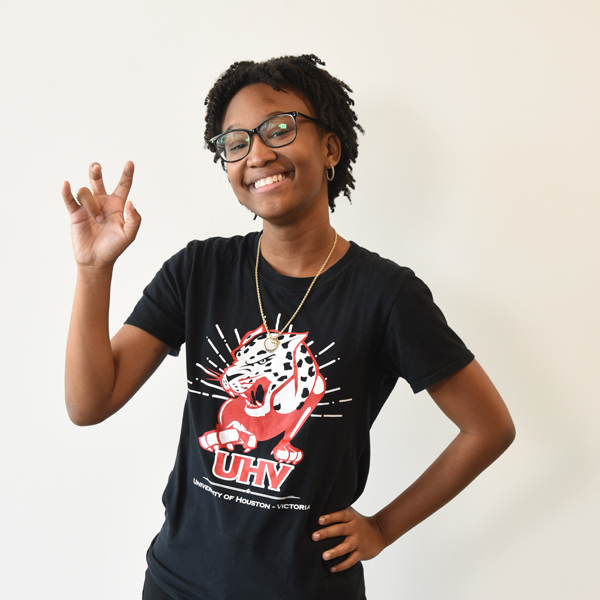 What We Offer Our Students
The Masters of Science degree with a major in Biomedical Sciences - Professional Science is a program primarily designed to fill the needs of technology-based companies, governmental agencies, private industries, including non-profit organizations. It provides an interdisciplinary curriculum with internships with local businesses and hands-on experience.