Letter from the President
Dear 2023 UHV Graduates:
On behalf of the University of Houston-Victoria community, we congratulate you on your upcoming graduation. Your commencement will mark a milestone in your life and set you on a path for an exciting and productive future. Your degree represents a great deal of work and commitment on your part, and on the part of those who have helped you along your journey. Whether it is your family, friends, faculty, staff, or fellow students, all are proud of your accomplishments. We hope your graduation will be a wonderful occasion that you will remember for many years to come.
Your commencement represents the beginning of the next phase of your life. Whether it is another degree or moving into the workforce, you are beginning a new chapter. You will go on to pursue your dreams, and our goal is to provide continued encouragement. To do that, we want to stay in touch with you through our UHV Alumni Association. The Alumni Association is a great way to keep up with your alma mater, and your friends and classmates from UHV. We continue to add programs and degrees, and should you decide to further your education, we hope you will consider UHV. You have a strong supporter in your university, and we look forward to continuing to serve you through the Alumni Association.
Again, congratulations on your upcoming graduation. We are extremely proud of what you have done and the resiliency you have shown by finishing your degree in such difficult circumstances. We hope you will take advantage of the celebrations surrounding commencement and continue to make memories that will last a lifetime. I am eager to celebrate our newest alumni, and I look forward to being part of your special day as you receive your diploma.
Sincerely,
Robert K. Glenn, Ph.D.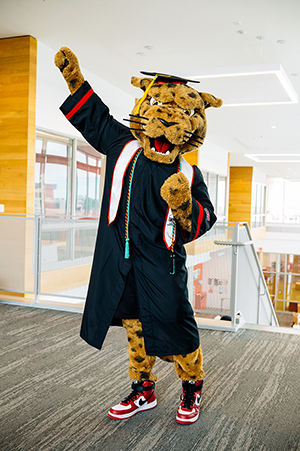 Graduation
Graduation is the awarding of a diploma to a student by an educational institution. A student must complete all their degree requirements to qualify to apply for graduation. For more information about applying for graduations, visit Student Record's Graduation Application page.