Close
TRAM
Over the past few years, the UHS Human Resources, IT and component HR departments have developed and implemented the PeopleSoft system-wide electronic payroll - Time Reporting and Absence Management (TRAM) The reporting system requires all biweekly employees to clock in and out by either a Web Clock or a Time Collection Device (TDC) referred to as Time Reporting. It also requires that all benefits-eligible employees, both bi-weekly and monthly, request time away from work electronically – referred to as Absence Management. Located in P.A.S.S. these two processes have eliminated paper timesheets and paper leave requests.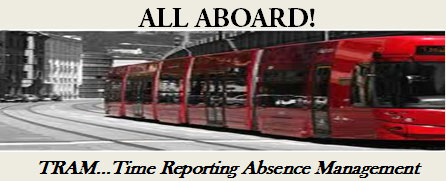 To ensure successful use of TRAM, you must be logged into PASS
All UHV employees are encouraged to verify access to PASS by logging in at https://www.uhv.edu/myUHV/
Training Job aides and manuals
Contact Information
For questions or concerns, please contact the HR Department at 361-570-4801.