UHV student receives first place for research at state conference
Jose Ramirez's interest in ocular diseases has a deeper meaning for him. His grandmother, who immigrated to the United States with her six children, had an ocular disease that affected her eyesight. As Ramirez prepares to graduate from the University of Houston-Victoria, his current research into ocular diseases is being recognized by other biomedical science professionals in the state.

Jose Ramirez
Ramirez, a Victoria resident and a senior biology student at UHV, recently won first place at the Texas Academy of Sciences Conference. The conference took place March 3-4 at Angelo State University. Ramirez received first place in the division of Biomedical Sciences against undergraduate and graduate students from across the state.
"I was really surprised when I found out that I placed first," Ramirez said. "I am grateful to be able to present, and I am thankful for those who stayed to listen to the research. It's been a great opportunity to research and collaborate, and I am grateful that I had an opportunity like that here at UHV."
The Texas Academy of Science promotes scientific research in the state, encourages research as part of student learning and enhances the professional development of its professional and student members, according to the organization's website. Students are encouraged to attend the annual conference to share and present research they are working on, gain experience and network. The UHV College of Natural & Applied Science also provided funds for the students to attend the conference.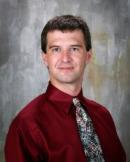 Dmitri Sobolev
"Students presenting their work and earning awards at the state level conferences show the rise of UHV as a student-focused research institution," said Dmitri Sobolev, interim dean of the UHV College of Natural & Applied Science. "Supporting student travel to those conferences is one of the best investments we can make into the institution's research growth, as well as student and faculty development."
This is the second time Ramirez has presented at the organization's annual conference. Ramirez's presentation, titled "Elucidating the role of a microbiota by-product, butyrate, on the fibrotic trabecular meshwork," is the continuation of research on the role of short-chain fatty acids in glaucoma he and others started on in 2020 with Humberto Hernandez, assistant professor of biology. That research was funded by the UHV Junior Faculty Research Summer Grant that Hernandez received that year.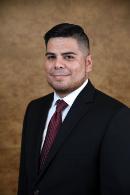 Humberto Hernandez
"Jose did a phenomenal job with his research and did a great job with his presentation," Hernandez said. "Research comes naturally to Jose, who has spent time reading scientific literature outside of the classroom lecture to answer questions we have discussed in class. He has done a great job in his research efforts, and I am looking forward to what Jose does in the future."
The research Ramirez presented explores the roles of microbial gut by-products, such as the metabolism of some of the microbes in the gut, and their effects on the body, specifically the eye. These microbes contribute to creating specific nutrients, called short-chain fatty acids, that are only obtained with bacteria, which can be used to cure ocular diseases, Ramirez said. More specifically, the research he has done looks at whether these short-chain fatty acids could be used to prevent primary open angle glaucoma from occurring or progressing further.
Ramirez started this research a couple of years ago, after he approached Hernandez about his interest in research of ocular diseases. Ramirez would conduct experiments with Hernandez and then his own experiments with short-chain fatty acids and trabecular meshwork cells found in the eye.
Presenting the research was a great and new experience that Ramirez enjoyed. While he was at first nervous to present, he reminded himself of the importance of sharing their research and findings. Ever since he was young, he was curious about specific diseases that affected the ocular tissue because his late grandmother had issues with ocular diseases. Through this research experience, Ramirez has been able to learn more about ocular diseases and help provide him with the opportunity to maybe someday prevent people from developing blindness diseases.
While his grandmother's condition drove Ramirez to learn more about ocular diseases, she also inspired him to pursue higher education. His grandmother immigrated to the United States from Mexico with her six children, and he often thinks about how she pursued a new life in this country and how he, a first-generation college student, can be the first in his family to pursue a college degree and a career in optometry.
Ramirez and the research team will continue to push forward with their findings and pursue more experiments to help gather a well-rounded foundation for more research and are hoping to look into the pathways that are being impacted with the application of new possible therapeutics for glaucoma. Ramirez is looking forward to more research opportunities and pursuing graduate studies, as well as a career in optometry.
"Being able to contribute to potentially creating new therapeutics or providing therapeutics to patients would be a great honor," he said. "My family was excited about the award, and they are happy to see how I am trying to leave an impact in research and help people who have ocular diseases."
To learn more about the biology program at UHV, go to www.uhv.edu/natural-applied-science/undergraduate-degrees/biology.
The University of Houston-Victoria, located in the heart of the Coastal Bend region since 1973 in Victoria, Texas, offers courses leading to more than 80 academic programs in the schools of Arts & Sciences; Business Administration; and Education, Health Professions & Human Development. UHV provides face-to-face classes at its Victoria campus, as well as an instructional site in Katy, Texas, and online classes that students can take from anywhere. UHV supports the American Association of State Colleges and Universities Opportunities for All initiative to increase awareness about state colleges and universities and the important role they have in providing a high-quality and accessible education to an increasingly diverse student population, as well as contributing to regional and state economic development.