Outstanding students ready to move into new arenas
Jefferson Weber has always enjoyed writing, but he's never pursued it professionally. Now, as he prepares to retire from teaching, he is thinking about using his new degree from the University of Houston-Victoria to do just that.
Weber of Concord, Calif., recently was named the Outstanding Graduate Student for the UHV College of Liberal Arts & Social Sciences. He will graduate with a Master of Fine Arts in creative writing on Saturday, May 13. Selina Skyseth Vidhammer of Asker, Norway, was named the Outstanding Undergraduate Student, and she will graduate with a Bachelor of Science in University Studies.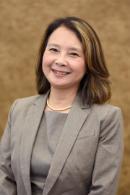 Kyoko Amano
"Jefferson and Selina are two exemplary students who show that higher education is for everyone, whether they are leaving one career for a new one or just starting life as an adult," said Kyoko Amano, dean of the UHV College of Liberal Arts & Social Sciences. "I am proud to see them both receive this well-earned award."
Each semester, faculty from UHV's four colleges select outstanding graduates to be honored during commencement. UHV will hold two spring graduation ceremonies on May 13 at Faith Family Church, 2002 E. Mockingbird Lane. The 9 a.m. ceremony will be for graduates of the colleges of Liberal Arts & Social Sciences and Natural & Applied Science. The 12:30 p.m. ceremony will be for graduates of the colleges of Business and Education & Health Professions. A live-streaming broadcast of the ceremonies will be available at www.uhv.edu/commencement/commencement-ceremony.
Weber currently works as a 10th-grade history teacher at Dozier-Libbey Medical High School in Antioch, Calif. He also previously taught science. He's been a teacher for 25 years, and earning a degree from UHV was an interesting first for him.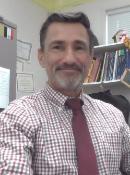 Jefferson Weber
"It's the first time I've worked to earn a degree completely online," he said. "UHV had a lot of attractive features that drew me to its program. In particular, some of the creative writing faculty members had work published recently, and the affordable tuition was a plus."
As he was earning his degree, Weber enjoyed the experience of working in writing workshops that allowed him to share his work and listen to the work of his fellow students. He even was able to attend an in-person workshop hosted by Anthony Madrid, UHV assistant professor of English and creative writing, in Victoria last November.
"It was great to meet everyone and talk face-to-face with my fellow students after only seeing them online," Weber said. "There was such a wide spectrum of work and writing styles among the group. It really opened my eyes to how there were so many different ways that people can write and express themselves. Anthony Madrid made this such a great experience. He's tough on his students, but he also cares about them and does his best to help them grow as writers."
Now, as Weber approaches retirement next year, his plan is to use his UHV degree as a steppingstone into a different career. Although he has no firm plans yet, he is considering teaching at a community college or even doing some travel writing.
Vidhammer came to UHV during her junior year in order to play soccer while earning her degree. She previously attended and played for a different university in Kansas during her freshman and sophomore years.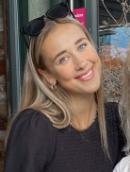 Selina Vidhammer
"The opportunity to play for a college while earning a degree isn't as common in Norway, and I wanted to take this chance to go somewhere new and learn about different places," Vidhammer said. "I love to travel, and I learned so much about the U.S. and the different cultures here."
After she graduates in May, Vidhammer plans to move back to her family's home in Norway as she looks for a position in the sports industry. Although her degree is in University Studies, which transfers best back to Norway, she focused many of her studies on kinesiology and nutrition classes.
"My family is very active, and I am passionate about exercise and nutrition," she said. "I want to get a job in any aspect of sports and exercise that I can, whether it be managing, coaching or personal training."
In addition to the knowledge she gained through her studies, Vidhammer also became more independent by living abroad for four years. She expects her English-speaking skills to help her find work in more international settings. She also enjoyed the experience of living in a place where "normal" had a very different meaning.
"Living in America was such a positive experience," she said. "Everyone is so friendly and welcoming here. You can talk with strangers in the store, and they're usually so nice. In Norway, taking to strangers is not as common. My friends' parents even welcomed me into their homes during holidays."
Looking back on her time as an international student at UHV, Vidhammer is especially grateful for the help of Yvonne Garcia, who recently was promoted to UHV International Programs director.
"Yvonne was always there to help me with the international student documents and applications, Vidhammer said. "The process is so complicated and very stressful, but she was able to navigate it all. She's one of the people who made my time at UHV so enjoyable."
The University of Houston-Victoria, located in the heart of the Coastal Bend region since 1973 in Victoria, Texas, offers courses leading to more than 80 academic programs in the schools of Arts & Sciences; Business Administration; and Education, Health Professions & Human Development. UHV provides face-to-face classes at its Victoria campus, as well as an instructional site in Katy, Texas, and online classes that students can take from anywhere. UHV supports the American Association of State Colleges and Universities Opportunities for All initiative to increase awareness about state colleges and universities and the important role they have in providing a high-quality and accessible education to an increasingly diverse student population, as well as contributing to regional and state economic development.