Commencement speaker aims to inspire change in graduates
Deborah Santiago's favorite part of commencement is walking into the ceremony and seeing the looks of pride on the students' faces and hearing their families clap and cheer for them.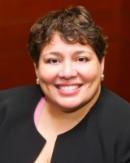 Deborah Santiago
"Graduation is such a milestone achievement, and seeing people celebrate that success hits my heart every time," she said. "Everything in the ceremony is so powerful, from the 'Pomp and Circumstance' graduation march to seeing the students in their regalia. I see myself in them even all these years later, and I know what it means to them to celebrate that accomplishment. I am so honored and humbled to be invited to share this celebration with UHV."
Santiago, the cofounder and CEO of Excelencia in Education, is set to share that exciting moment with graduates of the University of Houston-Victoria as the commencement speaker for UHV's fall 2023 commencement ceremonies. The university will hold two ceremonies on Dec. 16 in the Leonard E. Merrell Center, 6301 S. Stadium Lane, in Katy. The 9 a.m. ceremony will be for graduates of the College of Liberal Arts & Social Sciences and the College of Natural & Applied Science. The 1 p.m. ceremony will celebrate the graduates from the College of Business and the College of Education & Health Professions. A live-streaming broadcast of the ceremonies will be available at www.uhv.edu/commencement/commencement-ceremony.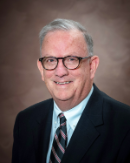 Bob Glenn
"We are excited to welcome Ms. Santiago to share her story and knowledge with our students," UHV President Bob Glenn said. "Commencement is always a moving experience, and we look forward to hearing the encouraging message and words of wisdom that she will share as our students take their next steps toward the future."
Santiago's passion lies in improving educational opportunities and success for Latino, and all, students with research and evidence-based practices. In 2004, she co-founded Excelencia in Education, a nonprofit focused on accelerating Latino student success in higher education.
Her drive to support students in higher education was born from her own experience when she was applying for college, Santiago said. Her father was in the U.S. military and got a college degree through one of the available programs. When it was time for her to apply for college, she would be the first in her family to face the traditional college application process, and she would have to do it alone.
During her junior year in high school, Santiago's father was assigned to a base in Spain. Instead of moving overseas with them, Santiago's family encouraged her to stay in the U.S. for her senior year and focus on getting into college. Although she had her family's full support, she had to go through the application process and the financial aid paperwork on her own.
"My parents had absolute faith in me and my ability to figure it all out, and their trust and faith motivated me through that difficult experience," she said. "It was a daunting task to face all the forms, sorting through my family's tax forms to fill out the FAFSA, and all the steps I had to take to make sure everything was in and ready. It was an experience that shaped the rest of my life."
After she graduated from college, Santiago spent some time working for the U.S. Department of Education. In that role, she handled the budgets for a variety of programs intended to assist students trying to earn a degree. The experience provided her with a broad perspective on how higher education funding resources are allocated and distributed, she said. That experience, in addition to time in leadership positions at the White House Initiative on Educational Excellence for Hispanic Americans and the Los Angeles Alliance for Student Achievement, helped her take the next step toward cofounding a nonprofit to inform policy, compel action and collaborate with those ready to accelerate Latino student success with an unapologetic Latino lens, Santiago said.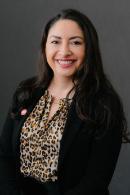 Karla DeCuir
"Deborah Santiago stands as a great example of how intentional resource allocation and collective support can drive improvements in college attainment among underrepresented populations," said Karla DeCuir, UHV interim vice president for enrollment management. "Her passion for making a difference has not only garnered the commitment of numerous institutional leaders across the nation to serve these student populations intentionally, but has also solidified her status as an exceptional trailblazer and influential Latina leader. We are excited to welcome her as this year's commencement speaker. Given that 42 percent of UHV students come from Hispanic backgrounds, her address promises to resonate with our student body and their families."
As she prepares her address for UHV's commencement ceremonies, Santiago plans to talk about the opportunity that the students will have to use their new knowledge and talents to do good for others as well as themselves. She hopes to inspire the graduates to be persistent and recognize their worth, emphasizing their ability to contribute to the world around them.
"I want them to know that earning that degree gives them a certain level of privilege, and with that comes the ability to do good for themselves, their families and their communities," Santiago said. "Graduates are dynamic because of everything they've accomplished, and dynamic people can change the world."
The University of Houston-Victoria, located in the heart of the Coastal Bend region since 1973 in Victoria, Texas, offers courses leading to more than 50 academic programs in the schools of Arts & Sciences; Business Administration; and Education, Health Professions & Human Development. UHV provides face-to-face classes at its Victoria campus, as well as an instructional site in Katy, Texas, and online classes that students can take from anywhere. UHV supports the American Association of State Colleges and Universities Opportunities for All initiative to increase awareness about state colleges and universities and the important role they have in providing a high-quality and accessible education to an increasingly diverse student population, as well as contributing to regional and state economic development.