UHV outstanding student ready for life after graduation
Dysocheata Van is someone who is driven to do her best in everything she does. With her hard work ethic and love for learning, she was able to attain high grades and earn her place on honors lists and academic honor societies. Now, the University of Houston-Victoria's College of Natural & Applied Science is applauding her for her academic achievements.

Dysocheata Van
"It was a little shocking at first, but it also makes me feel good about the work I have done," she said. "I am someone who likes to study, and I believe in doing better every day. It's nice to see that effort recognized."
Van, who will graduate this semester with a Bachelor of Science in biology, recently was named the Outstanding Undergraduate Student for the UHV College of Natural & Applied Science. Beverly Bellot of Houston was named the Outstanding Graduate Student for the college.
Each semester, professors from UHV's four colleges select outstanding students to be honored during commencement. The university will host two fall commencement ceremonies on Dec. 10 at the Leonard E. Merrell Center, 6301 S. Stadium Lane in Katy. The first ceremony begins at 10 a.m. to celebrate graduates from the College of Liberal Arts & Social Sciences and the College of Natural & Applied Science. The second ceremony will be at 3 p.m. to celebrate the College of Business and the College of Education & Health Professions. The ceremony also will be live streamed at www.uhv.edu/graduation.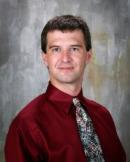 Dmitri Sobolev
"These students are dedicated, hardworking scholars, deserving of recognition," said Dmitri Sobolev, interim dean of the UHV College of Natural & Applied Science. "I congratulate them on their achievement and wish them the best in their professional growth and career."
Van started her UHV journey in 2020 after she received her associate degree from Victoria College. Van, who is originally from Cambodia and moved to Edna with her family in 2015, has spent much of her time in the Crossroads area. Her parents own a restaurant in Hallettsville, so Van would work six days a week at the restaurant for years while being a full-time student. For Van, time management was a skill that was necessary in order to be successful. She would go to school during the day and then travel to Hallettsville for work. Sometimes she was able to study at the restaurant, but most of the time, she would study and do coursework after she traveled back to Edna at the end of the day.
While the schedule could be tiring at times, Van always made time for her studies.
"It was a little challenging, but knowing that I had a packed schedule made me even more determined to do well in school," she said. "It made me stay on top of schoolwork. But it also made me feel like I can overcome anything, if I could do all that."
That drive to do well landed Van on multiple President's and Deans' lists over the past couple of years. During the spring, she also was named to the Phi Kappa Phi National Honor Society and Nu Gamma Nu, UHV's chapter of the Beta Beta Beta national biology honor society. She also is a member of the Pre-Health Student Association and has spent time volunteering at a hospice facility this semester.
At the beginning of her time at UHV, Van's classes were mainly online, but she was grateful when classes were safe enough to be held in person again. She enjoyed working in the biology lab and learning new techniques and was glad to interact with her classmates and professors in person as well, including Jes McCue, an associate clinical professor of biology. McCue also helped motivate Van to do her best.
"I really look up to her because she has this great energy and is always offering help, answering questions or giving advice," Van said. "I feel inspired by her as a woman in the field of biology as well."
Van is considering applying for dental schools but is also interested in other health fields. She plans to take a year to shadow and volunteer in other health professions before she decides on her graduate path. She appreciates all the support from her UHV professors and her professors from Victoria College as well. She also is grateful to her family for their support over the years.
"I am not very extroverted, but I like school, and I have enjoyed my time at UHV," she said. "It has been a wonderful experience here."
The University of Houston-Victoria, located in the heart of the Coastal Bend region since 1973 in Victoria, Texas, offers courses leading to more than 80 academic programs in the schools of Arts & Sciences; Business Administration; and Education, Health Professions & Human Development. UHV provides face-to-face classes at its Victoria campus, as well as an instructional site in Katy, Texas, and online classes that students can take from anywhere. UHV supports the American Association of State Colleges and Universities Opportunities for All initiative to increase awareness about state colleges and universities and the important role they have in providing a high-quality and accessible education to an increasingly diverse student population, as well as contributing to regional and state economic development.