Outstanding students follow passion to find true calling
When Yolanda Peña-Wright was growing up, she was told that one of the most important things she could do was get a lucrative job, so for 15 years, she had a successful career in sales and marketing. But after a while, she realized that work was not fulfilling, so she decided to make a change.
Now, Peña-Wright is preparing to graduate from the University of Houston-Victoria with a Master of Fine Arts in creative writing with dreams of one day becoming a teacher.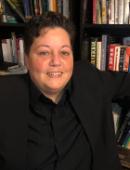 Yolanda Peña-Wright
"I just got fed up with the corporate environment and how toxic is was," the Alvarado resident said. "We only live once, and we owe it to ourselves to pursue our passions. I walked away to pursue my dream; I needed to do something meaningful without regard for earning potential. I found my purpose at UHV. I discovered my passion for writing and teaching, and I have never been happier."
Peña-Wright was named the UHV College of Liberal Arts & Social Sciences' Fall 2022 Outstanding Graduate Student. Sarah Stanaland of Odessa was chosen as the college's Outstanding Undergraduate Student. Both of the students will graduate in December.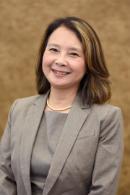 Kyoko Amano
"The UHV College of Liberal Arts & Social Sciences is proud to acknowledge Yolanda and Sarah for their excellent work and their passion for helping others," said Kyoko Amano, dean of the college. "They have made an impact on UHV, and I look forward to seeing how they will touch the lives of others outside the university for years to come."
Each semester, faculty members from UHV's four academic colleges select outstanding graduates to be honored during commencement. UHV will hold two fall graduation ceremonies on Dec. 10 at the Leonard E. Merrell Center, 6301 S. Stadium Lane. The ceremony for graduates of the College of Liberal Arts & Social Sciences and the College of Natural & Applied Science will be at 10 a.m., followed by the College of Business and the College of Education & Health Professions at 1 p.m. A live-streaming broadcast of the ceremonies will be available at www.uhv.edu/commencement/commencement-ceremony.
Peña-Wright has been writing since she was a child, and when she was looking for a university to get her master's degree in creative writing, UHV was the obvious choice. The university's creative writing program has a good reputation, and the instructors care about their students and work to bring the best out of them, she said. In particular, Anthony Madrid, assistant professor of English and creative writing and director of the creative writing programs, and Nadya Pittendrigh, associate professor of English and director of the English program, helped her decide on her path forward and inspired her to help and teach others.
"Thanks to UHV's amazing faculty, I've discovered my calling to teach," she said. "I want to help other students develop their skills, especially in English and writing. I would love to have a successful writing career, but more than anything, I want to help people."
When she graduates in December, Peña-Wright hopes to attend the University of North Texas to get her doctoral degree.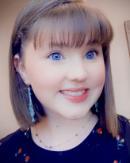 Sarah Stanaland
Stanaland also hopes to be able to help and impact others in her future career. She will graduate in December with a Bachelor of Science in political science with a pre-law concentration and a minor in humanities. In the spring, she will attend Texas State University to pursue a master's degree in applied ethics and philosophy. Then, she plans to attend law school.
"I'm very interested in legal and political theory," Stanaland said. "I eventually want to work my way up to be a judge, where I can practice my own legal philosophy on a daily basis."
Stanaland chose to attend UHV because it was a place where she knew she could be involved and make an impact. She was very involved in high school, and she didn't want to attend a large university where she would fall through the cracks and be just a number, she said.
"UHV turned out to be a perfect fit for me," she said. "At UHV, students are surrounded by a kind of family support system, and we're able to get one-on-one help from professors when we have questions. I'm grateful to all the faculty members who played a part in helping me achieve success at UHV. I am a product of the hard work and dedication displayed by the excellent faculty."
She especially enjoyed classes with Justin Bell, associate professor of philosophy and the chair of multidisciplinary studies. The discussions in his philosophy classes were influential on her growth as a person and the development of her passion for the importance of legal philosophy.
During her time at UHV, Stanaland also was part of the founding group for the Association of Future Advocates, Leaders and Lawyers, the university's first political science student organization. She also worked as a tutor and supplemental instructor in the Student Success Center, where she was able to help other students by explaining concepts she had learned in her own classes and watch them learn as well.
"I love being able to support underclassmen and other students, both through tutoring and by creating AFALL," Stanaland said. "It was incredible to know that I was able to connect with students in the UHV student body who had a similar drive and interest as me. It taught me so much about the importance of building a strong team, not just being a strong individual. I know AFALL will continue to do amazing things in the years to come."
The University of Houston-Victoria, located in the heart of the Coastal Bend region since 1973 in Victoria, Texas, offers courses leading to more than 80 academic programs in the schools of Arts & Sciences; Business Administration; and Education, Health Professions & Human Development. UHV provides face-to-face classes at its Victoria campus, as well as an instructional site in Katy, Texas, and online classes that students can take from anywhere. UHV supports the American Association of State Colleges and Universities Opportunities for All initiative to increase awareness about state colleges and universities and the important role they have in providing a high-quality and accessible education to an increasingly diverse student population, as well as contributing to regional and state economic development.