Outstanding business students ready to take the lead
When Monisha Walker was able to get her bachelor's degree five years ago, it was a huge deal for her. Now, she is preparing to get her master's degree from the University of Houston-Victoria in December.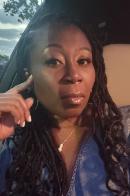 Monisha Walker
"When I was young, I felt like I was stupid and couldn't accomplish anything, so getting my bachelor's degree was a major achievement," the Houston resident said. "Now, getting my master's degree is an opportunity for me to achieve even more while also following my interests and taking a new direction in my future career."
Walker of Houston recently was named the Outstanding Graduate Student for the UHV College of Business. Samira Aly of Houston was named the Outstanding Undergraduate Student.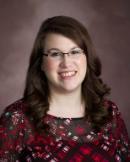 Rhiannon Smith
"The UHV College of Business is blessed with excellent students who know the importance of taking the lead and charting their own path toward success," said Rhiannon Smith, the college's assistant dean of administration and student services. "Samira and Monisha are two of our top students, and we are excited to see them succeed and take their next steps."
Each semester, faculty members from UHV's four academic colleges select outstanding graduates to be honored during commencement. UHV will hold two fall graduation ceremonies on Dec. 10 at the Leonard E. Merrell Center, 6301 S. Stadium Lane. The ceremony for graduates of the College of Liberal Arts & Social Sciences and the College of Natural & Applied Science will be at 10 a.m., followed by the College of Business and the College of Education & Health Professions at 1 p.m. A live-streaming broadcast of the ceremonies will be available at www.uhv.edu/commencement/commencement-ceremony.
Walker will graduate with a Global Master of Business Administration in human resource management and finance. Although her bachelor's degree was in marketing, she has been working as a software development engineer for the past 10 years. She chose to get her master's degree because she wanted to have a better understanding of how the business side of the company worked and be better equipped to help others through those decisions.
"I've seen the business go through a lot of different situations through the years, and I wanted to know why so many of the decisions were made," Walker said. "What goes into the decision to expand or scale back production? What determines if a company needs to lay people off or hire more? I wanted to understand that and be part of the process so I could find ways to make changes that help people in the company."
Between her software development knowledge, her marketing degree and now her finance and human resources training, Walker says she is now a "quadruple threat" and is ready to move into more of a leadership role in her workplace.
"For a long time, I was running away from leadership," she said. "I knew that when I was working so hard to get my degree, I didn't have the capacity to also take on a leadership role and effectively help the people I would be leading. Now that I'm graduating, I'm ready to take that next step and see how I can make a difference."
In addition to looking for advancement in her current career, Walker also decided to put her business knowledge to work by starting a side business making and selling T-shirts decorated with positive and empowering messages.

Samira Aly
Aly is looking forward to graduating, especially because she will be walking the stage with her best friend. Aly and her sister, Mariam Aly, have attended classes at UHV during the past two years after receiving associate degrees from Houston Community College and after Mariam graduated from high school a year early.
"It's been a unique opportunity to share this experience with my sister, who's getting the same degree that I am," Aly said. "We've been able to help each other with studying, our projects and so many other parts of college life. It's been a fun experience, and we've been able to support each other through the lows and highs."
After she graduates, Aly plans to work in project management. She already has an interview lined up with an energy company in the Houston area. Looking back at her time at UHV, she is grateful for how the business college helped prepare her for her future career.
"There were challenging courses and stress, but UHV's faculty also showed us how being committed and putting in the time can lead to success," Aly said. "They taught us so much, not just about how to be successful in school, but life lessons as well. Now I feel equipped to be a professional in the real world with skills like time management and habits that will help me succeed in my career."
In addition to her learning experiences, Aly also was impressed with her cultural experiences at UHV. As a practicing Muslim who is half Mexican and half Egyptian, she understands the value of diversity and individual cultures, and she was glad to see diversity encouraged at UHV.
"UHV offers a rich, diverse culture," she said. "Everyone is so supportive. It's a compassionate and caring environment that made getting my degree a positive experience."
On Dec. 10, Aly and her sister will both be graduating summa cum laude. She is grateful for all the support she has received from her family and friends who pushed her to succeed. In addition, she is grateful to the UHV faculty members who inspired her, including professor Chien-Ping Chen and assistant professors Tong Kang and Emmanual Quansah.
"Looking back, I know that anything is possible with dedication and hard work," Aly said. "College is so much different than high school, and I was able to make that shift and move forward because of all the support I received from my family and the excellent instruction from the faculty. They taught me so much, and now I am confident about my next steps."
Walker agreed that the opportunity to learn from real-world scenarios as well as simulations of businesses helped her better understand the business world. Now, as she prepares to walk the stage, she is grateful to God for her success and for the support she received from her friends and family, especially from her mother Marilyn, her sister Kyus, her cousin David, and her friend Gurol.
The University of Houston-Victoria, located in the heart of the Coastal Bend region since 1973 in Victoria, Texas, offers courses leading to more than 80 academic programs in the schools of Arts & Sciences; Business Administration; and Education, Health Professions & Human Development. UHV provides face-to-face classes at its Victoria campus, as well as an instructional site in Katy, Texas, and online classes that students can take from anywhere. UHV supports the American Association of State Colleges and Universities Opportunities for All initiative to increase awareness about state colleges and universities and the important role they have in providing a high-quality and accessible education to an increasingly diverse student population, as well as contributing to regional and state economic development.