UHV business college brings back speaker series, alumni events
Huandong "Mary" Faris, Chief Financial Officer for Grocery Services Inc. and a UHV alumna, gives a presentation on Oct. 18 to a group of UHV alumni, faculty, staff and students as well as area community members at UHV Katy. Faris's presentation was the first of the semester's UHV College of Business Dean's Distinguished Speaker series, which was paused during the pandemic. The next presentation will be from 6:30 to 8 p.m. on Nov. 1.
The University of Houston-Victoria's business college has relaunched a speaker series combined with alumni networking events in Katy in order to stay connected with the community and graduates.
The UHV College of Business Dean's Distinguished Speaker series will take place twice a semester at UHV Katy, 22400 Grand Circle Blvd. The series, which was paused during the COVID-19 pandemic, will feature speakers, many of whom will be UHV business alumni, who will discuss topics and lessons learned during their careers. In addition, each event will also feature an alumni networking opportunity. The first event of the semester was held on Oct. 18.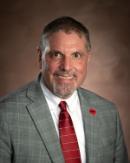 Ken Colwell
"This speaker series is designed to bring some of the best and brightest from the Houston area to share their wisdom and experiences with UHV and the community," said Ken Colwell, dean of the business college. "I am pleased to see so many people participate in this series and the alumni networking opportunities. I look forward to hearing from many more excellent speakers and alumni as the series continues."
On Nov. 1, UHV alumna Kristen Sayegh, a Whitley Penn tax partner, will give a presentation about her professional journey and how she overcame barriers in her career. In addition to earning a bachelor's and master's degree from UHV, Sayegh was UHV's 2021 Young Alumna of the Year and was recently named to the Houston Business Journal's 40 Under 40 list. When she was a student, she also was selected by Texas' governor to serve a one-year term as a student regent for the UH System. The event will be from 6:30 to 8 p.m. at UHV Katy and will begin with a reception and an alumni networking opportunity, followed by Sayegh's presentation.
The series is an opportunity for people in the Houston area and UHV students, alumni, faculty and staff to engage with one another while learning from successful individuals, said Kaveh McAdam, UHV associate professor of business management and director of community engagement. In addition, it provides an opportunity for students to learn about the importance of networking and make connections with UHV alumni who have gone on to have successful careers.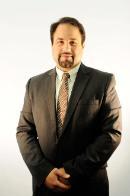 Kaveh McAdam
"The UHV College of Business is fortunate to have a wide variety of alumni who have achieved success in their careers and are excited to come back to the university to help other students," McAdam said. "Through the years, alumni have come back to give presentations or events to personally connect with students and help them find internships or better careers. This series will offer even more opportunities for our students and alumni to make those connections."
The first event this semester was held on Oct. 18 and featured a presentation by Huandong "Mary" Faris, Chief Financial Officer for Grocery Services Inc. and a UHV alumna. During her presentation, Faris spoke about the challenges and strategies she had to overcome in her career, especially as an international professional. As part of her advice to attendees, she encouraged students to join professional associations in their fields, spend time volunteering in the associations and to not be afraid of taking leadership roles in those organizations. After her presentation, alumni also had a chance to share their own experiences.
For more information about the Nov. 1 event, contact McAdam at mcadamk@uhv.edu.
The University of Houston-Victoria, located in the heart of the Coastal Bend region since 1973 in Victoria, Texas, offers courses leading to more than 50 academic programs in the schools of Arts & Sciences; Business Administration; and Education, Health Professions & Human Development. UHV provides face-to-face classes at its Victoria campus, as well as an instructional site in Katy, Texas, and online classes that students can take from anywhere. UHV supports the American Association of State Colleges and Universities Opportunities for All initiative to increase awareness about state colleges and universities and the important role they have in providing a high-quality and accessible education to an increasingly diverse student population, as well as contributing to regional and state economic development.