UHV alumna triumphs over adversity
Wednesday, October 11, 2023
| By
Duy Vu
Graduating with a bachelor's degree from the University of Houston-Victoria wasn't just a milestone for Cashayla Bates; it was the fulfillment of a long-cherished dream.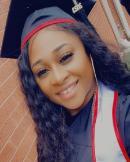 Cashayla Bates
A dream that encountered the formidable obstacle of brain surgery but ultimately became a reality through Bates' unwavering determination and the steadfast support she received from the UHV community.
Selecting the right college was a diligent process, Bates said. The native Houstonian started off her college career at Lone Star College while working full time to pay for school. After finishing her basic courses, Bates looked into transferring out to earn her bachelor's degree, and UHV became the clear choice because of the proximity and the smaller class sizes, she said.
"It was beautiful; it gave me that full college experience," Bates said. "Before I had my brain surgery, and up until the point I graduated, the support I had from teachers and staff was amazing. I don't even know how I could ever thank them."
Ever since she was born, Bates said she never had proper peripheral vision in her left side. It wasn't until she got older that it began to bother her, she said.
"I was taking classes in the summer last year, and I had frequent headaches, but I didn't think much of it," Bates said.
After visiting a neurologist to get work done, she was sent to another specialist in 2021 where Bates was referred to undergo surgery at MD Anderson to find a reason behind her headaches. It was afterwards that she was presented with the grim news: a tumor had been found – a tumor that was growing inside her brain for more than 10 years.
"The entire time, all I could think about was I need my degree," Bates said. "Initially I didn't want to go through another surgery in case something happened. My whole goal was to graduate from UHV."
Bates went through surgery to remove the tumor in her brain in July of 2022. After the surgery, Bates said she dealt with complications and had a stroke that paralyzed her entire left side, requiring a long hospital stay to recover and undergo therapy. With determination and a goal in mind, she signed up for two classes the following August to resume her educational journey.
"Once school was in session again, I didn't want to give up," Bates said. "I decided I was going to continue."
Even though the road back was hard and confusing, one of the people Bates credited for helping her throughout the journey was Rhiannon Smith, assistant dean of administration and student services for the College of Business.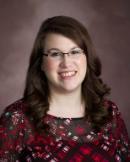 Rhiannon Smith
"Cashayla is an amazing student who has overcome so much, and we are so proud of all she has accomplished, despite all the obstacles in her path," Smith said. "We are so happy that she chose UHV and was able to take advantage of the flexible course format options to continue her degree, and that she persevered even when life got hard. She is an inspiration to all."
During that time, Bates said she would drift off while in her classes and even experienced a seizure in her strategic management class. The quick thinking from everybody in the class ensured she didn't hurt herself further. After she came to, Bates told her class she suffered a seizure.
"After I had the seizure, I wanted to step out because I was so embarrassed, but the professor, in addition to my classmates, made me feel so welcomed and safe," she said.
She then started reaching out to professors and campus organizations to get the help she needed while taking her courses. Another person who helped her along her journey was Cheryl Worley, UHV manager of disability services, Bates said.
"She ensured that I had everything I needed from the disabilities department, and she was so kind and helpful," Bates said. "They never made me feel like a burden even though I was ashamed to ask so many questions."
May 13, 2023, was a dream come true. Dressed in a traditional graduation gown, Bates walked across the stage at Faith Family Church to take hold of her bachelor's degree from UHV. Bates graduated with a bachelor's degree in business administration and human resource management.
"I cried. I cried and cried and cried. In the midst of going through brain surgery, being paralyzed and dealing with mental drawbacks, I was so happy," Bates said. "I wanted to give up, but I didn't. Walking across that stage, I realized I came out on the other side."
The University of Houston-Victoria, located in the heart of the Coastal Bend region since 1973 in Victoria, Texas, offers courses leading to more than 50 academic programs in the schools of Arts & Sciences; Business Administration; and Education, Health Professions & Human Development. UHV provides face-to-face classes at its Victoria campus, as well as an instructional site in Katy, Texas, and online classes that students can take from anywhere. UHV supports the American Association of State Colleges and Universities Opportunities for All initiative to increase awareness about state colleges and universities and the important role they have in providing a high-quality and accessible education to an increasingly diverse student population, as well as contributing to regional and state economic development.