UHV welcomes new international programs director
For more than 10 years, Yvonne Garcia has worked to make sure that international students at the University of Houston-Victoria felt at home while earning their degrees. As she moves from her previous role as UHV international student coordinator to international programs director, she plans to continue to build upon those connections.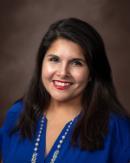 Yvonne Garcia
"I am excited at being given this opportunity to help with the growth of our institution with our international student program," Garcia said. "I have seen so many changes throughout the time I've been with the university, and I am excited to be at the forefront of that change now. It's an exciting time for growth with our university and with the cultural and diverse opportunities our International Programs bring."
Garcia officially started in her new position on Feb. 1 after serving as the interim international programs director when the previous international programs director, Ludmi Herath, left her position at the end of November. She was one of several candidates that was interviewed for the role, and it was evident that Garcia was the best person for such an important role at the university, said Karla DeCuir, UHV assistant provost for distance learning and interim vice president for enrollment management.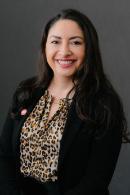 Karla DeCuir
"Yvonne is very knowledgeable and passionate about continuing to grow our international student population," DeCuir said. "I'm excited to welcome her to the leadership team within Enrollment Management. She has quickly taken on the director role and has already embarked on several initiatives that will continue to help the university and our international students, such as the popular International Festival, which is scheduled for Friday, April 14. We hope to see everyone there!"
Garcia has worked at UHV for more than 18 years. She first started at UHV in October 2004 in Admissions as an admissions analyst before moving to the International Programs Office in October 2008. While in the International Programs Office, she has served as the International Student Specialist and then as the International Student Coordinator role in February 2014. Garcia also received her Bachelor of Business Administration in general business in 2020 from UHV and is currently working on a Master of Education in higher education at UHV as well.
During her time at UHV, Garcia has had the opportunity to witness the growth of the university, including International Programs. When she first started working at UHV, the university did not have an International Programs office and instead, international students were still being processed in the same office that domestic students were processed in Admissions. International students have more admissions steps than domestic students as well as immigration requirements, so the growth of the international student population necessitated the creation of International Programs several years ago. Since then, the International Programs office has begun offering student services including advisement, workshops for students and events for students and the local community.
One of the biggest university events is the UHV International Festival, held each April at the Victoria campus which is organized by the International Programs office and international students. In the past, hundreds of people have attended the event, which showcases the diversity of cultures and countries represented on UHV's campus through a flag parade, food, a fashion show, music and traditional dances. This year's International Festival is scheduled for April 14, and Garcia is looking forward to the event.
"We always try to compete with the previous year's event, and last year's International Festival was amazing, topping the prior events in attendance and in performances," Garcia said. "We had such a great turnout and so much campus support and the Victoria community. I have been flooded with so much support and offering from UHV faculty, administration and staff, so we are definitely looking forward to top last year's festival."
Garcia also is looking forward to recruiting students from more diverse countries not currently represented on campus. So far, 43 countries are represented at the UHV campus and the UHV Katy instructional site, with degree-seeking students on student visas. An additional 15 countries also are represented through other visa categories, such as exchange programs and study abroad programs. Garcia's goal is to keep that momentum going and growing the number of international students and international representation on campus. Part of that goal is to reach out to international students who are attending community colleges in Texas and welcome them to pursue a higher degree at UHV.
Some of the main comments the office has received for several years is that the International Programs office makes students feel comfortable, safe and at home while studying at UHV. Across other higher education campuses, international students will often leave an institution after a short time and look for another university where they feel more comfortable and have a sense of feeling at home, Garcia said. UHV has been able to retain international students, and Garcia said she believes the key to that retention is connecting with students and their families from the very beginning of their time at UHV. Students will also bring other family members and friends after a good experience and connection at UHV.
"UHV is a unique campus in the way that our students not only stay to graduate from here, but they will also recommend others to come to UHV," she said. "They get that one-on-one attention, fully immerse in all of the campus services and get involved in events at the campus. They feel more comfortable with knowing that they're not just another student. We are lucky to have so many students who go from admissions to graduation with UHV and still stay connected as alumni."
The University of Houston-Victoria, located in the heart of the Coastal Bend region since 1973 in Victoria, Texas, offers courses leading to more than 50 academic programs in the schools of Arts & Sciences; Business Administration; and Education, Health Professions & Human Development. UHV provides face-to-face classes at its Victoria campus, as well as an instructional site in Katy, Texas, and online classes that students can take from anywhere. UHV supports the American Association of State Colleges and Universities Opportunities for All initiative to increase awareness about state colleges and universities and the important role they have in providing a high-quality and accessible education to an increasingly diverse student population, as well as contributing to regional and state economic development.