UHV to celebrate Rise of the Jaguars homecoming festivities
Those who attend the University of Houston-Victoria's 2023 homecoming celebration will walk away with a feeling of jaguar pride thanks to this year's school spirit theme.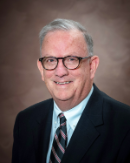 Bob Glenn
The Rise of the Jaguars Homecoming is scheduled for Saturday, March 25 through Saturday, April 1. The weeklong celebration will include events for UHV students, alumni, faculty and staff, with several events open to the public.
"Homecoming is a wonderful time for UHV to celebrate with our local community what it means to be a jaguar," UHV President Bob Glenn said. "We look forward to celebrating the accomplishments of our alumni and the drive of our current students as they move closer and closer to their dreams."
The homecoming celebration includes a little more than 20 events throughout the week ranging from a school spirit showcase to cheering on the university's student-athletes.
"This is the first time in several years that the university's homecoming theme is based more on school spirit, so we are excited for everyone to experience that school spirit," said Freddie Cantu, interim director of UHV Student Life. "We invite everyone to our kick-off celebration and to join us for our public events."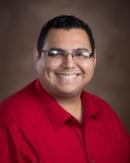 Freddie Cantu
On March 25, there will be two events at The Cage soccer field, 3007 N. Ben Wilson St. There will be a pre-game celebration from noon to 1 p.m., followed by the Jaguars Alumni Soccer Games. Alumni from both the men's and women's soccer teams will play against the current UHV men's soccer and women's soccer teams. The public is invited to attend the pre-game celebration and games.
The Rise of the Jaguars Kickoff will be from 7:30 to 9 p.m. March 27 with outdoor festivities at Pyramid Row, 3007 N. Ben Wilson St. The event will feature an introduction of the student-athletes and the UHV Homecoming Court, as well as a performance and skit by the UHV Cheer Team and jaX. There also will be a live performance by the band Velvet Drive. The event will be livestreamed through Microsoft Teams and is open to UHV students, faculty, staff, alumni and the community.
On Tuesday, March 28, there will be several events, including two that will be open to the public. All are invited to attend the UHV Softball doubleheader to cheer on the Jaguars and the pre-game celebration. The pre-game festivities will begin from noon to 1 p.m. at the Victoria Youth Sports Complex, 107 N. Ben Wilson St., followed by the doubleheader against Our Lady of the Lake University. Admission is free to all UHV faculty and staff, alumni and their families, and community members who complete registration for the event.
On Wednesday, the UHV Alumni Career Panel is scheduled from 5:30-6:30 p.m. through Microsoft Teams. Attendees will hear from a group of UHV alumni who will share their stories of how they found rewarding careers and how they developed into leaders of their communities. This event is open to the public.
On Thursday, March 30, there will be two events open to UHV faculty, staff, students, alumni and the public. The first event is UHV Discovers, which will feature a presentation by Wahidah Hashim, a visiting Fulbright Scholar and an associate professor from the National Energy Institute in Malaysia. Hashim will share her research that relates to the studies of a reliable internet communication network for sustainable community resilience and highlight the issues of internet connectivity in remote areas of Malaysia with true stories she gathered from her fieldwork. This event will be from 1:30 to 2:30 p.m. at UHV University North, Room 111 and through Microsoft Teams.
Later that evening, the university will host the Eighth Annual Talent Show from 7 to 9 p.m. at UHV University North Multi-Purpose Room and streamed through Microsoft Teams. This year, there will be 10 student performers along with a performance from the cheer team and jaX. The winners of the show will be decided by a panel of judges and the audience. The emcee for the event will be Rich Williams, a comedian from Houston who has opened for Arsenio Hall, Snoop Dogg, Lady A, Hannibal Buress and Rob Schneider.
On Friday, March 31, UHV alumni, their family and friends, and community members are invited to attend the UHV Alumni Banquet from 6:30 to 9 p.m. at the UHV University North Multi-Purpose Room. The banquet will begin with a beer and wine reception and includes a catered dinner and an awards presentation for the 2023 Distinguished Alumna and 2023 Young Alumnus of the Year. Tickets for the event are $25 per person.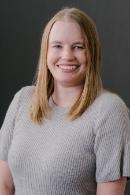 Kelsey Norgard
"Homecoming is a great time to return to your alma mater and join in on the festivities that we have planned," said Kelsey Norgard, UHV director of alumni relations and annual giving. "We encourage our UHV alumni to come back to campus and celebrate homecoming with fellow alumni and current faculty, staff and students."
The week of events will close out on Saturday, April 1 with the President's Tailgate and the baseball doubleheader at Riverside Stadium, both of which are open to the public. The tailgate will be from 11 a.m. to 1 p.m., and there will be food, games and giveaways. The Jaguars Baseball doubleheader against Huston-Tillotson University will begin at noon. Entry to the game is free for all UHV students, faculty and staff, and community members who register for the event. Admission to the games is $5 for community members who do not register for the event.
Events for students are also planned throughout the week, including homecoming information stations, the UHV Katy Homecoming Celebration, the 1973 Block Party, the Spring Planting Project, Powderpuff Football Game and the Homecoming Foam Party. There also will be a Retired Faculty & Staff Luncheon open to all UHV retired faculty and staff and their guests.
To find out more about UHV Homecoming and to find links to events that are available to watch through Microsoft Teams, go to www.uhv.edu/homecoming. Those who would like to attend the pre-game celebrations for the alumni soccer game and the softball doubleheader and the President's Tailgate will need to register for the events at www.uhvconnect.org/events.
The University of Houston-Victoria, located in the heart of the Coastal Bend region since 1973 in Victoria, Texas, offers courses leading to more than 50 academic programs in the schools of Arts & Sciences; Business Administration; and Education, Health Professions & Human Development. UHV provides face-to-face classes at its Victoria campus, as well as an instructional site in Katy, Texas, and online classes that students can take from anywhere. UHV supports the American Association of State Colleges and Universities Opportunities for All initiative to increase awareness about state colleges and universities and the important role they have in providing a high-quality and accessible education to an increasingly diverse student population, as well as contributing to regional and state economic development.