UHV students to share talent, passion at Writer's Showcase
Ten University of Houston-Victoria students will have the opportunity to share their writing ability with their peers and the community as part of a Writer's Showcase event that will feature pieces including fictions, nonfiction and poetry.
The UHV Writer's Showcase will be at 7 p.m. on May 4 inside the UHV University Commons Multi-Purpose Room, 3006 N. Ben Wilson St. During the free event, 10 undergraduate students will read excerpts of their work, and a special guest judge watching through Teams will award a prize to their favorite piece. There also will be an Audience Choice Award that will allow attendees to vote for their favorite pieces.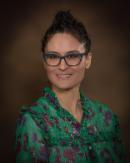 Nadya Pittendrigh
"The showcase is an opportunity for us to share our students' creativity and remind people that writing is meant to be a social and fun activity, not a solitary thing," said Nadya Pittendrigh, a UHV associate professor of English and director of the English programs. "For writers, sharing our work is often a surprising and exhilarating experience, especially when we can be in front of an audience and receive immediate feedback and validation. I want our students to be excited to share their work, and I hope the community is excited to hear it."
The students will read up to four pages of a fiction or nonfiction story or up to two short poems. The 10 presenters will be:
Alma Gutierrez

– "Mother Reminds Me, Glorious Gift of God" and "Sever the Head with Vicious Fine Blades"
Amber Watt

– "How Facebook Affects Intimate Relationships"
Andy Tomek

– "Shocking Advice"
Brandon Horn

– "NOT Just a Bit: A Series of Absurd Poems"
Candice Garza

– "Phoenix"
Chad Wilson

– "Sammy" and "Closets that Don't End"
Dustin Starrak

– "The Tree Frog and the Koi Fish"
Gabrielle Boone

– "Mi Abuelita, The Earth"
Gisela Santos

– "The Mountain Man"
Irene Zelaya

– "Insight versus Ignorance"
Savannah Malone Eades

– "Ash and Beer-Filled Heart" and "Crinkled Younger Sibling"
Uzochi Iyke-Nzeocha

– "Color Change"
For Candice Garza, the showcase is an opportunity for her to share a personal story about her and her family's mental health journey as they deal with her brother's incarceration. The senior Port Lavaca student has enjoyed writing for most of her life, but she hasn't had many opportunities to write in recent years except for class assignments. Now, her story "Phoenix" will help her express the impact that incarceration has had on herself and others in her family.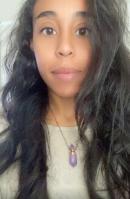 Candice Garza
"Many people don't know or don't think about the fact that when someone is incarcerated, it affects more than just that person," Garza said. "The impact spreads throughout the entire family. Whether the family members write the person off or spend every day thinking about them, there's a trauma that many people just don't consider."
Garza titled her piece "Phoenix" as a way to reference how she and her family are trying to rise from the ashes of their situation. She also says it is dedicated to her brother and the things that have been lost and how they impacted the family.
Stories like Garza's show how important writing can be to mental health and helping people process their feelings, Pittendrigh said.
"It can be so important for individuals to write about their feelings and identities and find a way to share that with others," she said. "Many times, what one person is feeling can actually touch and impact the lives of others. Our students have so much to share, and I cannot wait to see how their work will be received."
The University of Houston-Victoria, located in the heart of the Coastal Bend region since 1973 in Victoria, Texas, offers courses leading to more than 80 academic programs in the schools of Arts & Sciences; Business Administration; and Education, Health Professions & Human Development. UHV provides face-to-face classes at its Victoria campus, as well as an instructional site in Katy, Texas, and online classes that students can take from anywhere. UHV supports the American Association of State Colleges and Universities Opportunities for All initiative to increase awareness about state colleges and universities and the important role they have in providing a high-quality and accessible education to an increasingly diverse student population, as well as contributing to regional and state economic development.