UHV student promotes robotics, STEM activities at UHV, community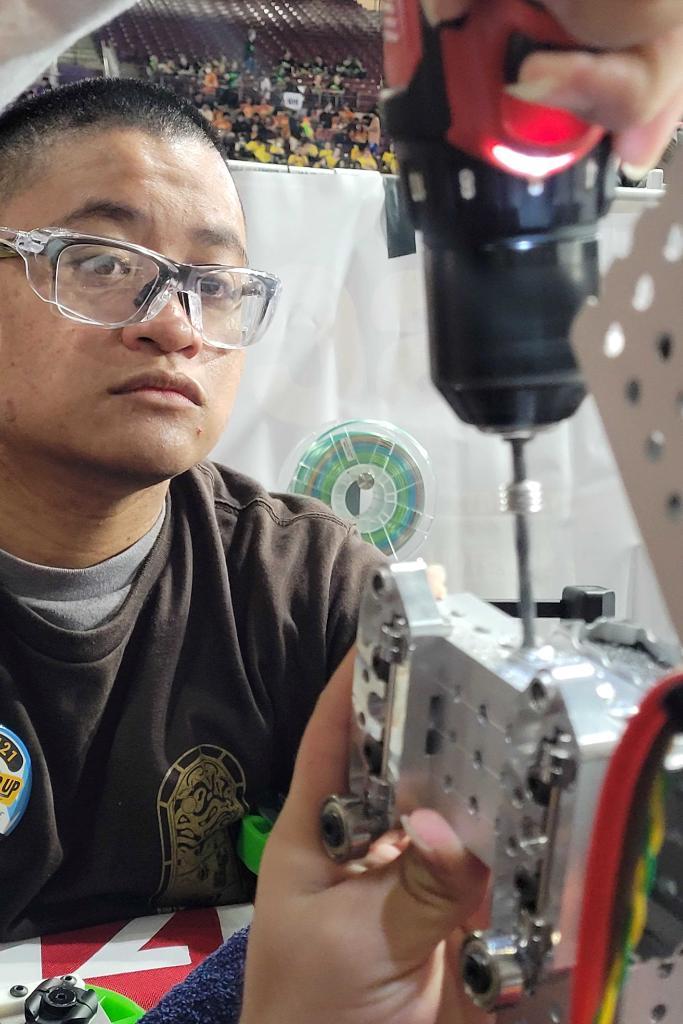 UHV student Kristian Pulido supervises as a student works on a robot. Pulido has spent about a year growing the STEAM Alliance, a UHV student organization that involves science, technology, engineering, art and mathematics activities. He also is the instructor of the Victoria West High School robotics team.
Since high school, Kristian Pulido has enjoyed robotics and science-based activities. Now, the University of Houston-Victoria computer information systems junior is helping students on campus and youth in the community learn more about robotics through his efforts with a revived science, technology, engineering and mathematics student organization.
"Being on a robotics team in high school changed the trajectory of my life and introduced me to the world of STEM," Pulido said. "This is my way of giving back to the robotics program I used to be a part of, as well as the community and sharing the robotics community with more people."
Pulido, of Katy, has spent about a year growing the STEAM Alliance, a UHV student organization that involves science, technology, engineering, art and mathematics activities. He helped revive the formerly inactive group about a year ago with the intention of creating more STEM activities for students on campus as well as youth in the community.
For Pulido, robotics has played a major role in his interest in STEM. So, when he found out that there were practically no robotics teams at any of the local high schools in the Victoria and Crossroads area, he decided to collaborate with a teacher from Victoria West High School who he previously met at UHV's Math & Robotics Awareness Day.
Over the previous summer and fall, he helped organize a robotics team and became the instructor for the team, teaching the students the basics of how to use tools to build a robot to how to program it. Pulido and the team spent about three hours a day for three to four days a week throughout February and March preparing the high school group for competition, and even more hours on the weekends. The group competed in Belton and Houston, and during the Houston competition, were even able to compete against more established robotics teams. The group won three awards at the Houston competition, including the rookie all-star award, the rookie highest seed award, and the District Event Winner Award.
"There are so many educational aspects of being on a robotics team that doesn't only involve robotics and science," he said. "There's teamwork, marketing and business aspects as well because teams must raise funds and find sponsors to compete. This team winning shows that there's a promising future here for robotics. I hope they are inspired by the teams we saw so that they can continue to build on the program after I graduate from UHV."
In addition to growing the STEAM Alliance on the UHV campus, Pulido also works as an instructor for an after-school robotics course for high school students at UHV. The camp, which is funded by a grant from Alcoa Foundation, helps area high school students learn how to use advanced robotics tools and engineering concepts to create artificial intelligence applications. Pulido was able to help upgrade the robotics kits and would like to see the kits continue to upgrade to help challenge and teach students more about robotics and simulation, he said.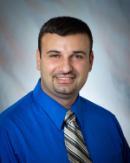 Amjad Nusayr
The camp is led by Amjad Nusayr, UHV associate professor of computer science and STEAM Alliance faculty advisor. Nusayr has been impressed by the level of dedication and commitment Pulido has shown in STEM activities as well as his drive as a student.
"Kristian is engaged with the robotics community here on campus and in the community to the point that now more high schools have shown interest in starting their own robotics teams," Nusayr said. "He takes initiative, and if he can't solve a problem himself then he makes sure to ask to find the right person who would have the answer. These are the personality aspects we want in our students and our community leaders, and I am sure Kristian will continue to grow as a leader here at UHV and when he graduates."
Pulido is excited that more people in the community are excited about STEM activities, and is grateful for the support he's received from the UHV College of Natural & Applied Science and Hilary Kofron, UHV Student Life director. He plans to continue to work with the STEAM Alliance and the robotics team, as well as other youth organizations in the community to help establish more science-based activities.
"It's been a rewarding experience to do this, and to be able to be a mentor in this subject is a full-circle moment for me," he said. "It's exciting to see a robotics community being created here, and I hope that the robotics community here continues to support each other."
To learn more about the Victoria STEAM Alliance, contact Pulido at victoriasteamalliance@uhv.edu. To learn more about the VWHS team or FIRST Robotics, please contact Pulido at wildwest9121@gmail.com.
The University of Houston-Victoria, located in the heart of the Coastal Bend region since 1973 in Victoria, Texas, offers courses leading to more than 80 academic programs in the schools of Arts & Sciences; Business Administration; and Education, Health Professions & Human Development. UHV provides face-to-face classes at its Victoria campus, as well as an instructional site in Katy, Texas, and online classes that students can take from anywhere. UHV supports the American Association of State Colleges and Universities Opportunities for All initiative to increase awareness about state colleges and universities and the important role they have in providing a high-quality and accessible education to an increasingly diverse student population, as well as contributing to regional and state economic development.