UHV student earns federal internship spot
The first time Michael Murphy watched "Star Wars: A New Hope" at four years old, he was fascinated by the scenes featuring the droids R2-D2 and C-3PO. That early interest in robotics and artificial intelligence has now led to earning a spot as an intern at a federal laboratory.

Michael Murphy
Murphy, a University of Houston-Victoria student who will soon receive a Master of Science in computer science, will be a post-bachelor's intern at the Savannah River National Laboratory in Aiken, S.C. In that role, he will be using artificial intelligence programs including neural networks, to model the dispersal of groundwater contaminants in the environment.
"It was thrilling to get the news that I will be interning at the lab," said Murphy of Rockport. "I've learned so much already through the opportunity to be part of federal research at UHV, and I'm looking forward to gaining even more experience and knowledge through this internship."
Murphy is one of the graduate assistants working on research funded by a $300,000 federal contract with Battelle Savanah River Alliance LLC for research that is applying predictive modeling techniques for detection and monitoring of groundwater contamination. The research is being done in collaboration with researchers from the Savannah River National Laboratory and the Pacific Northwest National Laboratory and is funded for one year through the Minority Serving Institution Partnership Program. The research is being done for the U.S. Department of Energy Office of Environmental Management, and UHV's research is being led by Hardik Gohel, an assistant professor of computer information systems.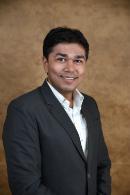 Hardik Gohel
"Seeing Michael receive this internship is a proud moment for our research project and the university," Gohel said. "Michael started out as a graduate research assistant, but he picked up the work quickly, and now he works as a project leader and mentors our undergraduate student assistants. We are proud of his contribution to the research, and we look forward to even more opportunities to partner with the laboratories and the federal government in the years to come."
Murphy will fly out to the lab in South Carolina on March 5 for a week of orientation. Then, he will be working remotely from Texas. He first heard about the internship after he gave a presentation to leaders from the Savannah River lab and others about the current progress of the research at UHV. After his presentation, a member of the Savanna River lab contacted him and suggested that he apply for the intern position.
When Murphy watched the droids in Star Wars, he was so fascinated that he decided to dedicate his life toward making that technology possible. However, as he's grown up and learned more about the field, his interest has shifted toward a more immediate need and goal.
"My fascination in robotics and A.I. never died, so it's clearly what I'm meant to do, but now I'm looking more into the potential medial uses for the technology, such as prosthetic limbs," Murphy said. "Learning about tools such as neural networks will really help with that goal one day."
In the future, Murphy dreams of creating a company or foundation that can offer affordable, or even free, prosthetics that use artificial intelligence as part of their functionality.
"Right now, the technology is so expensive, very few people have access to it," he said. "I want to find a way to make it affordable, usable and available to anyone who needs it."
The University of Houston-Victoria, located in the heart of the Coastal Bend region since 1973 in Victoria, Texas, offers courses leading to more than 50 academic programs in the schools of Arts & Sciences; Business Administration; and Education, Health Professions & Human Development. UHV provides face-to-face classes at its Victoria campus, as well as an instructional site in Katy, Texas, and online classes that students can take from anywhere. UHV supports the American Association of State Colleges and Universities Opportunities for All initiative to increase awareness about state colleges and universities and the important role they have in providing a high-quality and accessible education to an increasingly diverse student population, as well as contributing to regional and state economic development.