UHV named top school for online master's in data science
A University of Houston-Victoria graduate degree program recently was ranked as one of the top programs in the country for its overall quality, affordability and commitment to student success by a national student-focused website.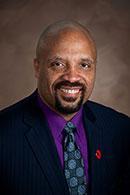 Chance Glenn
OnlineMastersDegrees.org, a website that supports online learning at the master's level and helps students find scholarships, resources and connections with accredited colleges and universities across the country, ranked UHV's Master of Science in Computer Information Systems with a concentration in data science program seventh on its list. Just six percent of regionally accredited postsecondary institutions earned a ranking position, according to a news release from the website.
"We are extremely pleased to have our program recognized in this manner," said Chance Glenn, provost and vice president for academic affairs. "It is a great testament to the knowledge and dedication of our faculty and staff who work to make this happen day after day. Data Science is one of the most critical fields of study today. This helps us to attract the best students to our program. While we are pleased at this recognition, we are not surprised. We continue to work to make it better every day."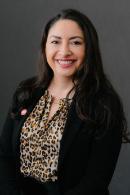 Karla DeCuir
The ranking was based on data from universities, including whether the university is accredited; has academic counseling services; career placement services; the student-faculty ratio; tuition; percentage of students receiving school-based aid; and the amount of school-based aid per student.
"Having our M.S. in Computer Information Systems with a concentration in data science be recognized as one of the top programs nationwide truly speaks to our mission," said Karla DeCuir, assistant provost for distance learning and interim vice president for enrollment management. "Our goals continue to be to make higher education and upward economic mobility more accessible to all. As an institution where 63 percent of enrolled students are first-generation college students and 42 percent are Hispanic students, we pride ourselves on providing access to quality programs that are in high demand, that are affordable and that students value."
The concentration in data science is a new program at the university that officially launched during fall 2021, along with concentrations in cybersecurity and artificial intelligence. Students who are earning a bachelor's or master's degree in computer information systems can choose to include data science as a concentration.

Hardik Gohel
"This news is super exciting to hear," said Hardik Gohel, an assistant professor of computer science and program director of data science. "The program received this ranking within a year, which shows we are a top-quality and affordable university for students who are looking to add data science to their skillset and resume."
Data science is a rapidly evolving and exciting field, and people with a degree in data science are in huge demand, said Gohel. With a degree in data science, a wide range of jobs are available to graduates such as positions including data scientist, data analyst, data engineer, machine learning engineer, statistician, business analyst, technology specialized roles and more.
The M.S. in computer information systems with a concentration in data science at UHV offers 26 credit hours through ITV and online courses and can be completed in as few as 16 months, depending on the student's course schedule. Courses include "Machine Learning," "Deep Learning," "Natural Language Processing," "Data Visualization," "Predictive Analysis," "Programming for Data Science," and more. Students in the program also have the option to either do a master thesis track or an internship track, Gohel said.
Some of the benefits of the program at UHV include the opportunity to get hands-on experience in applications in data science and cybersecurity and learn tools that are used by industry leaders including Google, Microsoft, Amazon and Facebook. Some graduate students in the program have landed federal government internships and are working on federal government contract projects using the skills they are learning at UHV, Gohel said.
"While this program is fairly new, it is growing into the double-digits, and we want to keep the momentum going," Gohel said. "There are so many learning and job opportunities for students with this degree, and we look forward to seeing the program grow."
To learn more about the Master of Science in computer information systems with a concentration in data science program at UHV, contact Gohel at 361-570-4219 or at gohelh@uhv.edu.
The University of Houston-Victoria, located in the heart of the Coastal Bend region since 1973 in Victoria, Texas, offers courses leading to more than 80 academic programs in the schools of Arts & Sciences; Business Administration; and Education, Health Professions & Human Development. UHV provides face-to-face classes at its Victoria campus, as well as an instructional site in Katy, Texas, and online classes that students can take from anywhere. UHV supports the American Association of State Colleges and Universities Opportunities for All initiative to increase awareness about state colleges and universities and the important role they have in providing a high-quality and accessible education to an increasingly diverse student population, as well as contributing to regional and state economic development.