UHV MBA students get top spot in graduate business competition
After several weeks of studying, researching, practicing and perfecting their presentation, a group of graduate students rose to the top of the competition during the 30th University of Houston-Victoria College of Business Master of Business Administration Case Conference.
Kevin Chen of Fort Bend, John Demore of Tomball, Isis Amor Oburu Mitoho of Houston and Justin Pitman of Houston were on a team that was ranked first in the competition. The conference took place through Microsoft Teams on Dec. 3 and included 46 students on 13 teams. Graduate students in the "Seminar in Strategic Management" capstone course spent the fall semester analyzing a company both individually and in teams. This semester, students prepared presentations about EOG Resources, an American energy company engaged in hydrocarbon exploration.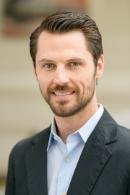 John Demore
"It as an incredible feeling and a great accomplishment for our team to rank first in the competition," Demore said. "As a team we initially discussed our strengths and assigned deliverables or tasks that helped organize our team for success. We were in constant communication to support each other or review ideas which truly exemplified our teamwork. This project showcased our skills from the program, and I am very proud of the work our team delivered. It was a great moment for us to win."
The competition has been a tradition and a comprehensive, educational event at the UHV College of Business for many years, and the project for the competition and is an integration and application of all of the courses in the MBA program, said Charlie Huang, a UHV associate professor of management and instructor for the course. The students apply everything they have learned in the program to analyze a real company and create a presentation to present to a panel of judges comprised of UHV faculty, local business leaders, supporters of the university and UHV College of Business alumni. Huang also oversaw the top three teams.
EOG Resources was chosen as the company to analyze because it is a public company with readily available information for students to analyze. It is also based in Houston, an area where many students will either have or pursue a career, Huang said. The students had to identify a few strategic issues of the company and formulate a strategy with an actual plan, after conducting comprehensive research on the company's external and internal business environment. The students were not only asked to craft and justify a sound strategy, but they also needed to present a projection of implementation outcome.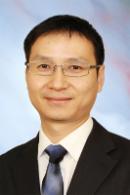 Charlie Huang
While the project is time-consuming, and research- and writing-intensive, it is extremely rewarding, Huang said. Students learn how to collect data, create an analysis, write a solid report, and make constructive recommendations based on evidence and logical reasoning. The students also practice giving a formal business presentation as well.
"This project is about how the whole program connects to equip our students with skills they will need in the real world," Huang said. "Through experiential learning, students present a case analysis of a real company, bridging the gap between the textbook knowledge and the real-world problems. It is an intense competition, and students come out of it better and more confident in their abilities. The winning teams were well-rounded in their academic rigor, quality of written report, and their formal presentation, and I am very impressed with the students' performance."
Demore, who received his MBA with a concentration in management in December, found the project a great way to showcase the knowledge obtained from all the courses he took at UHV. Work on the project took most of the semester, with the team setting critical key dates and deliverables to adhere to, he said. The team stayed in consistent contact through a group text chat and met over Microsoft Teams two to three times a week to discuss the project.
The most intensive, and important part of the project was researching the company, the industry and its competitors for proper analysis. This included researching challenges to the company, driving forces in the industry, company financials, and risk assessments. The group came up with four different recommendations before ultimately going with the winning recommendation, which was based on the company's plan to reach net zero emissions by 2050. The group recommended that EOG Resources acquire a solar power company, which would align with the company's mission statement and assist with obtaining several strategic advantages for their future without disrupting current operations.
Demore, who works as a director of sales for a company in corrosion prevention, appreciates that the skills he has learned can be used to help him in his current job and his career. The project also can help those who are looking to steer their career into a new industry or job as the skills the students learned are easily transferrable.
"The case conference was the best part of the program, and the class was a great way to bring everything we learned into one place – it was a real-world experience in the classroom that you can definitely use at any point in your career," Demore said. "It was great to work with the team I was a part of, and it was exciting for us to get first place after all the work we put into the project. A very rewarding experience!"
Other teams that placed in the MBA Case Conference were:
Second place – Jennifer Sanchez of Houston and Andres Emdad and Aarti Dsouza of Spring
Third place – Alex Bruscianelli of Katy, Denise Hernandez of Victoria and Thao Truong of Houston.
The University of Houston-Victoria, located in the heart of the Coastal Bend region since 1973 in Victoria, Texas, offers courses leading to more than 80 academic programs in the schools of Arts & Sciences; Business Administration; and Education, Health Professions & Human Development. UHV provides face-to-face classes at its Victoria campus, as well as an instructional site in Katy, Texas, and online classes that students can take from anywhere. UHV supports the American Association of State Colleges and Universities Opportunities for All initiative to increase awareness about state colleges and universities and the important role they have in providing a high-quality and accessible education to an increasingly diverse student population, as well as contributing to regional and state economic development.