UHV mathematics lecturer comes full circle
Wednesday, November 15, 2023
| By
Duy Vu
UHV mathematics lecturer Amy Cuevas stands for a portrait inside University South.
University of Houston-Victoria's Amy Cuevas enjoys counting. How many steps does it take to reach the top of University South from the ground level? 31.
What about the University Center Building from the very bottom? Exactly 56.
It has been a habit she has carried over from her time as a UHV student. Now, the alumna has made the full circle back to serve as a mathematics lecturer for the UHV College of Natural & Applied Science.
"I've always been intrigued with math and numbers," Cuevas said. "I always wanted to teach and to share my love of math here at UHV."
Originally from Beeville, Cuevas came to Victoria in 1995 after her marriage and began setting roots down in her new home. She stepped foot on campus for the first time in 2001 while juggling a full-time job and the responsibilities of being a mother, she said.
"I would go home during lunchtime and take out whatever I was going to make for dinner, after getting out of work I would go home and prepare dinner," Cuevas said. "Then I would come back to classes in the evenings."
It was around the same time her elementary-aged daughter was having difficulties with her math homework, she said. Between her math and computer science lectures, which were dominated mainly by male students, Cuevas said she would take a breather laying on a bench inside of the women's restroom in UHV University West.
"I would lay on the bench and call my daughter and say, 'Okay, what do you need help with today?'" Cuevas said. "I would tutor her over the phone, and that was the only time I could do that."
Cuevas completed her Bachelor of Science in mathematics and computer science in 2005 and later went on to receive her Master of Arts in interdisciplinary studies in 2010 at UHV as well.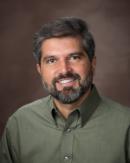 Ricardo Teixeira
"Amy Cuevas is a delight to work with. As a colleague, she is always willing to collaborate with the team. She has helped the university in numerous ways, from helping with events to assisting with recruitment. Amy goes above and beyond to allow the students to learn math," said Ricardo Teixeira, UHV associate professor of mathematics.
Cuevas' dedication to the university is "contagious" Teixeira added. He's observed Cuevas offer chocolate and other treats to students that attend her office hours, as well as explain math in Spanish to clarify concepts for her Hispanic students. Cuevas is known to accept any challenge with professionalism and is the math faculty member who teaches the largest number of students every semester, Teixeira noted.
As far as she can remember, Cuevas has always been mathematically inclined. Just like the number of steps in the University South and University Center Buildings as been counted, so are the rest in each building on campus, down to the very last steps.
"I'm always counting, counting and counting," Cuevas said. "I could be having a full conversation with someone beside me, but in my mind, I'm still counting."
After graduating from UHV with her bachelor's degree, Cuevas went on to take a grant position at Ganado High School to assist with math and anything related in Spanish, she said. In 2021, she started at UHV as a full-time lecturer. Cuevas often reflects on her time on university grounds as a student, and that impacts the ease of relating with her students because she was once a student herself, she said.
"To visit the buildings where I used to study and to walk around the West building now is amazing. When I was a student, the only buildings were West and Center," Cuevas said. "To visit the buildings and classes where I was a student and am now teaching is ironic."
The University of Houston-Victoria, located in the heart of the Coastal Bend region since 1973 in Victoria, Texas, offers courses leading to more than 50 academic programs in the schools of Arts & Sciences; Business Administration; and Education, Health Professions & Human Development. UHV provides face-to-face classes at its Victoria campus, as well as an instructional site in Katy, Texas, and online classes that students can take from anywhere. UHV supports the American Association of State Colleges and Universities Opportunities for All initiative to increase awareness about state colleges and universities and the important role they have in providing a high-quality and accessible education to an increasingly diverse student population, as well as contributing to regional and state economic development.