UHV Latino association to host meeting about Victoria bicentennial events
The University of Houston-Victoria Latino Faculty & Staff Association invites the public to attend their next meeting to learn more about Victoria's bicentennial events planned for 2024, as well as hear from a descendant of Don Martín de León and Doña Patricia de la Garza, who founded Victoria.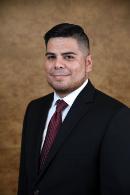 Humberto Hernandez
The LFSA meeting is scheduled for 4 p.m. on March 22 in UHV University North, Room 111. The meeting also will be streamed live through Microsoft Teams. Blanche de León, a direct descendant of Don Martín de León and Doña Patricia de la Garza, will speak about the origins of Victoria as well as volunteer opportunities for the upcoming Victoria Bicentennial celebration.
"The Latino Faculty and Staff Association is delighted to welcome Blanche de León as our distinguished speaker," said Humberto Hernandez, president of the LFSA and assistant professor of biology. "For more than two centuries, the de León family has been an essential component of the community, making significant contributions to the city's development through their participation in politics, education and business. The de León family's ongoing contributions continue to be a pivotal force in shaping the city of Victoria, and their descendants' continued involvement in the city's growth and prosperity is a source of pride in the community. The UHV family and community is honored to welcome Blanche de León as our esteemed guest."
The LFSA was founded in 2020, and membership is open to all full-time UHV faculty and staff as well as community members. The group's mission is to build community among the Latinx faculty, staff and other interested professionals by empowering employees at all levels to network, serve as a voice for educational issues, advance personally and professionally, and to foster an inclusive workplace through service in the spirit of Latino culture.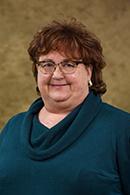 Catherine Swift
The idea to host a meeting centered around Victoria's bicentennial events came from Catherine Swift, LFSA vice president and UHV grant development coordinator. Swift also is a member of the Victoria County Historical Commission and is on the planning committee for the Victoria Bicentennial celebration. It felt natural to her that her affiliations with both the commission and the university should be leveraged to integrate both into the public community.
Attendees can expect to learn more about Victoria's Hispanic origins during the meeting. Victoria has been at the center of the settlement and eventual statehood of Texas, and the city and de León family have been featured in academic publications as well as historical fiction books, she said. Those who attend the meeting in person also will be able to view a commissioned portrait of Doña Patricia de la Garza, the wife of de León.
"Blanche's presentation adds so much to our community," Swift said. "In addition to bringing her family's history to the forefront, it is also about the original European settlement of Victoria, the exquisite Spanish culture that they cultivated, which in turn influenced the character of our city. In addition, in light of celebrating Women's History Month, matriarch Doña Patricia de la Garza was a powerful, yet graceful leader in her own right, as women could own land, manage legal affairs and inherit property."
Blanche de León plans to speak about her ancestors and the history of Texas, and will take time to answer questions after her presentation. She also will go over a variety of volunteer opportunities for UHV faculty and staff to be a part of the Victoria Bicentennial events. De León, who is a member of the Daughters of the Republic of Texas, the Texas Historical Commission and the Daughters of the American Revolution, also is a UHV alumna. She received her Master of Science in nursing from UHV in May 2012.
De León also is excited to share a preview of a commissioned portrait of her ancestor with attendees. Since there are no photos or descriptions of what Patricia looked like, de León and her sisters commissioned Lois Gibson, a renowned forensic artist who holds a 2017 Guinness World Record for most identifications by a forensic artist, to create a portrait of Patricia. Gibson was able to create a portrait by using photos of women descendants of the de León family. The portrait of Patricia is the basis of how the statue of Patricia will look in downtown Victoria. Statues of Patricia and Martín de León are scheduled to be unveiled at De Leon Plaza in downtown Victoria during the bicentennial celebration next year, de León said. Additionally, there will be an official viewing of the portrait this year, and it will be featured in an exhibit about women in Texas history.
"I am happy to speak about my family to UHV faculty and staff and the public as well," de León said. "My family has worked with the city for the bicentennial, and I am excited for the opportunity to share how the university can be involved in this important celebration."
Those who would like to attend the meeting through Microsoft Teams can find a link to the livestream the day of the meeting at www.uhv.edu/latino-faculty-staff-association. For information, contact Hernandez at hernandezh7@uhv.edu or Swift at swiftc@uhv.edu.
The University of Houston-Victoria, located in the heart of the Coastal Bend region since 1973 in Victoria, Texas, offers courses leading to more than 50 academic programs in the schools of Arts & Sciences; Business Administration; and Education, Health Professions & Human Development. UHV provides face-to-face classes at its Victoria campus, as well as an instructional site in Katy, Texas, and online classes that students can take from anywhere. UHV supports the American Association of State Colleges and Universities Opportunities for All initiative to increase awareness about state colleges and universities and the important role they have in providing a high-quality and accessible education to an increasingly diverse student population, as well as contributing to regional and state economic development.