UHV graduate serves community through new mental health court
When Elaine Brown steps in as a recently elected Hays County Court-at-Law judge, she will be armed with a combined knowledge of law and counseling, thanks to her years practicing law and professional counseling.
"I felt that I could bring both areas of expertise to the position to make sure we have a viable mental health court," she said.

Elaine Brown
Brown is a 2011 graduate of the University of Houston-Victoria Counseling Psychology graduate program. She received her Juris Doctor from the Texas Tech University School of Law in 1991 and practiced law for several years before pursuing a degree in counseling psychology. She has been an attorney for more than 30 years and practiced for 10 years as a professional counselor while practicing law. Brown, a resident of Hays County near Dripping Springs, was sworn in as Hays County Judge, County Court-at-Law #3 on Jan. 1. The mental health court program was created during the summer.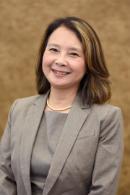 Kyoko Amano
"We are extremely proud of the good work of our alumni, who exemplify what it means to be driven," said Kyoko Amano, dean of the UHV College of Liberal Arts & Social Sciences. "Mental health is an important aspect of our society that intersects with so many other areas, and Elaine is equipped to serve her community well. We wish her the best as she embarks on this journey."
Brown decided to pursue a degree in counseling psychology so that she could have a better understanding of the psychological, mental health and emotional aspects of cases she had seen as an attorney in family and criminal law. During her time as a graduate student at UHV, she learned new skills that have been helpful for her as both a counselor and a lawyer, such as motivational interviewing, which is helpful in situations such as interviewing someone with substance abuse issues. Something she found helpful was practicing hypothetical situations with other students and receiving feedback from professors on areas where she could improve. She also appreciated the help she received for her practicum from Paul Hamilton, a now-retired UHV clinical assistant professor of psychology.
The skills and methods she learned through the counseling psychology program have proven to help not just her clients, but also when she worked cases as a collaborative lawyer with other attorneys.
"Law is very analytical and advice oriented, but when you switch over to the mental health counseling aspect, your role is not to give advice but help the individual come up with their own answers," Brown said. "I feel I was successful in doing that for my clients. I've received positive feedback in my work in mediations and collaborations with other attorneys."
As a graduate student at UHV, Brown was bright, focused and had an eye on ways that she could combine her expertise as a lawyer with the ability to help people with mental illness, said Catherine Perz, a professor of psychology and director of the UHV Counseling Psychology program.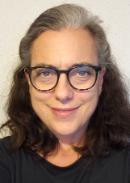 Catherine Perz
Mental health courts are a relatively new development, and these courts seek innovative ways to treat offenders with mental health problems, Perz said. In many places, jails have a very high number of people with mental disorders and challenges of all kinds, yet there are usually few services available to them while incarcerated. This results in increased recidivism and a reduced chance of rehabilitation.
"She was an exceptional psychotherapist with empathy for clients of all kinds," Perz said. "Elaine is ideally prepared to lead a mental health court. Her training and long experience in the practice of law, together with her strong training and lengthy experience as a mental health professional, gives her an outstanding understanding of the complexities of both worlds and allows her to balance justice with the needs of those with mental health challenges."
In her new role, Brown will act much like a supervisor for the mental health court program. Her other duties include providing probate guardianship and overseeing criminal misdemeanor cases as well as some civil cases.
People who have mental health issues have to apply for the mental health court program and follow certain steps, and Brown will monitor them to make sure the individuals are making progress in the program. Mental health court is a positive movement in the state, and Brown is motivated to help make the program a success. Many times, there are people in the criminal justice system who are there because of a mental health crisis and who can be better served by receiving mental health treatment, she said. A program like the mental health court helps the community at large, provides protection to the public and reduces the number of re-offenders as well.
"I am looking forward to making positive changes to improve our court functions and to help individuals who participate in our Mental Health Court find a healthier path in life," Brown said.
To learn more about the UHV Counseling Psychology program, go to www.uhv.edu/liberal-arts-social-sciences/graduate-degrees.
The University of Houston-Victoria, located in the heart of the Coastal Bend region since 1973 in Victoria, Texas, offers courses leading to more than 50 academic programs in the schools of Arts & Sciences; Business Administration; and Education, Health Professions & Human Development. UHV provides face-to-face classes at its Victoria campus, as well as an instructional site in Katy, Texas, and online classes that students can take from anywhere. UHV supports the American Association of State Colleges and Universities Opportunities for All initiative to increase awareness about state colleges and universities and the important role they have in providing a high-quality and accessible education to an increasingly diverse student population, as well as contributing to regional and state economic development.