UHV gears up for global extravaganza across campus
Wednesday, November 1, 2023
| By
Duy Vu
With more than 50 countries represented in the student population, the University of Houston-Victoria is getting ready to kick off International Education Week to celebrate the diversity and different cultures across campus.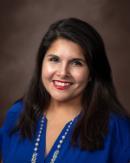 Yvonne Garcia
"Our campus is one of the most diverse campuses, and that makes me so proud that we are able to attract so many countries," said Yvonne Garcia, UHV director of International Programs. "It definitely adds a certain uniqueness to our campus."
International Education Week is typically observed before the Thanksgiving holiday on most college campuses and is done in collaboration with the U.S. Department of State and the U.S. Department of Education. It is a week-long event to educate students on different cultures in the student body.
"The week serves to promote our programs and our students to prepare them for the global environment, as well as promote study abroad and exchange programs, Garcia said. "Ultimately, it's an event to embrace the diversity among our students."
International Celebration Week will be from Nov. 13-17 and will have various events going on throughout the week on UHV's campus and at UHV Katy. The event is hosted by UHV International Programs, with collaborative partners including the International Student Organization, African Student Organization, Provost Office, UHV Dining and the Title IX & Equal Opportunity office.
On Monday, the international celebration will kick off with Multicultural Fashion Day, a campus-wide event that encourages international students to wear and show off their cultural attire. A Henna table also will be posted in the lobby of UHV University West from 9-10:30 a.m. to provide temporary Henna tattoos to students. Later that afternoon, students are invited to My Name Around the World: Learn how your name is pronounced around the world, in the lobbies of University Center and University West from 2-4 p.m.
"We have many students who write in other languages," Garcia said. "This will give students the opportunity to come up to the table and talk with students from different countries and to learn how to translate their names into other languages."
Tuesday will start with Dating Around the World as part of the International Café Series at 11 a.m. at the University North Multi-Purpose Room. The event features a panel discussion with students from different parts of the world as they talk about how dating is done in their culture.
"It's more about breaking down stereotypes and educating everyone that just because dating and marriage are done one way here in the U.S., it doesn't mean they're done like that everywhere," Garcia said.
The day will continue with the Cultural Art Display at 3 p.m. in the lobby of UHV University Commons and the UHV Library. Later that afternoon, Diverse Sips: International Tea Party will be held from 5-7 p.m. at the University Commons Multi-Purpose Room. The event will offer teas from different parts of the world and pastries for attendees to try out.
Wednesday will feature a booth set up from 11 a.m. to 1 p.m. for domestic students to learn the steps of studying abroad at the UHV University Center Lobby. At UHV Katy, Game Night will be held from 5-7 p.m. inside the Katy Common Area.
"We invite all of our international students to come and bring their games from their countries and share them with other students," Garcia said. "Each culture has their own unique games, and the event gives the opportunity to see a different perspective."
On Thursday, the International Café Series: Global Connections will be from 11 a.m.-1 p.m. at Jaguar Hall Commons. Later that day, Global Games will be held from 7-9 p.m. at the University Commons Multi-Purpose Room. The event invites all students to come and partake in playing games from around the world and is hosted by the International Student Organization and African Student Association.
For Friday, the final day of International Education Week, the day will begin with the Passport Drive from 9-10 a.m. in the lobby of University Commons to educate students on the benefits of having a passport and how to apply for a passport.
From 1:30-4 p.m., International Café Series: Life of an International Student will be held at the UHV University North Multi-Purpose Room. Unlike domestic students, international students must go through a lengthy process to come and study in the U.S., Garcia said. The event aims to highlight the process behind it and the adjustment that comes with an international student through a panel discussion.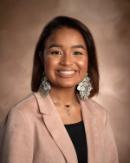 Tiarah Figueroa
"This week is jam packed with various events that celebrate diversity and cultures from around the world – which is exciting within itself," said Tiarah Figueroa, UHV internal student coordinator of International Programs. "I hope UHV students, faculty and staff join International Programs during the festivities to connect with others and learn why diverse backgrounds play an important role in our communities."
For one UHV student, the experience that comes with being an international student has not only molded his academic journey but has also inspired him to help others on their path to success.
Samuel Joe's journey began in Ireland, where he was born and spent the first few years of his life. As a child, he moved to Nigeria with his parents until he immigrated to the U.S. at the age of 13 to begin a new life.
In 2021, he graduated from UHV with a bachelor's degree in biology and is now a graduate student studying biomedical science. As an international student himself, Joe said he knew all too well the intricacies of having to navigate through higher education and living in what he once considered a foreign land.
Beyond Joe's rigorous studies, he also juggles his time as a student worker at UHV. He currently works at the International Programs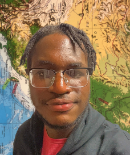 Office and Student Life to assist in event planning and to help international students acclimate to their new environment.
"What's not to love about diversity? You can learn so many different things from each culture; every nationality has its own different way," Joe said. "The fact that we can all share that common knowledge is an amazing thing."
The University of Houston-Victoria, located in the heart of the Coastal Bend region since 1973 in Victoria, Texas, offers courses leading to more than 50 academic programs in the schools of Arts & Sciences; Business Administration; and Education, Health Professions & Human Development. UHV provides face-to-face classes at its Victoria campus, as well as an instructional site in Katy, Texas, and online classes that students can take from anywhere. UHV supports the American Association of State Colleges and Universities Opportunities for All initiative to increase awareness about state colleges and universities and the important role they have in providing a high-quality and accessible education to an increasingly diverse student population, as well as contributing to regional and state economic development.