UHV faculty attend roundtable with U.S. senator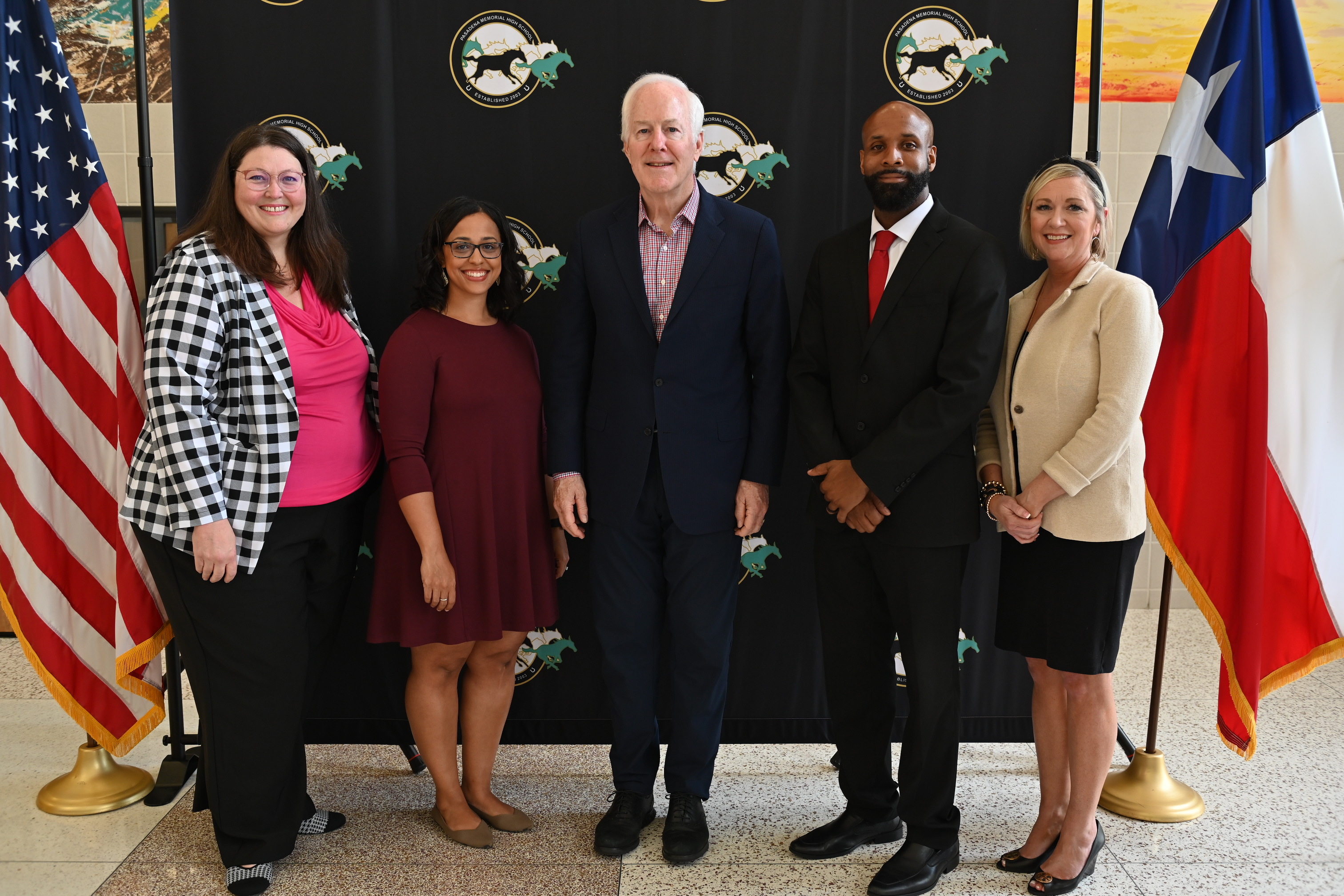 Representatives from UHV and Katy ISD stand with U.S. Sen. John Cornyn during a roundtable discussion on May 24 about how federal grant funds can be used to offer improved security and mental health services in public schools. The attendees from UHV and Katy ISD shared how they are using a $1.5 million grant to help university students earn their degrees in school psychology and find positions in the school district. Pictured from left are Melanie Lemanski, UHV assistant professor of school psychology; Elise Hendricker, UHV associate professor and director of the school psychology program; Cornyn; Rahsan Smith, Katy ISD assistant superintendent for elementary school leadership and support; and Kelli Davidson, Katy ISD coordinator of psychological services.
Two faculty members from the University of Houston-Victoria's school psychology program recently attended a roundtable discussion with U.S. Senator John Cornyn that focused on how federal grant funds can be used to improve mental health services and security in schools.
The Bipartisan Safer Communities Act Roundtable Discussion was held at Pasadena Memorial High School on May 24. Melanie Lemanski, an assistant professor of school psychology, and Elise Hendricker, director of the school psychology program, attended the event to share how UHV plans to use a $1.5 million federal grant that the program received in January.
"Because of Sen. Cornyn's leadership in helping to pass the Bipartisan Safer Communities Act, researchers at both UH Clear Lake and UHV have received funds to work with the K-12 communities around them to better meet the physical and mental health needs of Texas students. We applaud both the Senator and our researchers for making this important work possible," UH System Government and Community Relations Office said in a statement.
During the roundtable event, attendees shared a variety of ways that federal grant money could be used to improve school safety. Solutions ranged from better security options at schools to finding better ways to offer and expand access to mental health services. The roundtable and the topic of discussion was especially meaningful because it was held on the anniversary of the Uvalde school shooting.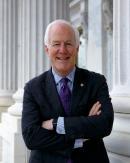 U.S. Sen. John Cornyn
"No parent should fear for the safety of their student when they drop them off at school, and no student should be afraid when they walk into the classroom," said Sen. Cornyn. "In the aftermath of the tragedy in Uvalde, I'm grateful that meaningful solutions are starting to be delivered through this funding to prevent violence, provide training to school personnel and students, and hire additional mental health professionals in Texas schools."
During the discussions, Lemanski and Hendricker shared UHV's plan to partner with Katy Independent School District to help address the severe shortage of school psychologists in Texas. UHV received a $1.5 million Creating Targeted Undergraduate Pathways to Build the Professional Identity and Leadership of Future School Psychologists grant and partnered with Katy ISD in January. The grant will allow UHV to support 10 UHV undergraduate students as they go through the Specialist in School Psychology program and then enter internships and mentorships in the school district.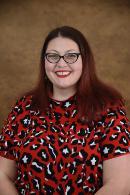 Melanie Lemanski
"We were able to share how the money we received through the federal grant is being used to create a new pathway that puts future school psychologists directly in contact with the schools that need their expertise," Lemanski said. "The lack of school psychologists in Texas schools is a serious issue, and this grant is helping us find a way to create solutions to address that problem."
Studies have shown that about 20 percent of school children have mental health needs, but of those students, 80 percent often do not receive services, Lemanski said. The problem is particularly difficult in Texas where large rural regions served by smaller schools mean that funding for mental health services and professionals is not readily available. Even in urban areas, the shortage of available professionals is a major issue. One of the reasons that UHV partnered with Katy ISD is because the district is committed to adding more school psychologists but is having trouble filling those positions. Meanwhile, the district's student population continues to grow, which results in a growing disparity between the number of school psychologists and the students they must serve.
Even though UHV and Katy ISD only began the five-year program in the spring, they are already seeing some promising progress, Lemanski said. During the spring, they began promoting the program to undergraduate students, and enrollment for the fall is already higher than in previous years.
"Although this grant is just a drop in the bucket when it comes to the shortage of mental health services, it has already taught us so much," Lemanski said. "As we implement these new programs, we're learning the importance of recruiting undergraduate students and reaching out to those who might not have thought about the field before. We're only just beginning this effort, but we're moving in the right direction."
The University of Houston-Victoria, located in the heart of the Coastal Bend region since 1973 in Victoria, Texas, offers courses leading to more than 80 academic programs in the schools of Arts & Sciences; Business Administration; and Education, Health Professions & Human Development. UHV provides face-to-face classes at its Victoria campus, as well as an instructional site in Katy, Texas, and online classes that students can take from anywhere. UHV supports the American Association of State Colleges and Universities Opportunities for All initiative to increase awareness about state colleges and universities and the important role they have in providing a high-quality and accessible education to an increasingly diverse student population, as well as contributing to regional and state economic development.