UHV education, health studies faculty to present research at UHV Discovers
The next installment of the University of Houston-Victoria Discovers series will kick off the spring semester with presentations by two UHV College of Education & Health Professions faculty members, featuring the results of a grant-funded community program and findings of a study examining the skill levels of educational diagnosticians.
Michael Wiblishauser, an assistant professor of health studies, and Sharon de Marin, an assistant professor of special education, will present their respective research from 1 to 2 p.m. Feb. 16 in Room 111 of UHV University North, 3007 N. Ben Wilson St. The event also will be streamed live through Microsoft Teams and is free and open to the public.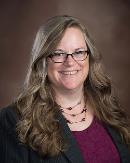 Joann Olson
"As UHV Discovers continues, we're happy to highlight presenters from the College of Education & Health Professions this time," said Joann Olson, UHV associate provost for research and dean of graduate studies. "Ultimately, academic research should address real-world problems and find application in benefits to the community. Dr. De Marin and Dr. Wiblishauser have both conducted projects that contribute to enhancing education and promoting community health and wellness."
This is the eighth session of the UHV Discovers series, which highlights the research conducted by UHV faculty members and how their work impacts their fields of study and higher education.
The series first started in October 2021 and has featured research topics including ocular diseases, artificial intelligence in health care and energy, urban law in medieval Britain, interactions between federal soldiers and Southern women during the American Civil War, career development in undergraduate STEM majors, reading interventions used with English learners with learning disabilities, theoretical predictions regarding "strategic" bankruptcy, communication in religious contexts, and identifying trends in sexual assault reports. UHV biology graduate students also have presented research on different topics including SAR-COV-2 infection, cell cycle genes in rotifers, and DNA sequences.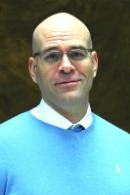 Michael Wiblishauser
Wiblishauser will present information about the 2019 Victoria Alliance Against Chronic Kidney Disease program, a community health program that was funded by a $100,000 grant through Healthy Kids, Healthy Families® – Blue Cross and Blue Shield of Texas' signature community investments program. The yearlong program focused on 90 individuals in the Victoria County area who already were diagnosed with kidney disease or were at risk of the disease, and was comprised of educational, nutritional, physical activity and health screenings components. Participants in the program attended weekly and biweekly meetings at UHV, where they had their glucose and blood pressure taken, received Fitbits and fitness plans and were prescreened for kidney disease. At the conclusion of the program, results showed modest improvements on the overall health of the participants. Many in the program also said they enjoyed attending the sessions and learning new ways to be healthy.
This is the first time Wiblishauser is presenting at UHV, and he is looking forward to presenting information that might be of interest to people on campus and in the community.
"Kidney disease is one of the top ten killers of people in the U.S., and it is not talked about as much as it should be," Wiblishauser said. "There is an increase of people who are at risk for diabetes and heart disease, and those are two leading factors that can lead to chronic kidney disease. Because the number of people being diagnosed with diabetes is going up, we can expect more people to be diagnosed with chronic kidney disease. More community health programs, like this one, can help rectify these issues in our community."

Sharon de Marin
De Marin will share her findings from her study, "Examining the Perceptions of Preparedness and Discrete Skills Among Educational Diagnosticians in Four States." The purpose of the study was to examine the perceptions of special education diagnostician candidates and diagnosticians in Arkansas, Texas, New Mexico and Louisiana on their preparedness of specific skills, including knowledge of math disabilities, math interventions and math assessments set forth by the Council for Exceptional Children. The anticipated results of this study were twofold – to provide university faculty insight into areas that need to be addressed, modified, improved, and/or strengthened, as well as increase graduate students' level of preparedness going into the field.
UHV Discovers is free and open to the public. More sessions are planned for the spring semester and will feature the work and research of faculty from the UHV College of Business and other scholars. To watch the livestream of the event through Microsoft Teams on Feb. 16, go to www.uhv.edu/uhv-discovers.
The University of Houston-Victoria, located in the heart of the Coastal Bend region since 1973 in Victoria, Texas, offers courses leading to more than 80 academic programs in the schools of Arts & Sciences; Business Administration; and Education, Health Professions & Human Development. UHV provides face-to-face classes at its Victoria campus, as well as an instructional site in Katy, Texas, and online classes that students can take from anywhere. UHV supports the American Association of State Colleges and Universities Opportunities for All initiative to increase awareness about state colleges and universities and the important role they have in providing a high-quality and accessible education to an increasingly diverse student population, as well as contributing to regional and state economic development.