UHV crowns 2023 Royal Jaguars during Homecoming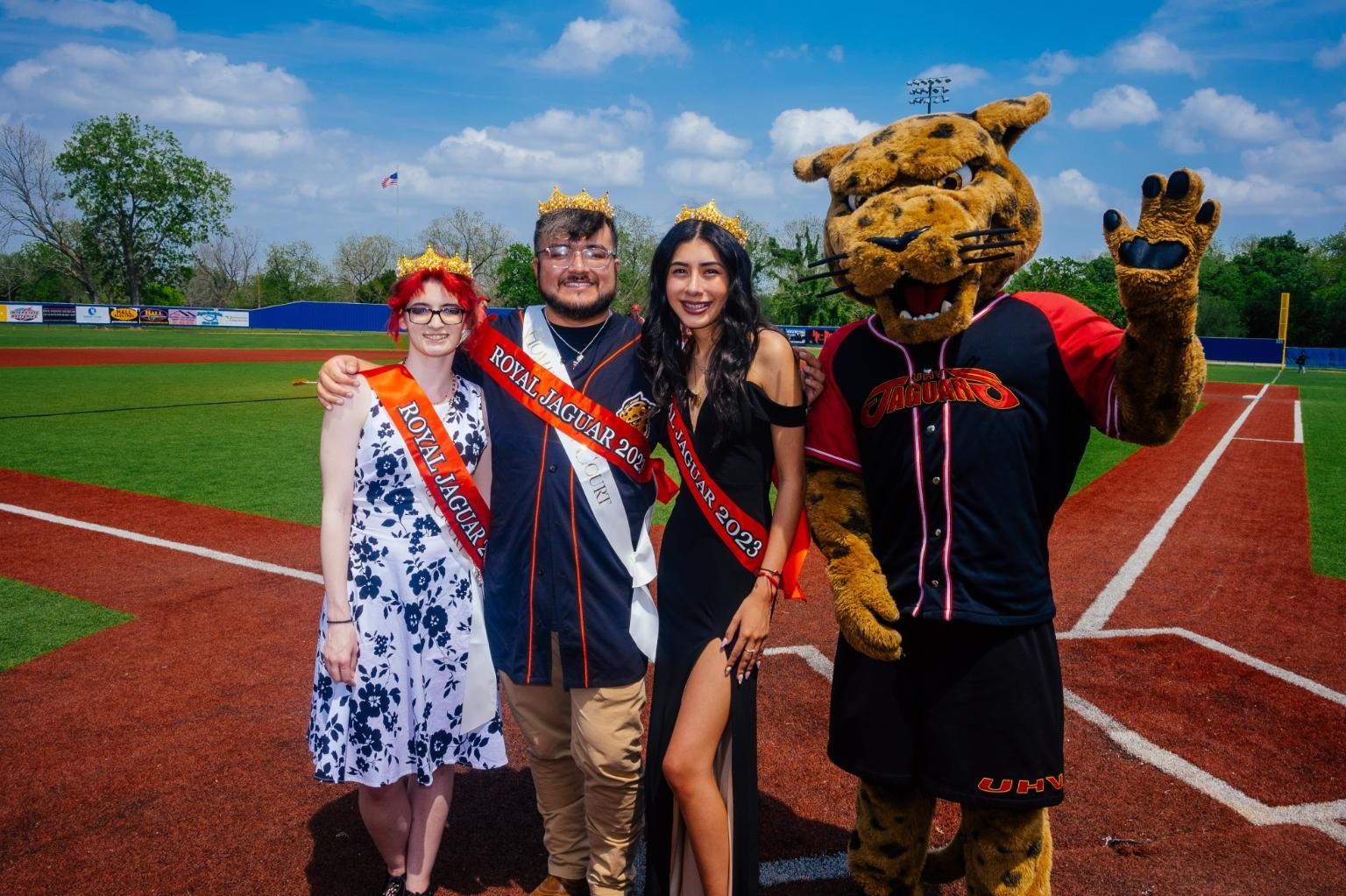 The UHV 2023 Homecoming Royal Jaguars, left to right, Savannah Malone-Eades, Jitoku White and Estefanie Espitia pose with jaX the Jaguar Saturday at Riverside Stadium. The winners were announced Saturday between UHV Jaguar baseball games and at the end of the UHV Homecoming week.
On Saturday, University of Houston-Victoria senior Savannah Malone-Eades completed a nearly two-year goal: She was crowned a Royal Jaguar.
"I am very, very excited to be named a Royal Jaguar," she said. "I was on the homecoming court last year, but I didn't get the crown, so I wanted to try again this year. I had a lot of friends who helped me, so I am very thankful to them because I could not have placed without them."
Malone-Eades, a native of Waller, is one of three Royal Jaguars who were named Saturday as part of UHV's homecoming festivities. Estefanie Espitia of Houston and Jitoku White of Victoria were crowned along with Malone-Eades.
This is the third year the Royal Jaguars have been named during the university's homecoming celebration. The university changed the title from Homecoming King and Queen to Royal Jaguars in 2021 to offer a more gender-inclusive option for students.
The theme of this year's homecoming festivities was Rise of the Jaguars and featured school spirit. New additions to the homecoming festivities this year included the UHV Soccer Alumni games and the giveaway of UHV-themed Croc charms for students. The week of festivities went very well and had great attendance, and with the exception of one day, the weather was nice as well, said Freddie Cantu, interim director of UHV Student Life.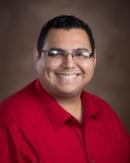 Freddie Cantu
"The homecoming court was very excited to be involved in homecoming, and we have a great group of students who won," Cantu said. "We are happy to have Estephanie, Jitoku and Savannah represent the university for the next year. Overall, I think the week went well, our students enjoyed the events, and we are already looking forward to next year's homecoming since it will be the university's 50th anniversary."
Malone-Eades, who is majoring in English with a secondary teaching certification for grades 7-12, tried out for the homecoming court last year because she was planning to graduate last year and thought it would be a good experience. When she went out for court again this year, she knew to expect the adrenaline rush of campaigning and to be mindful of when voting opens. She was happy that her friends helped her this year, including customers of hers at Jaguar Java, where she works on campus. She also encourages students to try out for homecoming court next year.
"It's a whole rush, but it's so much fun," Malone-Eades said. "Even if you're nervous, go for it. Homecoming only happens once a year, and once you graduate, you won't be able to do it again."
Espitia is a junior who is majoring in finance with a minor in psychology. She decided to run for court this year because she wanted to do something that would take her out of her comfort zone. For her, that meant having to write and give a speech in front of a crowd of people. The experience helped her grow as a person while also having an exciting and fun time at all the homecoming events.
During the crowning ceremony, which took place between the Jaguars baseball doubleheader against Huston-Tillotson, Espitia was anxious to find out if she would be named a Royal Jaguar.
"I'm really happy, this was a big goal for me to accomplish, and I am so happy that I was able to accomplish this goal," she said. "Not many people can say they've been named a Royal Jaguar, so I am very proud. If anyone wants to run next year, they should not doubt themselves and do it. Believe in yourself, and you can do it."
White, a graduate student in the Master of Science in biomedical sciences program, enjoyed the whole experience of homecoming. He believed in himself to go out for homecoming court this year. White's mantra is, 'If you want something, go for it.' He followed that and campaigned during the week of homecoming. He went to all of the events and just embraced the spirit of homecoming and enjoyed all of the events, including singing a couple of songs during karaoke at the Block Party and planting at the university's garden outside of UHV Commons.
While waiting to find out who would be crowned, White took a moment to look around at the candidates and felt such a sense of pride. He felt that the candidates all represented the student body well and was happy to have enjoyed a week of festivities with a great group of people.
"I think everyone who went out to become a Royal Jaguar was so perfect for the role because everyone represented a different part of who we are as a school," he said. "I was feeling so emotional because I thought, 'Wow, this is my school. This is who UHV is.' It was such a nice, proud moment, and I am so proud of how far we have all come. It means a lot to me to be a representative of UHV and to show people how truly festive we can be and embrace the spirit of the jaguar."
The University of Houston-Victoria, located in the heart of the Coastal Bend region since 1973 in Victoria, Texas, offers courses leading to more than 80 academic programs in the schools of Arts & Sciences; Business Administration; and Education, Health Professions & Human Development. UHV provides face-to-face classes at its Victoria campus, as well as an instructional site in Katy, Texas, and online classes that students can take from anywhere. UHV supports the American Association of State Colleges and Universities Opportunities for All initiative to increase awareness about state colleges and universities and the important role they have in providing a high-quality and accessible education to an increasingly diverse student population, as well as contributing to regional and state economic development.