UHV class celebrates Holi, shares cultural traditions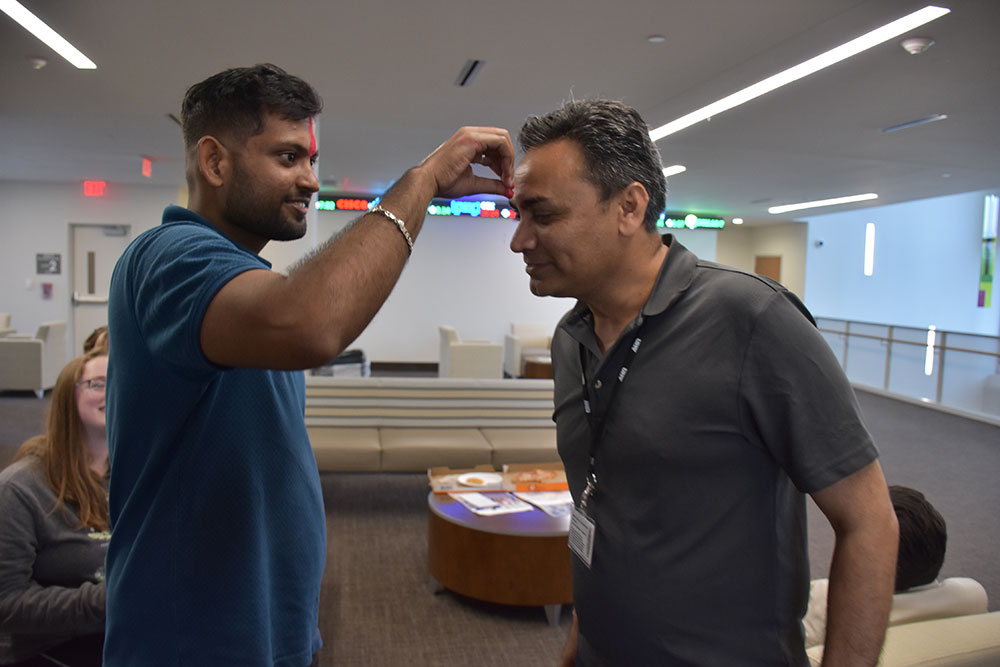 Bharath Thulasi, left, a graduate computer science student from India, spreads some paint on Daya Nand's forehead on March 6 as part of a class celebration of Holi, also known as the Festival of Colors. Nand, a UHV associate professor, hosted the party as a way for the international students in his class to feel more at home at UHV and to educate students about other cultures.
A University of Houston-Victoria graduate computer science class recently took some time to celebrate Holi, or the Festival of Colors, as part of an effort to share international culture with local students and help international students feel more at home in Victoria.
Daya Nand, an associate professor of computer science and cybersecurity, originally hailed from India, and many of the students in his graduate computer science class are from that region of the world as well. So, when the week of Holi approached, he decided to host a small party to give his students the opportunity to celebrate something from home and share their culture with their American classmates.
"Holi is one of the biggest festivals in India and is widely celebrated, even in other countries," Nand said. "It is a time to gather with family and loved ones and celebrate love and freedom."
Holi is a festival that celebrates the love of the god Radha and Krishna and signifies the triumph of good over evil. During the celebration, people gather in crowds and throw powdered colors on each other. People also spend the day visiting friends and family and eating and drinking together.
At Nand's gathering, students enjoyed pizza and some sodas. After they ate, the students were able to put some red dye on each other. For Bharath Thulasi, a graduate computer science student from India, the experience was a nice reminder of something he loved doing when he was with his family in India.
"I never thought that I would be able to have a Holi celebration here," he said. "It's nice because it's like having a little bit of home and brings back some good memories. My favorite part of Holi is the colors, and it was fun to be able to share that with my friends and classmates."
Sagun Lage, a computer science graduate student from Nepal, also was reminded of times he spent with his family and friends during the annual celebration.

"Holi is an opportunity to get together and have fun, whether that means walking together and throwing colors and water on people or finding time to be close to your loved ones," he said. "Even though we are far from home, this gathering helped us feel a little bit closer to home."
In the future, Nand hopes to partner with UHV International Programs and plan some bigger events for Holi and other festivals from the Indian subcontinent and other cultures around the world.
"UHV has a large group of international students, and I would like to help them feel welcome in Victoria and Texas," he said. "Even this small gathering can give people a feeling like they are closer to home and are welcome to share their culture here. I hope we can do more in the days to come so others can learn about their cultures and the international students can feel even more at home."
The University of Houston-Victoria, located in the heart of the Coastal Bend region since 1973 in Victoria, Texas, offers courses leading to more than 50 academic programs in the schools of Arts & Sciences; Business Administration; and Education, Health Professions & Human Development. UHV provides face-to-face classes at its Victoria campus, as well as an instructional site in Katy, Texas, and online classes that students can take from anywhere. UHV supports the American Association of State Colleges and Universities Opportunities for All initiative to increase awareness about state colleges and universities and the important role they have in providing a high-quality and accessible education to an increasingly diverse student population, as well as contributing to regional and state economic development.