UHV celebrates student involvement at awards banquet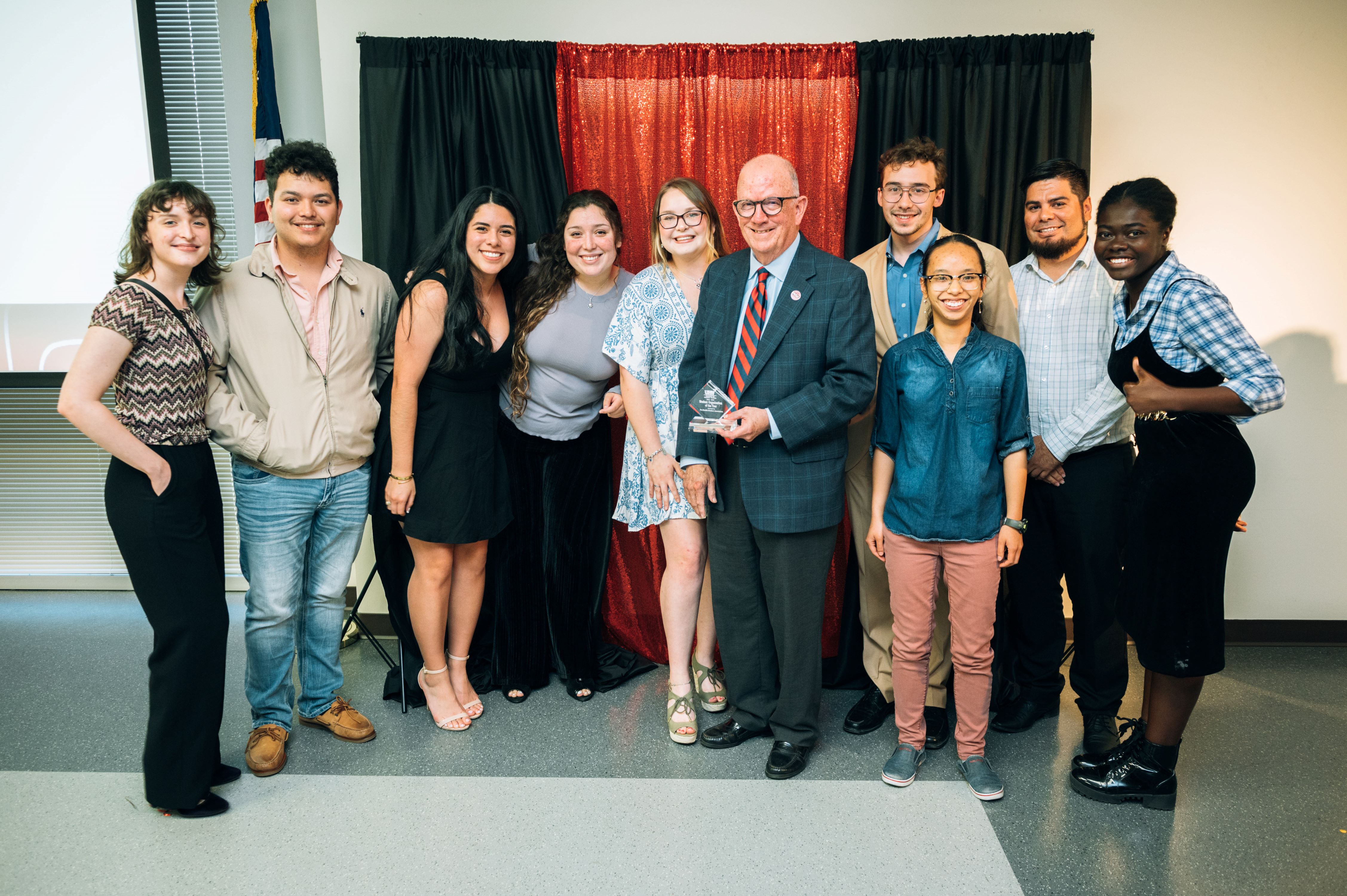 Members of UHV's Pre-Health Student Association accept the award for Student Organization of the Year Tuesday during the 2023 Student Organization and Leadership Banquet. The organization's advisor, Humberto Hernandez, a UHV assistant professor of biology, also was named the Advisor of the Year for the second year in a row.
When the University of Houston-Victoria's Pre-Health Student Association was named the Student Organization of the Year, Tori McCoy knew that all the work she and others had done throughout the year had made a difference for their fellow students.
McCoy, the organization's president and a junior biology major from Victoria, accepted the award for the association during the annual Student Organization and Leadership Banquet. During the past year, the organization has spent long hours and lots of effort helping students who are interested in health fields learn more about what is involved in becoming health professionals and what the careers entail. They have welcomed doctors, medical students and residents to campus to speak with students and have even arranged opportunities for students to shadow professionals in their preferred careers.
"It feels good to know that as a club, we are actually helping students succeed," McCoy said. "Being pre-med can be challenging and stressful. It's good to know that all the work we put in is benefitting students."
UHV students, faculty and staff members gathered May 2 in the UHV University North Multi-Purpose Room for the 10th annual UHV Student Organization and Leadership Banquet to honor students, advisors and newly charted organizations.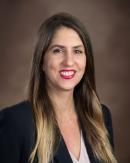 Hilary Kofron
"We are so very proud of all of our student organizations and leaders who make such positive impacts on our campus every day," said Hilary Kofron, UHV Student Life director. "This event is a way for us to show our appreciation for their hard work and commitment to making UHV a positive, welcoming place for all of our students."
To become a chartered organization, a group must have at least five members, three of whom must be officers with a minimum 2.5 grade-point average, and a UHV faculty or staff advisor. The students also must write a constitution. This year, the newly chartered organizations were the Accounting Club Victoria Chapter, Anime Nuts: International Media Entertainment, and the UHV Trap & Skeet Shooting Club.
The Student Organization Member of the Year award was presented to Mikayla Guillen-Maspero, a junior education major from San Antonio. She is a member of the Gamma Alpha Nu social service sorority, the Jaguar Cheer Team and works in UHV Residence Life. She was nominated for the award because of her positive attitude and her willingness to help others.
"I always put my heart into everything, and to be noticed for that effort feels amazing," Guillen-Maspero said. "I make it a priority to always be welcoming. So many students are away from home. It's our duty to make UHV a welcoming environment so it can be that home away from home for them."
Eight students were recognized for earning ROAR Certified Leaders certifications in one or more of the following areas: communication, problem solving, social responsibility and teamwork. The students who completed all four certifications were named Distinguished ROAR Certified Leaders.
The students who received ROAR Certified Leaders certifications were:
Shilpa Bhatkande
Dominic Flores
Marianne Hix
Alisha Merchant
Acelia Okorocha
Christian Palacios
Dustin Perez
Tracy Pham
Humberto Hernandez, a UHV assistant professor of biology, was named the Advisor of the Year for the second year in a row for his work with the Pre-Health Student Association. The Pre-Health Student Association helps students who are preparing for health-related careers, including graduate and medical school. As the group's advisor since 2019, Hernandez helps empower students by advising, guiding, coordinating, and attending their meetings and events. He also works with students to ensure that they have access to valuable resources and opportunities to better serve the community. He was nominated because of his caring, motivated and driven support for the organizations he advises.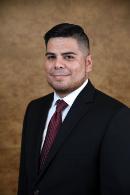 Humberto Hernandez
"It was unexpected for me to receive this award as there are many great advisors," Hernandez said. "I am most proud of the hard work and dedication of our student leaders, who have gone above and beyond to bring speakers from across the region to share their valuable insights and experiences with our students. I am proud to have played a role in this process, and it brings me immense joy to know that our students have benefited greatly."
The Student Government Association also presented awards to students. The Spirit of the Jaguar Award recognizes underclassmen who display integrity and respect, are actively involved at UHV and encompass what it means to be a Jaguar. The recipients of this award also will receive a $300 scholarship from SGA for the fall semester. This year, the award was presented to Jordyn Arroyo, Melody Kloss and Toby "Bo" Walding.
In addition, three UHV upperclassmen received the "I Am UHV" award, which is similar to the Spirit of the Jaguar award but recognizes upperclassmen. The winners of the "I Am UHV" award will also receive a $300 scholarship from SGA. The awards were presented to Josiah Hawkins, Sagun Lage and Jacquelyn Velazquez.
Another award presented at the banquet is the Campus Humanitarian of the Year award. This award is presented to an individual who helps UHV to be a more welcoming, safe and inclusive environment. The recipient will also receive a $500 scholarship from SGA for the fall semester. This year, the award was presented to Dipesh Basnet.
Other award winners on Tuesday were:
Emerging Leader of the Year – Tori McCoy
Leadership Legacy Award – Thanh Le
Quiet Influencer Award – Asfandyar Kazi
Student Employee Excellence Awards – Jaira Jenkins, Jaime Herran La Torre, Bryanna Lucas and Vanessa Luckenbihl
Student Volunteer of the Year – Marilyn Medina
Student Government Member of the Year – Wendy Hughes
SGA Staff Member of the Year – Yvonne Garcia
SGA Faculty Member of the Year – Daniel White
Kai Martinez ended the evening with her address as the incoming president of the Student Government Association. Martinez is continuing her role for a second year, and her term begins on June 5.
The University of Houston-Victoria, located in the heart of the Coastal Bend region since 1973 in Victoria, Texas, offers courses leading to more than 80 academic programs in the schools of Arts & Sciences; Business Administration; and Education, Health Professions & Human Development. UHV provides face-to-face classes at its Victoria campus, as well as an instructional site in Katy, Texas, and online classes that students can take from anywhere. UHV supports the American Association of State Colleges and Universities Opportunities for All initiative to increase awareness about state colleges and universities and the important role they have in providing a high-quality and accessible education to an increasingly diverse student population, as well as contributing to regional and state economic development.