UHV business students rank in top of international simulation
Students in a University of Houston-Victoria business course have set two new records for the university with five teams placing in the weekly Top 25 rankings of the Global Business Simulation competition and one team being placed in the Top 100 five times.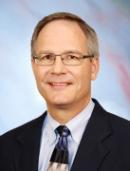 Jeff Blodgett
"This international business simulation is a strong test of our students' knowledge that they have gained throughout their time at UHV," said Jeffrey Blodgett, interim dean of the UHV College of Business. "It pushes our students to make important decisions about running a company in a global marketplace, and whether they win or fail, they learn important lessons. I am pleased to see so many do so well this semester."
Each year, students in the Global Master of Business Administration program compete in the simulation as a part of their "International Business Strategy" course. This semester, 249 teams from 21 colleges and universities around the world participated in the simulation.
The capstone course is intended to prepare students for the workforce by incorporating a learn-by-doing simulation and giving them hands-on practice. In the simulation, students can apply what they learned in class to make business decisions and be held accountable for the results. In the simulation, each team runs a company that sells cameras and drones. Each week of the competition represents a year in the global market.
The teams that placed in the Top 25 in the final week of the competition are:
Fierce Global Tech:

Valerie Ann Kot, Jaiben Jain Makiyil, Roberto Maldonado and Tymur Marchenko
H Company:

Huong Ngoc Chau, Stacey Palombo, Tia Chanel Perry and Ali Ahmed Polani
ISRS Global Eagle-ey:

Humberto Fitzgerald Romero Alvarez, Sasha Sekhavatmandi and Robyn Renee Shelton
J Company:

Muzammil Mohammad Siddiqui, Miller Andres Silva and Lukas Duane Smith
Lerotori:

Donna Van Worthe, Asusena Villegas and Anam Zaidi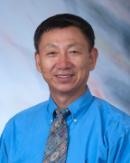 Jifu Wang
"I am overjoyed to see so many of our students earn top rankings in this year's simulation," said Jifu Wang, UHV professor and associate dean of the business college. "This speaks to the quality of UHV's teaching and program. Students draw from the knowledge and skills they learned throughout their degree in order to make good decisions as part of this simulation. Doing well is a real accomplishment."
Fierce Global Tech received a top ranking in five of the six weeks that UHV's teams competed in the competition. The competition was hard work, but it was worth it, said Roberto Maldonado of El Paso.
As part of their strategy, the team chose to sell affordable cameras and products that more people would be able to afford. In addition, they chose to impose a 5 percent cap on how much the price of the product would increase from year to year.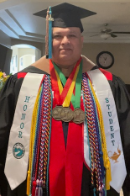 Roberto Maldonado
"We wanted it to be an affordable, good product without making it exclusive or prohibitively expensive like top-of-the-line models often are," he said. "We also took steps to avoid long-term debt and only took on smaller loans that could be paid back in a few years. In addition, we spent lots of time studying the global markets to see where we should devote more of our advertising resources."
All of these strategies paid off, and the team was able to do well for almost every week of the simulation. During their experience, the team learned several elements of running an international business that they had not thought about before, Maldonado said.
"There were all sorts of things for us to learn, from expenditures we didn't expect to learning how to read and understand the risks of doing business in areas around the world," he said. "It taught us that the key to winning is communication, and you can't be afraid to take risks. You have to make a decision and learn from your mistakes."
The University of Houston-Victoria, located in the heart of the Coastal Bend region since 1973 in Victoria, Texas, offers courses leading to more than 50 academic programs in the schools of Arts & Sciences; Business Administration; and Education, Health Professions & Human Development. UHV provides face-to-face classes at its Victoria campus, as well as an instructional site in Katy, Texas, and online classes that students can take from anywhere. UHV supports the American Association of State Colleges and Universities Opportunities for All initiative to increase awareness about state colleges and universities and the important role they have in providing a high-quality and accessible education to an increasingly diverse student population, as well as contributing to regional and state economic development.