UHV Black History Month event to feature singer-songwriter
The University of Houston-Victoria will feature a Houston-based soul singer-songwriter who will take the audience through history in the form of song and storytelling during a public event for Black History Month.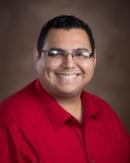 Freddie Cantu
Anitra Jay will perform the show "A Tour of Black Voices in American History" from 7 to 9 p.m. on Feb. 10 in UHV University North in Walker Auditorium. The show is free and open to the public. The event will be hosted by UHV Diversity & Inclusion and the Multicultural Advisory Council student organization.
"This is a great opportunity to not only learn Black history but also hear the voices of the civil rights movement in an entertaining way," said Freddie Cantu, UHV associate director of diversity and inclusion and advisor for MAC. "Anitra Jay has performed at UHV before during our Crossroads Café series and has a great style and amazing voice. I am looking forward to the performance."
For the event, attendees can expect to see a showcase that features Black voices throughout history, including the poetry of Maya Angelou and Langston Hughes, as well as stories about Harriet Tubman, Nina Simone and Ella Fitzgerald.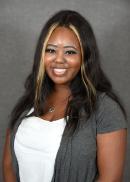 Jaira Jenkins
"I am excited because we don't have many guest speakers or singers like Anitra Jay on campus," said Jaira Jenkins, president of MAC and a senior communication design student from San Antonio. "Sometimes other student organizations have bands for their events, and we wanted to try something new to offer to students as well. I hope many students come out for this event."
Throughout each semester, the university hosts educational events and programs for students about different cultures and identities. While "A Tour of Black Voices in American History" is open to the public, the university also will host several other Black History Month events for students and the campus community. Student events include a kickoff event on Feb. 1, where a schedule of Black History Month events will be handed out as well as items such as bracelets, pins, stickers and bookmarks; a movie night featuring the film "Till," about the story of Emmett Till; and a trivia night that will feature questions in categories including music, TV and film, pop culture, food and more.
Jenkins has been involved with MAC for more than three years. During that time, she has seen the events the organization hosts on campus grow as students share their feedback on what kind of events they enjoy and would like to see, such as Oktoberfest. The group also hosts other student events throughout the year so that students can learn about different cultures, identities and genders.
MAC is always looking to collaborate with other UHV student organizations for campus events as well, she said. Last year, the group collaborated with the Black Student Union for a student block party for Black History Month, and this year the movie night will be co-hosted with the Association of Future Leaders and Lawyers student organization, also known as AFALL.
"The importance of MAC is shining a light on different cultures, and we take high consideration of what our students want," Jenkins said. "We wanted to bring people to our campus who can educate in an entertaining way for both our students and the public, and I look forward to hosting more entertainers like Anitra Jay on campus this year."
The University of Houston-Victoria, located in the heart of the Coastal Bend region since 1973 in Victoria, Texas, offers courses leading to more than 50 academic programs in the schools of Arts & Sciences; Business Administration; and Education, Health Professions & Human Development. UHV provides face-to-face classes at its Victoria campus, as well as an instructional site in Katy, Texas, and online classes that students can take from anywhere. UHV supports the American Association of State Colleges and Universities Opportunities for All initiative to increase awareness about state colleges and universities and the important role they have in providing a high-quality and accessible education to an increasingly diverse student population, as well as contributing to regional and state economic development.