UHV alumna finds new future with Tesla
When Sarah Torres decided to go back to school in her 40s, she knew getting a degree could have a major impact on her life, but she never expected to find herself working for Tesla.

Sarah Torres
"Getting my degree was something that I needed to do, and the University of Houston-Victoria made it an amazing experience," the Yoakum native said. "It was something I should have done years ago, and now I've made a major impact on my life and my family's life."
Torres worked at FedEx for 15 years before she decided to go back to college. During that time, she noticed that she often had to work much harder to get the same promotions as other team members who had degrees. That realization inspired her to take the next step in her education. She started in 2019 by enrolling at Victoria College, where she earned an Associate of Arts in general studies. She then enrolled at UHV in 2021 and graduated in May with a Bachelor of Science in psychology with a minor in human resource management.
"Going to college as a single mom in her 40s was intimidating at first, but it was something I needed to do," Torres said. "UHV made it an amazing experience. My instructors understood my situation and worked with me to make sure I got exactly what I needed out of my time at UHV. The classes were so diverse, and there was a sense of camaraderie with the other students."
One of Torres' favorite instructors was Jennifer Ortiz-Garza, a former senior lecturer in psychology who is now the university's director of development. Ortiz-Garza remembers working with Torres to help her choose a degree that was right for her future goals. Torres became one of the university's first psychology majors to combine the degree with a business minor.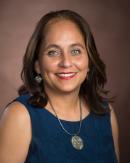 Jennifer Ortiz Garza
"Sarah represents what UHV is and how the university impacts its students," Ortiz-Garza said. "She embodies everything a student should and could be. She knew she needed to do better, and education was key to moving up in her career. She persevered, worked hard and did it. I couldn't be more proud of her and what she accomplished."
In January, as Torres began her final semester before graduating, she also started a new job with Tesla in Austin. She was able to take all of her classes online so she could begin her new career as associate manager of production control. In that role, she manages a team of supervisors. Her team is often referred to as "the blood of the company," she said. Together, her team monitors quality issues and makes sure that the materials for vehicle production are in the right place at the right time.
"My job involves a lot of mentoring with new supervisors to help them build their leadership skills," Torres said. "I had some leadership skills before, but going back to college helped me learn how to connect with younger generations. I've been able to use that experience to work with and build up those under me. The better leader we can build, the better off we are."
In addition to how it changed her own life, Torres hopes that her son and stepchildren will be inspired by her decision to get a degree. Her son is in his senior year in Yoakum and wants to attend UHV next year.
"I know it was tough on the kids when I went back because I had to spend so much time working and studying, but it's all paid off," Torres said. "I tell them that it's important to learn from mistakes. You're always going to have to work harder than others to get the same result if you don't have that degree. I hope they can look at how it's worked out for me and follow that example."
The University of Houston-Victoria, located in the heart of the Coastal Bend region since 1973 in Victoria, Texas, offers courses leading to more than 50 academic programs in the schools of Arts & Sciences; Business Administration; and Education, Health Professions & Human Development. UHV provides face-to-face classes at its Victoria campus, as well as an instructional site in Katy, Texas, and online classes that students can take from anywhere. UHV supports the American Association of State Colleges and Universities Opportunities for All initiative to increase awareness about state colleges and universities and the important role they have in providing a high-quality and accessible education to an increasingly diverse student population, as well as contributing to regional and state economic development.