Outstanding students ready to fulfill longtime career dreams
For as long as Jarveron Thomas can remember, he has always been someone that people felt like they could turn and talk to about anything. Now, he'll be able to help guide people through their mental and emotional health challenges as a professional counselor after he graduates this month.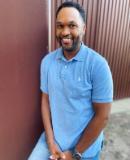 Jay Thomas
Thomas, a University of Houston-Victoria graduate student in the Professional Counseling graduate program, recently was named the UHV College of Education & Health Professions' Outstanding Graduate Student. Rachel Anderson of Victoria was named the Outstanding Undergraduate Student for the college.
"I feel so lucky and blessed to receive this recognition," Thomas said. "It was a complete surprise to me and honestly took me a while to accept that I deserved this. I work hard, and it feels good to see it pay off."
Each semester, professors from UHV's four colleges select outstanding students to be honored during commencement. The university will host two spring commencement ceremonies on May 13 at Faith Family Church, 2002 E. Mockingbird Lane. The first ceremony begins at 9 a.m. to celebrate graduates from the College of Liberal Arts & Social Sciences and College of Natural & Applied Science. The second ceremony will begin at 12:30 p.m. to celebrate the graduates from the College of Business and College of Education & Health Professions.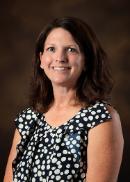 Rachel Martinez
"The drive and dedication shown by Jarveron and Rachel in their studies during their time as students at UHV is impressive and admirable," said Rachel Martinez, dean of the UHV College of Education & Health Professions. "We congratulate them on this recognition and wish them the best in their endeavors."
For some time, it felt to Thomas that becoming a counselor has been a long time coming. He served in the U.S. Navy as a corpsman, where he received his initial medical experience. He received his bachelor's degree in applied arts and sciences in psychology from UHV with honors in 2018, and ever since then his mother has asked him when he would take the next step and pursue training as a counselor. Thomas is also a member of the Phi Kappa Phi honor society.
"My mother has always tried to propel me forward, especially in counseling," he said. "My mother and my sister have been my number one supporters throughout my life. People who know me were not surprised that I went into counseling. I feel like my whole life and experiences have led me to becoming a counselor."
One UHV faculty member who made an impact on how Thomas views himself as a counselor and as a person is Katherine Bacon, an associate professor of professional counseling. He learned from her how to have conversations in a way that eliminates judgment and exudes authenticity, he said. There have also been a few other faculty members who have been instrumental in his graduate career, including Sneha Nayar-Bhalerao, an associate professor of professional counseling; Monique Rahman, an assistant professor of professional counseling; and Rena Strope, an adjunct professor. Nayar-Bhalerao, who also serves as the clinic director at the UHV Counseling Training Clinic in Katy where Thomas works as an intern, has been influential in assisting Thomas with his confidence level as a counselor.
Thomas, who did his practicum with Katy Christian Ministries, said that while he enjoys working with both children and adults, he could see himself working as a counselor for adolescents. For now, he is looking into working in either community health or private practice. He would like to thank his family, friends and fellow classmates for all their support, as well as all the UHV faculty who taught him.
"The most important thing I have learned from the counseling program at UHV is that I do not have to be perfect to assist someone in making a positive change in their life," Thomas said.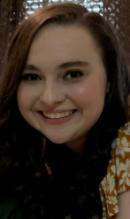 Rachel Anderson
Rachel Anderson has known for some time that she wanted to teach young children. She grew up watching her mother, a pre-K teacher at Nursery Elementary School, and started to volunteer at the school when she was in middle school. She would also baby-sit children and worked at Methodist Day School for three years. Anderson will graduate with a Bachelor of Science in education with early children through grade 6 core subjects certification.
"I remember thinking in my head, 'Oh, I want to do this, I want to teach so badly,'" Anderson said. "I am a person who loves building relationships with team members and kids. There are so many different personalities in a classroom, and I love those light bulb moments when they get excited about learning something new. Those moments are worth more than anything to me."
Anderson is thankful that she has had the opportunity to learn from so many mentors in her life. Her mother is an inspiration to her of how to kindly teach three- and four-year-old children, while she knows she can reach out to Jennifer Burriss at Methodist Day School for advice as well. Then there's her mentor, Jennifer Ortman, a teacher at Shields Elementary School, where Anderson spent the academic year as a resident in the UHV JagsTeach program. During her time in the program, Anderson learned how to use technology in lessons, such as conducting virtual field trips to Australia. She's also grateful to Moira Baldwin, an associate professor of curriculum and instruction, and Carol Klages, a professor of curriculum and instruction, who helped Anderson feel confident as a teacher in the classroom. While she admits she wasn't the greatest student in high school, Anderson's GPA has been around a 3.9 in college, and is happy that her passion and enthusiasm for learning about education reflects in her grades.
Anderson plans to continue her higher education at some point, and possibly focus on learning more about how to help students with dyslexia. She has already accepted a first-grade teaching position at an elementary school in Katy and will start in that role in the coming academic year. Anderson is driven to put everything she has into teaching, and she can't wait to see what the future holds.
"I am so thankful that I was chosen to be honored," she said.
The University of Houston-Victoria, located in the heart of the Coastal Bend region since 1973 in Victoria, Texas, offers courses leading to more than 50 academic programs in the schools of Arts & Sciences; Business Administration; and Education, Health Professions & Human Development. UHV provides face-to-face classes at its Victoria campus, as well as an instructional site in Katy, Texas, and online classes that students can take from anywhere. UHV supports the American Association of State Colleges and Universities Opportunities for All initiative to increase awareness about state colleges and universities and the important role they have in providing a high-quality and accessible education to an increasingly diverse student population, as well as contributing to regional and state economic development.