Outstanding science students grateful for UHV journey
When Noemi Bustamante first arrived at the University of Houston-Victoria, she was a very shy person who was anxious about being away from home. As she prepares to graduate with her second degree from UHV, she is happy to learn she has grown as a leader and her hard work in academics has paid off.
Noemi Bustamante
Bustamante, of Rosenberg, was named the spring 2023 Outstanding Graduate Student for the UHV College of Natural & Applied Science. Alexandra Paulsen was named the Outstanding Undergraduate Student for the college.
"I was so surprised and honored when I was told I was named an Outstanding Student," Bustamante said. "It was unexpected. I appreciate the professors who nominated and selected me for this honor."
Each semester, professors from UHV's four colleges select outstanding students to be honored during commencement. UHV will host two spring commencement ceremonies on May 13 at Faith Family Church, 2002 E. Mockingbird Lane. The first ceremony will begin at 9 a.m. to celebrate graduates from the College of Liberal Arts & Social Sciences and the College of Natural & Applied Science. The second ceremony will begin at 12:30 p.m. to celebrate the graduates from the College of Business and the College of Education & Health Professions.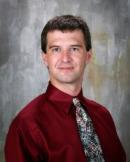 Dmitri Sobolev
"It is always a great pleasure watching our students succeed through their hard work and dedication," said Dmitri Sobolev, interim dean of the UHV College of Natural & Applied Science. "I also would like to give a shout-out to our faculty members who facilitate student success by providing advice, support and guidance."
Bustamante received her bachelor's degree in biology from UHV in 2021 and soon began her graduate studies at the university. She will graduate with her Master of Science in biomedical sciences. For a long time, she had wanted to become a doctor or work in the medical field. However, her journey at UHV helped her realize that she enjoys working in academia.
During her undergraduate years, she was able to grow her leadership skills while working as a resident assistant in UHV Residence Life, a student director for the UHV Career Development Center and as a teacher assistant for Hashimul Ehsan, a UHV associate professor of biology. As a graduate student, she is a residence hall coordinator and is a graduate teacher assistant for Gen Kaneko, a UHV associate professor of biology. She also lectures a biology lab for students majoring in sciences and has found that she enjoys lecturing and leading a class.
She also has worked with both Ehsan and Kaneko on graduate research she started during her undergraduate years, which focuses on the study of rotifers and cell cycle studies. Bustamante is now considering working at a university and is grateful that she's had the opportunity at UHV to gain experience lecturing in a class and working in a research lab.
Bustamante would like to thank her professors, including Ehsan and Kaneko, who have also served as her mentors, and Daniel White, a UHV associate professor of biology and director of the university's undergraduate biology program, who helped push Bustamante to do her best in biology and gave her guidance on what type of careers she could pursue with her degrees. She also would like to thank Amy Hatmaker, the director of the UHV Career Development Center, who Bustamante worked with during her undergraduate degree and keeps in contact with. She also appreciates the support of her brother and her parents, and her colleagues in UHV Residence Life, who have been her family on campus.
"I love the community here on campus, and UHV became my home away from home," Bustamante said. "All the people I met here have helped me come out of my shell and showed me that I could be more than I thought I could be when I first got here, and I am grateful for that."
Paulsen will be graduating with a Bachelor of Science in computer science. She was happy and surprised to learn that she was named an Outstanding Student for the College of Natural & Applied Science. She thought she might have been chosen because of her 4.0 GPA but found out that students are nominated. She has been a member of Phi Theta Kappa and Phi Kappa Phi, which are both honor societies.
"I want to sincerely thank whoever nominated me," she said.
Paulsen comes from a rural background and considers herself a country girl. She grew up tending to a wide variety of domestic animals and had to employ appropriate interventions for a spectrum of medical conditions. Through this upbringing and because the lives of animals depended on her, she learned how to prioritize her time and tasks.
"This has taught me about taking full responsibility for the care of other living beings," Paulsen said. "It has also taught me to be an astute observer of detail, which allows me to develop a deeper understanding of the intricacies of technology."
Paulsen has been comfortable with technology from an early age and was first introduced to a laptop where everything worked by typing into a shell. This forced her to type code and do things 'the hard way,' which she has learned is more efficient and powerful. It also allowed her to do her own thinking, as opposed to letting a graphical user interface do the thinking for her. She chose to study computer science because she likes taking on difficult challenges that bear tangible results.
She has been motivated by a professor's advice to see the world instead of splurging on items, and so she plans to take time to travel to South America and eastern Europe to places that she finds interesting after she graduates. Paulsen has previously visited 15 countries and has studied foreign languages for several years, and while she would not describe herself as fluent in other languages, she has found that learning other languages has given her a head start in programming structure. She also plans to pursue a graduate degree at some point as well.
"I am very fortunate that I have a broad variety of technological opportunities open for me," she said. "I intend to navigate through them in a direction that is the least affected by artificial intelligence yet allows me to leverage AI in the most efficient manner."
The University of Houston-Victoria, located in the heart of the Coastal Bend region since 1973 in Victoria, Texas, offers courses leading to more than 80 academic programs in the schools of Arts & Sciences; Business Administration; and Education, Health Professions & Human Development. UHV provides face-to-face classes at its Victoria campus, as well as an instructional site in Katy, Texas, and online classes that students can take from anywhere. UHV supports the American Association of State Colleges and Universities Opportunities for All initiative to increase awareness about state colleges and universities and the important role they have in providing a high-quality and accessible education to an increasingly diverse student population, as well as contributing to regional and state economic development.