New Staff Council president ready to take lead
As the 2023-2024 academic year begins, the new president of the University of Houston-Victoria Staff Council is looking forward to continuing the positive work from the previous year.
Kendra Matthews
Kendra Matthews, executive administrative assistant to the Provost, will serve as the 2023-2024 Staff Council president. She has worked at UHV for 12 years and has been part of the Staff Council in recent years in other executive positions, including as president-elect, treasurer, and at-large member. Now, as she takes the reins for the coming year, she plans to focus on building on the council's accomplishments.
"We had a lot of firsts last year that helped us promote positivity and unity among the staff," she said. "Our executive council was able to communicate the staff's needs while also encouraging and supporting new ideas. I hope to keep that strong motivation and momentum going."
Theresa Hawken, manager of library business operations, served as president during the previous year and will move into the position of past president this year.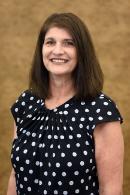 Theresa Hawken
"I am very excited to have Kendra as the Staff Council president this year, and I look forward to working with her again," Hawken said. "She was instrumental in making the Staff Council positive and successful last year. She came up with new ideas, and organized and planned many of the new events, activities and fundraisers that were huge successes last year. She has great leadership skills and is very passionate and dedicated to Staff Council and the university."
During the past year, the UHV Staff Council created several new opportunities to promote involvement and positivity among the staff, Matthews said. There were some fundraising events that contributed toward the first staff picnic. The council also encouraged staff members to participate in community involvement events and even offered a "Take Your Child to Work Day" that featured activities for the children.
Matthews hopes to continue these new efforts and focus on offering even more opportunities for the university's staff to connect and have positive experiences. Last year, the Staff Council even created a slogan to promote that effort: Together we can do more. Now, as many of the staff members who served on last year's council return for another year of service, Matthews is looking forward to seeing how they can carry those efforts forward.
"We have a good team stepping up as executive board this year, including some repeats and some new members," Matthews said. "I'm excited to see how this year will come together. Whatever we do, I want to be sure that we're promoting staff morale and involvement."
In addition to Matthews and Hawken, the 2023-2024 UHV Staff Council leadership is:
President-Elect – Donna Lutz LeLeux, senior administrative assistant, UHV Provost Office
Secretary – Rosielie Brett, senior administrative secretary, UHV Student Services and Judicial Affairs
Treasurer – Linda Upham, senior secretary, UHV College of Business
Communications Officer – Felicity Medrano, web developer, UHV Enrollment Strategies and Marketing
Staff Representatives Victoria – Philip Garza, manager of student recruitment and marketing, UHV College of Education & Health Professions; Dolores Solis, contract administration coordinator, UHV Business Services; Briana Vega, senior administrative secretary, UHV Provost Office; Cheryl Robbins, administrative secretary, UHV Residential Housing
Staff Representatives Katy – Robert Hernandez, student recruitment coordinator, UHV Katy enrollment management and external affairs; Christine Nguyen, certification analyst and academic advisor, UHV College of Business.
The University of Houston-Victoria, located in the heart of the Coastal Bend region since 1973 in Victoria, Texas, offers courses leading to more than 80 academic programs in the schools of Arts & Sciences; Business Administration; and Education, Health Professions & Human Development. UHV provides face-to-face classes at its Victoria campus, as well as an instructional site in Katy, Texas, and online classes that students can take from anywhere. UHV supports the American Association of State Colleges and Universities Opportunities for All initiative to increase awareness about state colleges and universities and the important role they have in providing a high-quality and accessible education to an increasingly diverse student population, as well as contributing to regional and state economic development.