Longtime heart surgeon turns to teaching
Wednesday, October 18, 2023
| By
Duy Vu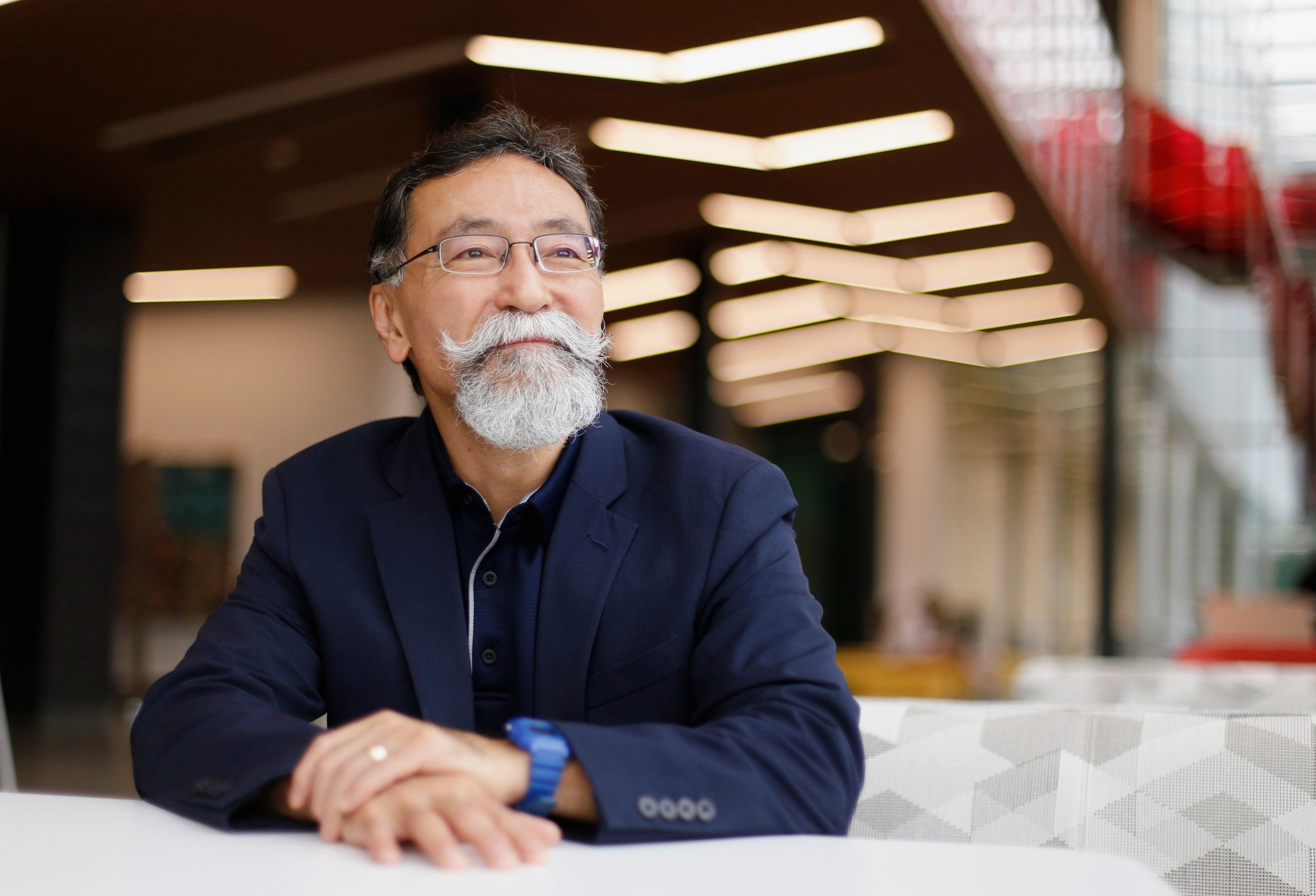 Dr. Yusuke Yahagi poses for a portrait Oct. 11 at University South. After serving as a cardiothoracic surgeon in Victoria, Dr. Yusuke Yahagi is now enrolled at UHV to earn his teaching certification.
Dr. Yusuke Yahagi, 64, a longtime respected Victoria cardiothoracic surgeon, has traded in his scalpels and the spotlight of the operating theater for something else nowadays. After spending more than a decade as a surgeon at Citizens Medical Center, Dr. Yahagi is now enrolled at the University of Houston-Victoria as a student to earn his teaching certificate with the goal of instilling knowledge in future scholars.
Yahagi was born and raised in Tokyo, Japan. At the age of 16, he moved to the United States and settled in Seattle as an exchange student. After graduating high school, he went on to the University of Washington, where he majored in chemistry with a minor in math, he said.
His plan to attend graduate school would have to wait; during this time, Yahagi got married and decided to work instead to save money for his new family, he said. He worked as an international banker for some time, often having to go back and forth between New York and Tokyo to secure transactions.
"However, I always wanted to be a doctor," Yahagi said. "So, once I had enough money saved, I went for it."
At the age of 30, Yahagi entered medical school in Tokyo and over time found a medical specialty he fell in love with: the heart. In Japan, the population with heart disease wasn't so prevalent compared to America, he said. To further study the heart, Dr. Yahagi moved back to the United States with his family.
That move would prove to be pivotal. A life-changing course that would make him a local fixture of a small town and mold his love for teaching after decades of practicing medicine.
"We found him out in the hallway walking around with his transcripts and his applications for the VOICE program," said Mary Lasater, associate dean of the UHV College of Education & Health Professions, recalling the moment from last year. "And I snagged him."
With her help, Dr. Yahagi applied for the program just in time so he could start last spring.
The Victoria Online Initial Certification for Educators program, otherwise known as VOICE, was started at UHV in 2003 to assist teacher's aids and professionals who wanted to earn a teaching degree if they already had a bachelor's degree, Lasater said.
To be eligible for the program, students must have a bachelor's degree, a GPA of 2.75 in the last 60 hours of college work or a cumulative GPA of 2.75 and pass a criminal history background check. A bonus of the VOICE program is that along with the Texas teacher certification, a student can apply 12 hours of VOICE courses, which are graduate-level courses, toward a 30-hour Master of Education in Curriculum and Instruction at UHV.
Before Dr. Yahagi ever stepped foot on campus, Lasater said she recalled meeting with him in the waiting room of a hospital. Dr. Yahagi performed heart surgery on a close friend of hers, she said. As she sat out in the waiting area with the family, Lasater remembered one of the family members googling how to say "Happy birthday" in Japanese to Dr. Yahagi because he had performed life-saving surgery on her father on Dr. Yahagi's own birthday.
"I don't want to say he's a rockstar, but he really is. He was so renowned for his surgery, and he's such a kind and sincere person," Lasater said. "I was so excited when I heard he wanted to become a teacher. We're excited to have that caliber of a student in our program with us on his journey to become a certified teacher. Ganado ISD is delighted to have him on staff and their feedback has been stellar."
Back in 1996 when he moved back to the States, Dr. Yahagi did his general surgery internship at Virginia Mason Medical Center in Seattle and residency in family medicine and surgery at the University of Kansas School of Medicine. He went on to do his fellowship in thoracic surgery at the University of California, San Francisco School of Medicine and moved to Texas afterwards to do a fellowship in cardiac surgery at the University of Texas Medical Branch.
"I had job offers from Los Angeles, Kansas City, Las Vegas and Victoria," Dr. Yahagi said. "When I came to Victoria, I fell in love with the people. Texas, this is where I belong."
For the next 13 years, Dr. Yahagi served Citizens Medical Center as the chief of cardiothoracic and vascular surgery. After leaving Citizens Medical Center, Dr. Yahagi said he wanted to take some time off to travel and spend more time with his family, something he never had the chance to do because of the rigorous long hours working as a surgeon. During the onset of the COVID-19 pandemic, Dr. Yahagi said he thought he wanted to retire completely. But before he sealed off that decision, the possibility of teaching crossed his mind.
"Ganado ISD put out an advertisement showing they need a biology and physiology teacher," Dr. Yahagi said. "I thought, 'That's me right there.'"
For the past year and a half, Dr. Yahagi has been Ganado ISD's biology, chemistry and physiology teacher. He leaves the house around 6 a.m. to get ready to teach his 9-12 graders. With seven classes to teach every day, in addition to being the organizer of the school's science club, Dr. Yahagi doesn't relax on the weekends, but he uses that time to study for his courses at UHV. Outside of science, Dr. Yahagi is the lead singer and guitarist for his band, Dr. Yahagi and the Mended Hearts, which has raised thousands of dollars through benefit concerts.
"The good thing is, once it's nighttime, I'm not on call and nobody calls me," Dr. Yahagi said, laughing. "I just want to say thank you to the community of Victoria and the Golden Crescent for accepting me for who I am."
The University of Houston-Victoria, located in the heart of the Coastal Bend region since 1973 in Victoria, Texas, offers courses leading to more than 50 academic programs in the schools of Arts & Sciences; Business Administration; and Education, Health Professions & Human Development. UHV provides face-to-face classes at its Victoria campus, as well as an instructional site in Katy, Texas, and online classes that students can take from anywhere. UHV supports the American Association of State Colleges and Universities Opportunities for All initiative to increase awareness about state colleges and universities and the important role they have in providing a high-quality and accessible education to an increasingly diverse student population, as well as contributing to regional and state economic development.