Learning through volunteer work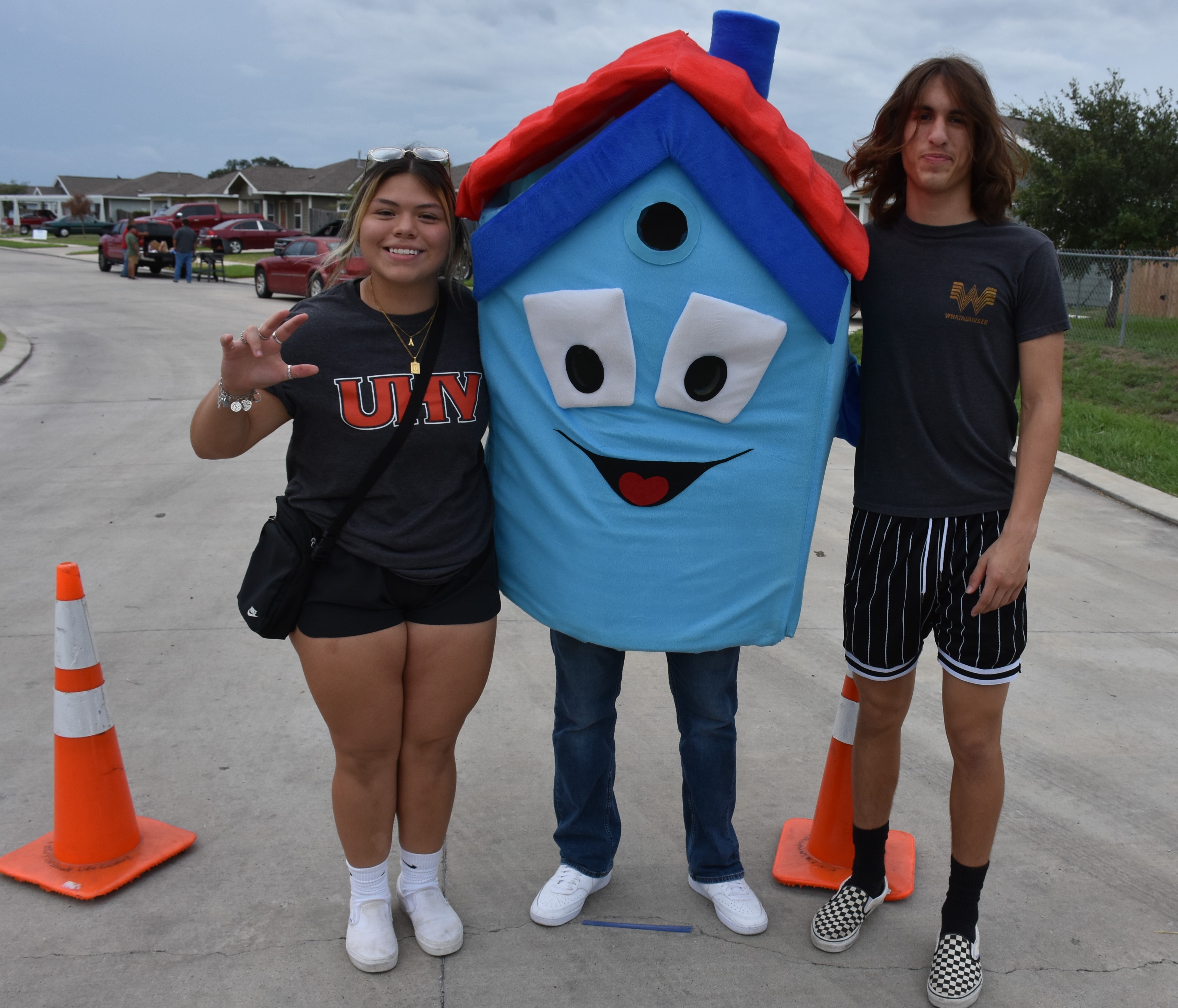 UHV students Alyssa Sauceda, a freshman from Victoria, left; Giovanni Gonzalez, a freshman from Brownsville, center; and Israel Sauceda, a dual credit homeschool student from Victoria; pose for a photo Monday while directing traffic during the Golden Crescent Habitat for Humanity's Myra Lane Block Party event. The students were part of a UHV English class that volunteered for the event as part of a class learning activity.
Students in a University of Houston-Victoria English class had the opportunity to learn how people's stories have a powerful impact on their community on Monday when the students volunteered for a Habitat for Humanity event.
As part of World Habitat Day, the Golden Crescent Habitat for Humanity hosted a block party in the Koinonia community on Myra Lane Tuesday evening to celebrate with the homeowners, donors and volunteers who helped make the neighborhood a reality. During the event, 15 UHV students volunteered in various roles including helping to set up, tear down, direct traffic and hand out water and soda to attendees.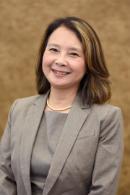 Kyoko Amano
"The Golden Crescent Habitat for Humanity does such great things for our community, and we are proud to support their mission while giving our students a chance to learn about others," said Kyoko Amano, dean of the UHV College of Liberal Arts & Social Sciences. "UHV is part of the community, and we are proud to offer our students an opportunity to learn outside the classroom and make an impact on their community."
Nadya Pittendrigh, a UHV associate professor and director of English, encouraged students in her "Composition I" freshman writing course to learn about the positive impact of stories by listening to the stories of others. Earlier in the semester, she worked with Ada Hooker, Golden Crescent Habitat for Humanity advancement director, to show students examples of how people's stories can impact an audience.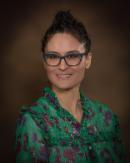 Nadya Pittendrigh
"Our goal was to teach students to be aware of their audience as well as themselves and see how telling a story can invoke feelings in others," Pittendrigh said. "To do that, we introduced the students to some of the residents of the neighborhood, and the students took notes as they shared their stories of struggling to find a home and how Habitat changed their lives."
Pittendrigh plans to have the students use their experiences from volunteering and what they learned from the neighborhood residents in future writing assignments. She also plans to have the students share their own stories through a "Your Story Matters" assignment.
For UHV freshman Alyssa Sauceda of Victoria, the block party was a good chance to see more of the community that she had learned about in her class and be part of a positive outreach event. During the party, she volunteered in several roles, including directing traffic, setting up, playing kickball and basketball, and even wearing a blue house mascot outfit.
"In a world full of hate, change and misery, it's good to know there's an organization that builds communities and offers hope and a future for people," she said. "It shows us how important it is to support people and not look down on them because of their circumstances. And it helps us to see how stories are a kind of art in themselves. People and their stories are full of trauma, history and love that creates a kind of living art."
Giovanni Gonzalez, a UHV freshman from Brownsville, was surprised and amazed by the way Habitat brought people together to build their own community and homes.
"Where I come from, there are a lot of homeless people, but I haven't seen a program like this that helps people build their own home," he said. "It's incredible to listen to all of these stories of how they got here and everything they overcame."
The University of Houston-Victoria, located in the heart of the Coastal Bend region since 1973 in Victoria, Texas, offers courses leading to more than 50 academic programs in the schools of Arts & Sciences; Business Administration; and Education, Health Professions & Human Development. UHV provides face-to-face classes at its Victoria campus, as well as an instructional site in Katy, Texas, and online classes that students can take from anywhere. UHV supports the American Association of State Colleges and Universities Opportunities for All initiative to increase awareness about state colleges and universities and the important role they have in providing a high-quality and accessible education to an increasingly diverse student population, as well as contributing to regional and state economic development.