Johnson Foundation donates $600,000 toward UHV scholarships, internships
The University of Houston-Victoria recently received a $600,000 grant from the M.G. & Lillie A. Johnson Foundation dedicated to funding scholarships and internships for students in the Crossroads region.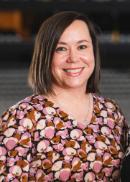 Amber Countis
"The Johnson Foundation has always been very clear in their support for the region and health-related needs, especially in terms of education," said Amber Countis, UHV vice president for advancement and external relations. "UHV is grateful for the continued confidence that the Johnson Foundation has placed in us, and we are pleased to be trusted with this commitment to continue to serve and support the health-related needs of the Crossroads region through our educational programs."
The grant funds are divided out to serve two designated purposes. The largest portion, $500,000, will be used to fund scholarships for students majoring in subjects including nursing, biology, psychology, health-related kinesiology programs, health studies, biomedical sciences and healthcare management. The remaining $100,000 will go toward paying students in unpaid or underpaid internships in the same subject areas. To be eligible to receive the scholarship or internship funds, students must be residents of Aransas, Bee, Calhoun, Colorado, DeWitt, Goliad, Gonzales, Jackson, Karnes, Lavaca, Matagorda, Refugio, Victoria, Waller and Wharton counties.
The Johnson Foundation is a longtime supporter of UHV and has contributed to many scholarships, programs and facilities that support the university's health-related academic programs for students in the Crossroads. This most recent contribution was a gift that will benefit students in many areas of the university, Countis said.
"Health care and education are two essential, important areas of society, and the M. G. & Lillie A. Johnson Foundation is dedicated to helping to serve the needs of our region in these areas," said Robert Halepeska, executive vice president of the foundation. "We are pleased to continue our support for UHV in its efforts to serve the needs of our community and the region, especially in the areas of health care services."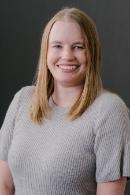 Kelsey Norgard
The funds for unpaid internships will support students as they gain workplace experience and move toward beginning their careers. The university received another grant from the Texas Higher Education Coordinating Board in 2022 that was designated for the same purpose. Grants such as these make internship opportunities more accessible for students of all economic levels, said Kelsey Norgard, director of alumni and annual giving.
"Many companies offer internships for students who are looking to gain experience in their chosen fields and professions, but those internships often are unpaid positions," Norgard said. "That can be a hindrance for students who are not on a solid economic footing and need to have a steady paycheck to support themselves and their families. Grants such as this one from the Johnson Foundation make it so that students can get fair pay for their work at internships and gain valuable experience while continuing to support themselves."
Students who are interested in applying for the scholarship funds should work with the university's Financial Aid office when applying for aid each semester. Students who are applying for internships can apply for the funds by working with the university's Career Development Center.
The University of Houston-Victoria, located in the heart of the Coastal Bend region since 1973 in Victoria, Texas, offers courses leading to more than 80 academic programs in the schools of Arts & Sciences; Business Administration; and Education, Health Professions & Human Development. UHV provides face-to-face classes at its Victoria campus, as well as an instructional site in Katy, Texas, and online classes that students can take from anywhere. UHV supports the American Association of State Colleges and Universities Opportunities for All initiative to increase awareness about state colleges and universities and the important role they have in providing a high-quality and accessible education to an increasingly diverse student population, as well as contributing to regional and state economic development.