High school students learn about STEM careers
Sanchit Singhal, left, a senior from Victoria West High School, accepts one of the two first-place awards he won Tuesday during the UHV Mathematics & Robotics Awareness Day event. Singhal was one of more than 120 high school students from the area who came to the university for the event.
When Sanchit Singhal took part in the mathematics and computer science tests as a junior last year, he won second place in both competitions. This year, his goal was to get first place in at least one.
Sanchit, a senior at Victoria West High School, won first place in both the senior mathematics test and the computer science test during the University of Houston-Victoria's 26th annual Mathematics & Robotics Awareness Day. This was his second year to attend the event, and he enjoyed the experience.
"I love competing and having the chance to see what I've learned," Sanchit said. "This event encourages me and others to do more than we did in school and really explore our interests."
About 120 students from seven area high schools attended the event and took part in activities including mathematics and computer science tests, robotics demonstrations, breakout sessions and interacting with industry representatives at expo booths. High schools with students participating in the event were AC Jones High School, Calhoun High School, Cuero High School, Faith Academy, Goliad High School, St. Joseph High School and Victoria West High School.
A grant from Alcoa Foundation funded the event as well as robotics courses for high school students. The grant also will fund summer camps featuring computer science, data science and robotics at UHV for middle and high school students. For more information, visit www.uhv.edu/stem-events.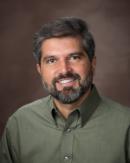 Ricardo Teixeira
"We are very excited to have schools coming back year after year, and to also have schools attending the event for the first time," said Ricardo Teixeira, UHV associate professor of mathematics. "Every year, we try to improve what we did previously. I know that this event is going to be the best one so far!"
Throughout the day, students attended breakout sessions taught by UHV faculty members. The sessions focused on science, technology, engineering and mathematics topics including computer science and nanotechnology.
In addition to the breakout sessions, students were able to interact with displays at various expo booths including talking with representatives from Caterpillar, Inteplast Group, UHV Robotics, UHV Recruitment, Calhoun High School Robotics, and a Victoria Independent School District robotics class. Members of a UHV after-school robotics program also showcased some of their projects.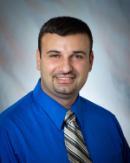 Amjad Nusayr
"Math & Robotics Awareness Day is an amazing event that gives students from across the region the opportunity to show off their skills and learn about where STEM subjects can take them in the future," said Amjad Nusayr, UHV associate professor of computer science. "We are grateful to Alcoa Foundation for their continued support that allows us to host this event every year."
Winners of the mathematics and computer science competitions each received an iPad. In addition, second- and third-place winners received medals while first-place winners received a trophy. The winners for the computer science contest were:
First – Sanchit Singhal, Victoria West High School
Second – Christian Graham, Calhoun High School
Third – Seth Sandberg, Calhoun High School
The mathematics tests were divided by grade. The winners of the math contest by grade and high school were:
Freshmen – Leo Liang, Calhoun, first; Derrick Chu, Calhoun, second; Jose Rosas, Calhoun, third
Sophomores – Stacy Zhang, Calhoun, first; Analisa Guterrez, Victoria West, second; Daniel Choi, Victoria West, third
Juniors – Doreen Luo, Calhoun, first; Osvaldo Ledezma, Victoria West, second; Tammy Zhang, Calhoun, third
Seniors – Sanchit Singhal, Victoria West, first; Luis Ramos, St. Joseph High School, second; William Turk, Cuero High School, third.
The University of Houston-Victoria, located in the heart of the Coastal Bend region since 1973 in Victoria, Texas, offers courses leading to more than 80 academic programs in the schools of Arts & Sciences; Business Administration; and Education, Health Professions & Human Development. UHV provides face-to-face classes at its Victoria campus, as well as an instructional site in Katy, Texas, and online classes that students can take from anywhere. UHV supports the American Association of State Colleges and Universities Opportunities for All initiative to increase awareness about state colleges and universities and the important role they have in providing a high-quality and accessible education to an increasingly diverse student population, as well as contributing to regional and state economic development.