Business students win competition with analysis of GameStop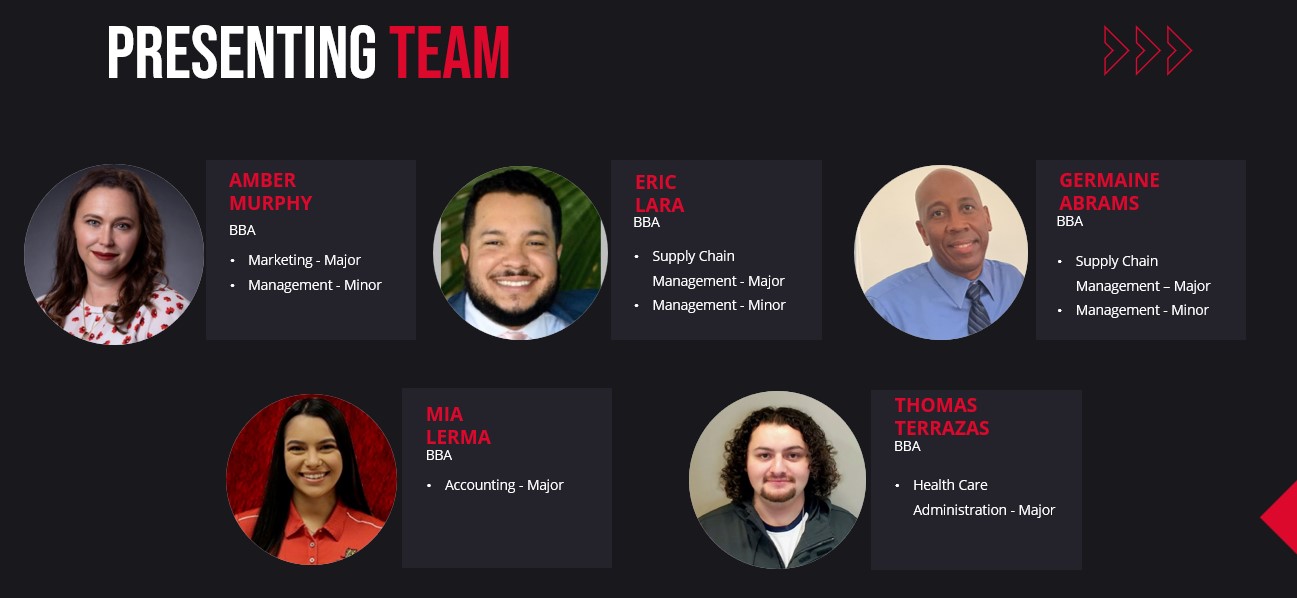 Members of the winning team from the spring 2023 UHV Bachelor of Business Administration Case Conference are shown on a slide from their presentation. The team won the competition for their analysis of GameStop and their recommendations for the company's future.
Amber Murphy, Thomas Terrazas and the others in their team knew they did a good job when they finished their presentation during the University of Houston-Victoria College of Business's undergraduate conference, but they didn't expect to win the competition.
"We knew we did well, but there were also so many good teams," Terrazas said. "Later, I pulled up Teams and saw the results, and I was shocked to see we were first. I kept going back to the site and checking while I was telling the rest of the team."
Murphy of Brookshire, Terrazas of Spring, Germaine Abrams and Eric Lara of Cypress, and Mia Lerma of Mission won first place for their analysis of GameStop, an American video game, consumer electronics, and gaming merchandise retailer that is headquartered in Grapevine.
The UHV College of Business held the conference through Microsoft Teams. For every semester since 2007, students enrolled in the capstone course of the BBA program called "Strategic Management" have attended the conference and competed as teams to present an analysis of a company. This semester's conference had 122 students compete in 24 teams. During the virtual conference, each team presented an analysis of a company to a panel of judges made up of UHV faculty, alumni, business professionals, and members of the UHV College of Business Dean's Advisory Board.
The team met through Teams at least once a week throughout the semester. At first, finding a time to meet was a problem because everyone was working full time in addition to attending classes at UHV, Murphy said. But once the team worked out a schedule, they were careful to follow the recommendations for work division, and everyone did their part, even when one team member was traveling overseas for work and had to get up at 2 a.m. to meet with the team.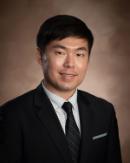 Tong Kang
"Throughout the semester, the winning team demonstrated diligence in their group project," said Tong Kang, assistant professor of management, who taught the team. "Despite the demanding nature of preparing and presenting a project paper, the students excelled in identifying the company's current market position and potential strategic issues through analyses of both the business environment and internal organization. Moreover, they presented their findings with great success at the BBA Conference. Their recommendations can potentially improve the company's current business models and strategies. I extend my warmest congratulations to them on their remarkable achievements."
As they compiled data on GameStop, it became clear that the company's best business was conducted in person, Murphy said. A couple of team members visited a store and spoke with the employees and managers about how the business operated and served its customers.
"We learned a lot about the business's function and why it's best to have people in the store instead of buying games online," Murphy said. "GameStop hires people who play games and know about the games, so when customers come to the store, they can get feedback and opinions from people who are playing the same games they are."
With that in mind, the team recommended that GameStop look for opportunities to host events that will bring gamers into the stores, such as gaming competitions or meet-and-greet events with online gamers who have a large online following. The team also suggested that GameStop invest in a new gaming platform or new games that could compete with other gaming systems such as XBox or PlayStation and offer independent designers or gamer fans resources to help them make their games.
"There are a lot of great ideas for games out there, but making games can be expensive," Murphy said. "GameStop has some financial backing that they can bring to the table that would help these games become reality and could produce them in a platform that is exclusive to GameStop."
Looking back at the team's preparations for their presentation, the team's biggest asset was communication, Terrazas said. The team worked well together, and they met several times online to practice their presentation before the competition. In the end, even before they knew they won, the team walked away proud of their performance, he said.
Other teams that placed in the BBA Case Conference were:
Second place – Jamie Feamster of Wharton, Andrea Johnson of Richmond, Alyssa Kisiah of Edna, Jaclynn Lidiak of Victoria and Maygan Turner of Houston
Third place – Amber Benyacine and Karen Lazo of Katy, Monica Camarillo and Aimal Durrani of Houston, and Jessica Klippstein of Magnolia
The University of Houston-Victoria, located in the heart of the Coastal Bend region since 1973 in Victoria, Texas, offers courses leading to more than 50 academic programs in the schools of Arts & Sciences; Business Administration; and Education, Health Professions & Human Development. UHV provides face-to-face classes at its Victoria campus, as well as an instructional site in Katy, Texas, and online classes that students can take from anywhere. UHV supports the American Association of State Colleges and Universities Opportunities for All initiative to increase awareness about state colleges and universities and the important role they have in providing a high-quality and accessible education to an increasingly diverse student population, as well as contributing to regional and state economic development.