UHV's Counseling Training Clinic helps Katy community
The Katy community will receive mental health assistance for free, thanks to the new University of Houston-Victoria Counseling Training Clinic. This new training clinic will serve as an internship site for graduate students in the UHV Professional Counseling program. Students under continued supervision by licensed faculty will offer counseling services to people in the community and gain practical experience.
The UHV Counseling Training Clinic is located at Suite 208 on the second floor of the UHV Katy instructional site, 22400 Grand Circle Blvd. A ribbon-cutting ceremony took place Oct. 5, and UHV faculty, staff and students as well as Katy Independent School District leaders and members of the Katy and West Houston business community gathered for the event.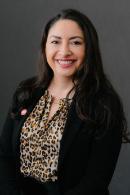 Karla DeCuir
"It was a great showcase for UHV to show that we are in Katy and West Houston for the pursuit of higher education and are part of the community," said Karla DeCuir, assistant provost for distance learning. "Mental health and counseling are extremely important for health and wellness. People might feel more comfortable getting their start in counseling and therapy by coming to a school environment, and the clinic is a good place to begin your mental health wellness journey. This is another way UHV gives back to the Katy and West Houston communities."
For Sneha Nayar-Bhalerao, the road to creating the clinic was challenging but worth it. Nayar-Bhalerao, a UHV assistant professor of professional counseling, serves as the clinic's director, and is joined by Monique Rahman, a UHV assistant professor of professional counseling, the clinic's coordinator. Along with the two faculty members, two practicum graduate students and a graduate intern have worked at the clinic for several weeks. The clinic offers individual counseling, play therapy and family counseling.
"Counseling services can be expensive, and having a space where trained counseling students can offer that service for free can be really liberating for people," Nayar-Bhalerao said. "This is an exciting opportunity for people in the Katy community to receive counseling by master's level counselor students."
The counseling program has for several years considered the possibility of opening a counseling training clinic, Nayar-Bhalerao said. At the end of 2021, that possibility became more of a reality when there were discussions of her taking on the position of the clinic's director and creating the clinic inside a space at the UHV Katy instructional site. Since the start of the year, Nayar-Bhalerao has worked with UHV faculty, staff and leadership to prepare the clinic for a fall opening, while still teaching courses and keeping up with research. From receiving approvals to start the clinic to receiving donations and supplies, Nayar-Bhalerao appreciates everyone who helped get the clinic operating.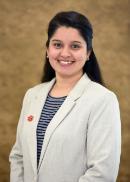 Sneha Nayar-Bhalerao
"The clinic is operational because people came together. It was such a rewarding experience, and it has pushed me to see what I can accomplish," she said.
The clinic has two counseling rooms while the center room is used for supervision and observation purposes. Through one-way mirrors the clinic director and coordinator supervise graduate students, while students also observe live sessions conducted by their colleagues. During the first session, clients are informed about recording and live observations, and clients who do not consent are referred to other places.
Graduate counseling students must receive a certain number of practicum and internship hours. This clinic creates a field placement opportunity for graduate counseling students on campus. With very few free counseling services available, this clinic creates a perfect opportunity for both students and people in the community to address mental health needs, Nayar-Bhalerao said.
Students who work at the clinic are trained by UHV professional counseling faculty and are learning things including how to open and operate a private practice. For UHV graduate student Jay Thomas, being the first intern at the clinic has been a great experience because he is learning how a clinic operates. Thomas, a U.S. Navy veteran, received his bachelor's degree in psychology from UHV in 2018 and plans to graduate with his master's degree in the spring.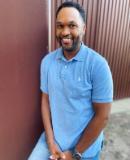 Jay Thomas
As an intern, Thomas has already completed his practicum hours, and goes into the clinic early. He does reminder calls to clients and gets the clinic in order before it opens. His prior practicum experience has helped him become more comfortable with doing all the behind-the-scenes activities of a clinic, he said. Right now, he has two clients that he is working with and is ready to jump in and help in any other way as well. Some of the areas in which Thomas and the two practicum students assist clients include couples and relationship counseling, grief, career counseling, and play therapy with children.
"I feel so privileged to be a part of the inaugural class of graduate students here at the clinic. I think what we are doing at the clinic is amazing for serving the community, and I am so happy to be a part of it," Thomas said. "The access to mental health services is long overdue for many people, and everyone should have someone they can turn to for counseling who they have a good rapport with and trust and who has 100 percent authentic empathy. Counseling is a great tool and resource to prevent a crisis."
The UHV Counseling Training Clinic is currently open from 2 to 7 p.m. on Mondays and Thursdays. To find out more or to schedule an appointment, call 281-396-3720.
The University of Houston-Victoria, located in the heart of the Coastal Bend region since 1973 in Victoria, Texas, offers courses leading to more than 50 academic programs in the schools of Arts & Sciences; Business Administration; and Education, Health Professions & Human Development. UHV provides face-to-face classes at its Victoria campus, as well as an instructional site in Katy, Texas, and online classes that students can take from anywhere. UHV supports the American Association of State Colleges and Universities Opportunities for All initiative to increase awareness about state colleges and universities and the important role they have in providing a high-quality and accessible education to an increasingly diverse student population, as well as contributing to regional and state economic development.