UHV students showcase business analysis skills at BBA conference
For most of the fall semester, Iris Arriaga and her teammates spent hours creating strategies and analyzing various business components of a major company for the 31st University of Houston-Victoria Bachelor of Business Administration Case Conference on Nov. 19. Their hard work paid off that day, when the team won first place in the competition.
"It took us all by surprise because we didn't expect to win first place," Arriaga said. "We worked hard together on this project, and it feels really good to do so well against a large number of teams."

Iris Arriaga
Arriaga of Houston, Alma Ashan of Richmond, Christa Danistan and Jason Szczechowski of Katy, and Jonathan Ramon of Beeville won first place for their analysis of Service Corporation International, a leading provider in North America for funeral, cremation and cemetery services.
The UHV College of Business held the conference through Microsoft Teams. For every semester since 2007, students enrolled in the capstone course of the BBA program called "Strategic Management" have attended the conference and competed as teams to present an analysis of a company. This semester's conference had 138 students compete in 25 teams. During the virtual conference, each team presented an analysis of a company to a panel of judges made up of UHV faculty, alumni, business professionals, and members of the UHV College of Business Dean's Advisory Board.
The first-place team met through Microsoft Teams frequently during the semester to work on the course project, which included industry and market analysis and analyzing the firm strategy and capabilities. The students also had to provide recommendations on how the company may improve its current strategies, said Kaveh McAdam, associate professor of management and UHV College of Business director of community engagement. McAdam also taught the first-place team.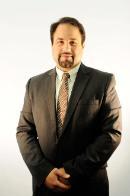 Kaveh McAdam
"The BBA conference is a special event because the College of Business invites some of our outstanding alumni and several community partners to judge the presentations alongside of the college faculty members," McAdam said. "I am very proud of the team winning first place this semester."
The beginning of the project was a bit rocky at first, Arriaga said. Each team member had a different schedule and utilized different programs such as Drive and Excel to upload and send documents to each other. They would also communicate with each other frequently throughout the week and meet through Microsoft Teams. They would also meet with McAdam to make sure they were on the right track with their project. After a few weeks, the team found what worked best for them and were able to get a sense of what their analysis would be about, Arriaga said.
For the analysis, the team looked at various aspects of the company, including its marketing, financial analysis, accounting, management and the company's strengths and weaknesses. What Arriaga really liked about the project was that it was the accumulation of all the classes they had taken at UHV. Each component of the project required knowledge and skills they acquired from previous courses but put in a real-life situation.
"Most of us in the group didn't know what a strategic analysis was until this project, and because of this project, we were able to get hands-on experience doing one before graduating," she said. "We would come across a certain part of the project, and it was like a lightbulb would come on. Now I understand why this is a capstone course, because it is a good summary of your education."
The team concluded their presentation with two recommendations for the company. They recommended that Service Corporation International expand into new geographic markets, such as Mexico, and acquire rival firms or companies with attractive technologies expertise or capabilities. By taking on their recommendations, the company would have more stability in the market and form partnerships with the top funeral services provider in Mexico. The team also included information about macro and micro factors for the company, such as a guide about the Mexican economy and funeral culture, the possible threats of rival companies, and charts of ratios and percentages for the financial analysis. The judges really liked that the team included all that information in their presentation, Arriaga said.
The team felt prepared and confident when they went into the competition, thanks to McAdam's guidance and each team member's drive to do well.
"This was a very stressful semester. However, I was blessed with a great group of people," said Jonathan Ramon. "Christa and Jason are some of the best researchers I've worked with, and they were able to come out with great visuals for our presentation. Alma and Iris were the reason we kept our team on time. They had great organizational skills and really aided in the communication of the team. We all went into our presentation with confidence mainly because we were prepared and felt comfortable with each other."
Arriaga, who transferred to UHV from UH, said her experience at UHV has been great, and she felt like she was a student who mattered. The smaller class sizes at UHV and being able to work with faculty often has made her transfer worthwhile. She is grateful to McAdam and all the business professors she has had at UHV for helping prepare her for life after graduation.
Other teams that placed in the BBA Case Conference were:
Second place – Man Giang of Pharr, Abigail Miller of Brookshire, Shanice Morgan of Converse, William Petrosky of Yoakum and Samantha Zavaleta Ocampo of Pflugerville
Third Place – Benjamin Hargrove of Katy, Jessika Mendez of Victoria and William Stoeltje of Needville.
The University of Houston-Victoria, located in the heart of the Coastal Bend region since 1973 in Victoria, Texas, offers courses leading to more than 50 academic programs in the schools of Arts & Sciences; Business Administration; and Education, Health Professions & Human Development. UHV provides face-to-face classes at its Victoria campus, as well as an instructional site in Katy, Texas, and online classes that students can take from anywhere. UHV supports the American Association of State Colleges and Universities Opportunities for All initiative to increase awareness about state colleges and universities and the important role they have in providing a high-quality and accessible education to an increasingly diverse student population, as well as contributing to regional and state economic development.