UHV professor tackles 'God Problem' in new book
Mark Ward Sr., a University of Houston-Victoria professor of communication, encountered a "God Problem" in his research on communication in religious settings. Should his research allow the possibility that God speaks? He explores the question in "God Talk: The Problem of Divine-Human Communication," a new book that is the first to address the problem from the perspective of communication studies.
As editor of the volume, Ward invited other scholars of religious communication to contribute essays in addition to his own. In 10 chapters, scholars describe ways of researching religious groups who claim that God speaks while balancing respect for those claims with their own beliefs.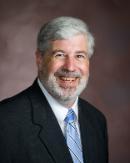 Mark Ward
"Most scholars have some personal connection that motivates their research," Ward said. "So, it's no surprise that many scholars who research religious communication believe in God or a higher power and are active in religious communities. That gives them empathy and insight into the religious groups they study. But if you already agree with a group's belief in God, that raises questions about confirmation bias when interpreting the evidence."
The scholars represented in the book use ethnography as their research method. They interact with members of a religious community, observing how they speak to one another and conducting interviews. Then they interpret how key words and phrases used by group members convey assumptions that the group takes for granted in its shared culture.
In "God Talk," scholars broadly expressed three approaches, Ward said. Some argued that the group is the "expert" on what it knows and so its belief that God speaks should be accepted as real. Others fully admit their own belief that God speaks and embrace it in their research. Still others bracket off the supernatural for research purposes, limiting their study to human communication and leaving God's speaking to their own personal faith.
"The latter is my approach," said Ward. "For me, thinking that I could somehow put God into my research box would be in vain. And by researching human communication processes that all scholars can access, I get the benefit of having my work critiqued. After that, I maintain a personal faith that God can use the communication processes I study to accommodate human understanding."
Nevertheless, Ward appreciated the views of other scholars in his book. "My goal was to start a conversation," he said. "Other researchers can have different views than mine. But we all need to work out solutions to the 'God Problem' and then defend why our different solutions can produce credible research and scholarship."
Ward added that scholars of no religious faith, whether agnostic or atheist, also make vital contributions to research on communication in religious settings. "Religion remains a decisive – and too often, divisive – force in our world today," he said. "So, religious communication needs to be studied by scholars of all faiths and no faith."
"God Talk" has been praised by eminent scholars. Clifford G. Christians, Research Professor of Communications Emeritus at the University of Illinois, wrote, "The intelligence of this exceptional book is a perfect 10. The theoretical depth of every chapter reflects research brilliance."
Tina M. Harris, holder of Louisiana State University's Endowed Chair of Race, Media, and Cultural Literacy, wrote that "as a religious communication scholar who also identifies as a theist-scholar, I found every chapter empowering as they encourage the field to reconsider ... 'the immeasurable.' This book is a must!"
"God Talk" was released by Peter Lang Publishers at the joint conventions of the National Communication Association and Religious Communication Association held Nov. 16-20 in New Orleans, La. At the event, Ward received the NCA 2022 Outstanding Article Award in Spiritual Communication for his study of how evangelical Protestants use language to construct biblical literalism not only as a belief but as a culture.
"That study is a good example of the 'God Problem,'" Ward said. "I researched how believers create a culture of literalism by the way they talk about the Bible. But after that, the question of whether God speaks through the scriptures is a matter of faith."
The University of Houston-Victoria, located in the heart of the Coastal Bend region since 1973 in Victoria, Texas, offers courses leading to more than 80 academic programs in the schools of Arts & Sciences; Business Administration; and Education, Health Professions & Human Development. UHV provides face-to-face classes at its Victoria campus, as well as an instructional site in Katy, Texas, and online classes that students can take from anywhere. UHV supports the American Association of State Colleges and Universities Opportunities for All initiative to increase awareness about state colleges and universities and the important role they have in providing a high-quality and accessible education to an increasingly diverse student population, as well as contributing to regional and state economic development.