UHV MBA students earn top rankings in global business simulation
For University of Houston-Victoria graduate student Neelam Patel, shortcomings were a major motivation for her and her colleagues during an international business simulation competition. By working on areas of weaknesses, the team was able to strengthen their business and maintain high rankings for several weeks, earning the team global recognition for their hard work.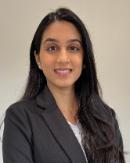 Neelam Patel
"It was such a surprise and great feeling to get those top rankings, and it made us so happy," said Patel, a Richmond resident. "I think it helped us to push each other to do better each week, and it was so motivating to see the results each week."
Patel and her teammates, Tu Van Uyen Pham and Brice Tyler Pope recently made UHV College of Business history by earning a top ranking in the Global Top 50 for six weeks during the eight-week Global Business Simulation competition. Hundreds of teams from more than 100 colleges and universities participated in the global competition.
The team, called Innova Company I, earned a Global Top 50 ranking in the following performance areas:
Overall Game-to-Date Score – Their score of 106.0 tied the team for 38th best Overall Game-to-Date Score performance of the week, worldwide
Return on Average Equity – Their Return on Average Equity of 61.2 percent was the 25th best Return on Average Equity performance of the week, worldwide.
Additionally, 11 out of 20 teams from UHV won the Global Top 100 ranking for their company's performance worldwide during the last round of the competition.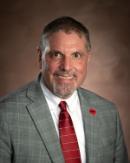 Ken Colwell
"Congratulations on the outstanding performance of this team," said Ken Colwell, dean of the UHV College of Business. "Simulations such as this are critical components of providing our students with real-world applications to the theories and models they learned from the classroom."
Students in the Global Master of Business Administration program have competed in the global simulation as part of their "International Business Strategy" capstone course for several years. During the simulation, teams of business students from universities and colleges around the world had to promote and operate drone and camera companies. The teams are ranked weekly based on criteria including overall score, earnings per share, return on average equity and stock price.
During the competition, students had to create strategies for their businesses to compete in a global market. In this capstone course, students have more opportunities for experiential learning, or learning by participating, said Jifu Wang, associate dean of international initiatives and professor of management.
Students are able to focus all the knowledge and skills they have acquired in other UHV Global MBA courses, such as "International Finance," and look at their simulated business as they would for a real business in a global market. The teams create strategies and business plans and must make decisions based on changes in the market and other areas. Through this course and simulation, students have a better understanding of how a business in a global market works.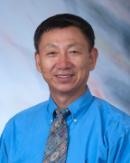 Jifu Wang
"The simulation is a great tool for our students because so many components go into this competition, such as how the groups work together to operate their companies," Wang said. "Business is operation driven. Each team can be very competitive and even use failures as a learning process. The feedback from students about the course is positive, and many students feel ready for the next step in their careers after this class."
Patel, who is pursuing a Global MBA in management, is looking to break into administrative management or field operations with her graduate degree. Throughout the simulation, the team would have to make weekly decisions for each product, including product design, marketing, company compensation and facilities, and more. One area, such as product design, can include as many as 30 decisions, and every single decision can have a major impact on their company, she said.
The team was in communication with each other throughout the week to make decisions or changes and would look at previous weeks and see where their companies had strengths and areas of weaknesses so that they could improve for the next week. Then, they would meet twice a week to get on the simulation to see how they were doing.
Patel appreciates how thorough the Global MBA program is, and particularly how the program made it easy to learn so many important factors, such as strategic planning.
"It's been such a great hands-on learning opportunity, and I really liked that I was able to use everything that I learned throughout the MBA program for this competition," she said. "This competition definitely put in perspective for me how every decision and factor can affect a company, and I really like that I was able to see what that process is like."
To learn more about the UHV College of Business, go to www.uhv.edu/business.
The University of Houston-Victoria, located in the heart of the Coastal Bend region since 1973 in Victoria, Texas, offers courses leading to more than 80 academic programs in the schools of Arts & Sciences; Business Administration; and Education, Health Professions & Human Development. UHV provides face-to-face classes at its Victoria campus, as well as an instructional site in Katy, Texas, and online classes that students can take from anywhere. UHV supports the American Association of State Colleges and Universities Opportunities for All initiative to increase awareness about state colleges and universities and the important role they have in providing a high-quality and accessible education to an increasingly diverse student population, as well as contributing to regional and state economic development.