UHV hosts writing events for students and community
The University of Houston-Victoria College of Liberal Arts & Social Sciences will host several writing events this semester for students, faculty and staff, including events where community members are encouraged to join in guided interactive writing activities.
UHV English and creative writing faculty members will be leading several different events for the months of October and November, including Writers' Block Party, Writing Cave and It's Lit. There also will be a weekend dedicated to the Master of Fine Arts graduate students called MFA Weekend.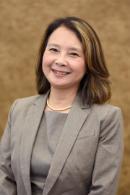 Kyoko Amano
"I am very proud of the dedicated faculty members from the English and creative writing programs who are organizing creative writing events this fall," said Kyoko Amano, dean of the UHV College of Liberal Arts & Social Sciences. "Some people lost family members during the pandemic, and these writing events can be healing and therapeutic. Scientists helped us sustain our lives during the pandemic, and now it is time to make our lives worth living through creative activities and appreciating the arts. We hope that writing together and sharing our creative pieces with each other will help us create a strong community of writer-artists."
Although some of the writing events are not necessarily new, the events are now back to being done in person after they were put on pause during the height of the pandemic, said Nadya Pittendrigh, director of English at UHV and associate professor of English. While the English and creative writing departments are putting on the events, all UHV students are invited to take part in the writing events, as well as all faculty, staff and community members.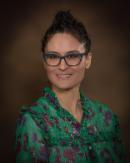 Nadya Pittendrigh
"We hope that these events will provide opportunities for people from multiple generations and diverse communities to come together to inspire and entertain one another," Pittendrigh said. "People need to come together, especially in the aftermath of the pandemic, and there is no better way to do that than through sharing stories."
Writing Cave is an opportunity for attendees to gather to read or write as a creative community. This is not necessarily an interactive event, but a time to do creative work surrounded by others who are doing the same. Writing Cave will take place from 6 to 8 p.m. Oct. 13 in Conference Room 201 in UHV University South, 3007 N. Ben Wilson St., and from 4:30 to 6 p.m. Nov. 4 at the Nave Museum, 306 W. Commercial St.
Writers' Block Party is an event where attendees will be guided in interactive writing activities. The activities will encourage participants to draw writing inspiration from pieces of art and other local resources. At the end of each session, participants can share their work and will be encouraged to share their improved pieces at subsequent events. Writers' Block Party will take place from 6 to 7:30 p.m. Oct. 20 and Oct. 27 at the Nave Museum, 306 W. Commercial St.; and 1 to 2 p.m. Nov. 5 at Room 203 in UHV University West, 3007 N. Ben Wilson St.
It's Lit is an event where UHV English faculty will present and discuss the poetry of Lucille Clifton. There will be an open discussion and a question-and-answer portion following the faculty presentations. It's Lit is scheduled for 6 to 8 p.m. Nov. 4 at the Nave Museum.
MFA Weekend will take place Nov. 4 and 5. While most of the events during MFA Weekend are only for enrolled UHV MFA students, there will be several events that will be open to the community to attend, including the Writing Cave and It's Lit events on Nov. 4 and the Nov. 5 Writer's Block Party.
"The English program at UHV is designed for fun-loving, collaborative people who understand that a well-told story can change everything. Telling the right story at the right time is the closest most of us will ever come to having superpowers," Pittendrigh said. "Storytelling is the ability to create mind-changing "light bulb moments" with and for others. And listening to one another's stories can be equally transformative. We all need to develop our storytelling and story-sharing skills. We hope that by simply being together to do creative work we will energize one another while creating meaningful and inspiring work."
The University of Houston-Victoria, located in the heart of the Coastal Bend region since 1973 in Victoria, Texas, offers courses leading to more than 80 academic programs in the schools of Arts & Sciences; Business Administration; and Education, Health Professions & Human Development. UHV provides face-to-face classes at its Victoria campus, as well as an instructional site in Katy, Texas, and online classes that students can take from anywhere. UHV supports the American Association of State Colleges and Universities Opportunities for All initiative to increase awareness about state colleges and universities and the important role they have in providing a high-quality and accessible education to an increasingly diverse student population, as well as contributing to regional and state economic development.