UHV hosts graduate and professional school awareness week events
Undergraduate students and those who have bachelor's degrees who are thinking about the next step in their careers can learn more about the University of Houston-Victoria's graduate programs during Graduate and Professional School Week.
UHV Graduate and Professional School Week will be from Oct. 17 to 21 with a variety of events each day at both UHV and UHV Katy. These events will focus on exploring graduate programs at UHV and raising awareness of how a graduate degree can help in different professions. Current UHV and Victoria College students are invited to attend, as well as UHV and VC faculty and staff. Victoria-area and Katy-area residents with a bachelor's degree also are encouraged to attend the events.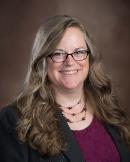 Joann Olson
"If the pandemic has taught us anything, it is that things continually change," said Joann Olson, associate provost for research and dean of graduate studies. "We wanted to create a series of events to expose UHV students to the ways that continuing their education beyond their bachelor's degrees can further advance their careers and provide expanded opportunities."
There will be presentations related to a wide range of graduate programs, including computer science, business and mental health professions. Attendees will also be able to talk with the deans of UHV's four colleges, human resource professionals and advisors during meet-and-greet events. UHV faculty also will be participating in their own classes by speaking to their students about their own experience in graduate school and discussing what students can possibly expect in a graduate program in their academic areas.
"By the end of the week, people who participate will have a broad sense of what graduate school is and how it might fit into their future educational goals and plans," Olson said.
The week of events kicks off Oct. 17 at 11 a.m. with Meet the Deans in Walker Auditorium inside UHV University North, 3007 N. Ben Wilson St. At the same location, at 12:30 p.m. will be How a Graduate Degree Can Help for A Career in IT.
On Oct. 18, there will be a We Are UHV lunch presentation at noon in Jaguar Hall Dining, and at 6 p.m. there will be two separate events on the UHV campus and at UHV Katy: the Want to Work In Student Affairs? Panel at Jaguar Hall Commons, and an MBA Alumni Social at UHV Katy.
On Oct. 19 at 11 a.m., there will be a Coffee and Career Chat in Walker Auditorium, followed by a panel discussion about careers as a counselor or therapist at 3 p.m. at UHV University West Alcorn Auditorium and Microsoft Teams. At 6 p.m. that day, there will be an event at UHV Katy about how a Master of Business Administration can advance a career.
On Oct. 20, the university will host UHV Discovers, an ongoing conversation about research at UHV, at 12:30 p.m. in UHV University North, Room 111 and on Microsoft Teams. For this event, attendees will learn about the research three UHV graduate students have done on three separate projects. UHV student Alisha Merchant will present her research about SARS-COV-2 infection that was published in the book, "Computational approaches for novel therapeutic and diagnostic designing to mitigate SARS-COV-2 infection,"; Noemi Bustamante will discuss her research work with "Hunting for Cell Cycle Genes in Rotifers," a project that is to analyze and identify whether the monogonont rotifer species Brachionus plicatilis is a viable model organism for cell cycle studies, particularly studies on the regulation of the cell cycle; and Qetia Noufe will present her internship work, "Simulation on the Patterns of Point Mutations," where the substitution of one nucleotide for another during the course of evolution is a fundamental mechanism in the evolution of DNA sequences.
To conclude the week of events, there will be a discussion about going to graduate school during a meet-and-greet lunch at noon on Oct. 21 in Jaguar Hall Dining.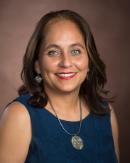 Jennifer Ortiz-Garza
In addition to promoting the university's 55 graduate programs, there also will be discussions about other graduate fields, such as law school or doctoral programs for those who are interested in continuing their education in a program that is best suited for them.
Attendees also will learn more about other important information about UHV's graduate programs, including which programs are offered fully online or in a hybrid in-person and online formats, and application deadlines, said Jennifer Ortiz Garza, a senior psychology lecturer and one of the coordinators of the events. There also will be information about scholarships for programs and for faculty and staff, she said.
"Graduate school will open doors for anyone who is interested in the next step in their career," Ortiz Garza said. "If you've ever wondered about going to graduate school, you are invited to come and learn more about the graduate program opportunities available in the Victoria community."
The University of Houston-Victoria, located in the heart of the Coastal Bend region since 1973 in Victoria, Texas, offers courses leading to more than 80 academic programs in the schools of Arts & Sciences; Business Administration; and Education, Health Professions & Human Development. UHV provides face-to-face classes at its Victoria campus, as well as an instructional site in Katy, Texas, and online classes that students can take from anywhere. UHV supports the American Association of State Colleges and Universities Opportunities for All initiative to increase awareness about state colleges and universities and the important role they have in providing a high-quality and accessible education to an increasingly diverse student population, as well as contributing to regional and state economic development.